This post may contains affiliate links for your convenience. If you make a purchase after clicking a link we may earn a small commission but it won't cost you a penny more! Read our full disclosure policy here.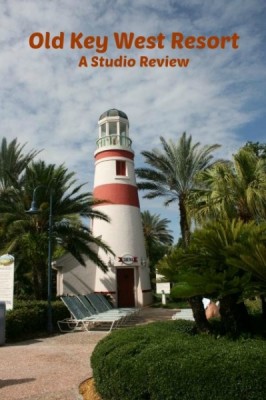 On our last trip, we were fortunate enough to stay for a few nights at Disney's Old Key West Resort. Old Key West is Disney's original vacation club property, having opened in 1991 as Disney's Vacation Club Resort. As a vacation club, or DVC, resort, it can be booked either through using vacation club points or with a regular, cash, reservation.
On this particular trip, we stayed by using my sister's vacation club points. Please note- while staying on points, your room will not have daily maid service, like a regular hotel room. Rather, on your fourth day, you will have the towels refreshed and trash taken out, and on the eighth day of your reservation, you will receive a regular room cleaning. If you book at Old Key West on a cash reservation, you will have regular daily maid service.
Our accommodations for this trip were in a studio, since we were a party of four. We found studio rooms to be very spacious. In fact, Old Key West has some of the largest rooms on property, with studios measuring at 390 square feet including a large bedroom, kitchenette area, bathroom, and balcony.
We were glad to have a rental car for part of our stay, because the resort is very large, and our room was not near the main facilities. Luckily, there are four pools on property, so if you are not near the main pool, you can still get in the water without a long walk or a bus ride. Though the resort was crowded during our stay, we never felt that way. Rooms stayed quiet and we were always able to find a parking space.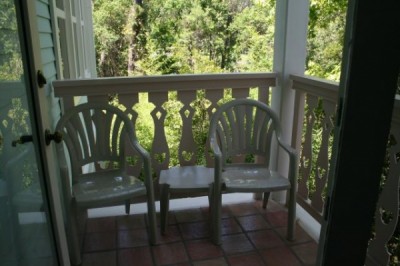 our balcony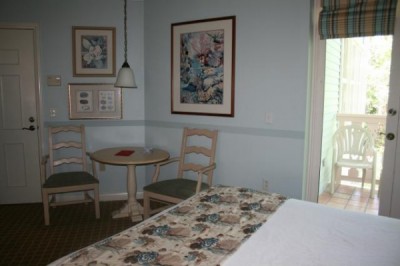 table area
Rooms at Old Key West are comfortable and themed as a turn of the century resort in the Florida Keys. Wood tones are light and the color scheme is beachy and pastel. There was plenty of storage and closet space for our clothing, and the bathroom was particularly spacious and featured a double sink and a full length mirror. The beds were queen sized and comfortable. The kitchenette, though small, was well stocked with utensils, plates, cups, and cleaning supplies.
We had no problem fitting in the room as four adults. Unlike most Disney resorts, the majority of buildings at Old Key West do not have elevators, so you must make sure to notify the resort if you require something at ground level or in an elevator building.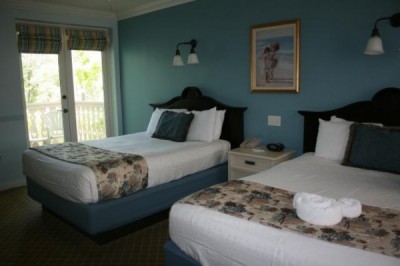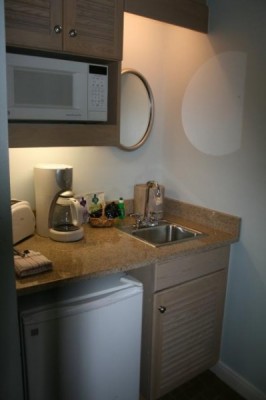 beds and kitchenette
As for dining, there are two options available. Olivia's Cafe is a sit down restaurant located near the pool and Hospitality House. While small, the restaurant is cute and features photographs of DVC members all over its walls.
For a quicker meal option, Good's Food to Go has some quick service options and a drink station, and is located right next to the feature pool area. We used Good's Food to Go to get some items to eat poolside, and enjoyed it.
There is a similar snack bar, Turtle Shack, located at one of the smaller pools, though its hours are more limited. Also, bar service is available from the Gurgling Suitcase Bar, just next to Good's Food to Go. The bar is tiny, but it is still a good place to grab a drink. I had a delicious virgin pina colada by the pool.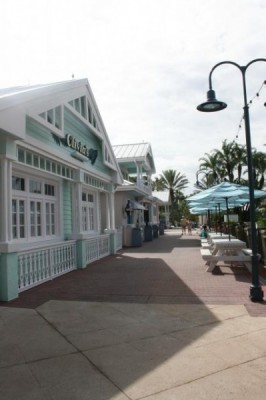 food concourse
We enjoyed the feature pool area, which has a giant pool with a sandcastle themed water slide and many tables/chairs and loungers. There were waitresses around the pool who were happy to grab you drinks/snacks, though we opted to get our own food. This area also has a playground, kiddie pool, hot tub, and sauna. Nearby is a large recreation room with games like ping pong and foozeball, a fitness center, bike rentals, tennis courts, and volleyball courts. We were very impressed with the number of activities offered at Old Key West, and felt like we could easily occupy ourselves for days just at the resort.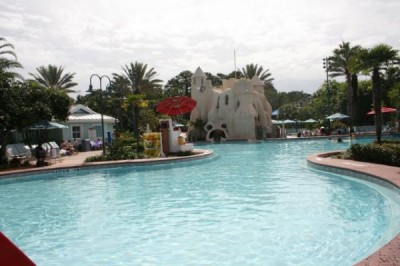 feature pool and waterslide
Overall, we really enjoyed our stay at Old Key West, and are already booked to stay there on our next vacation, when we will try our a two-bedroom villa. I would highly recommend this resort, especially for families or for anyone looking for an option where you could spend a lot of time enjoying the property outside of the theme parks.
 Have you stayed at Disney's Old Key West Resort? What is your favorite part about staying here?