This post may contains affiliate links for your convenience. If you make a purchase after clicking a link we may earn a small commission but it won't cost you a penny more! Read our full disclosure policy here.
From Our Magically Speaking Newsletter Archive – subscribe today!
By Carol Garcia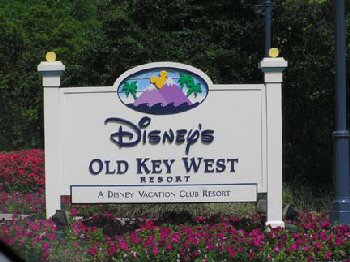 Old Key West is a resort like no other on Disney property. This is the original Disney Vacation Club: the place where it all started and the home of the largest rooms around. In fact, Old Key West and Saratoga Springs (which is right down the street), are the only two Disney Vacation Club (DVC) properties not connected to a hotel. This gives them a very different feel. But unlike the newer Saratoga Springs, Old Key West virtually puts you in your very own condominium right in the heart of Disney World.
So, let's back track a minute. Why review a resort that was built for the use of DVC members? Well, this resort is also available for cash rental (just like a regular hotel room) or guests can rent points from a DVC member and use the room with all the benefits of being a member, which is often a less expensive option than paying cash.
And why would one want to rent a room here, rather than stay in a regular hotel room? The simple answer is space and the community feel. There are four room sizes available for rent: Studio, One Bedroom Villa, Two Bedroom Villa and Grand Villa (a two story, three bedroom gem).  All of the units have either a kitchenette or a full kitchen fully stocked with dishes, cookware, silverware and typical kitchen appliances (range, microwave, fridge, coffee pot, toaster and dishwasher.)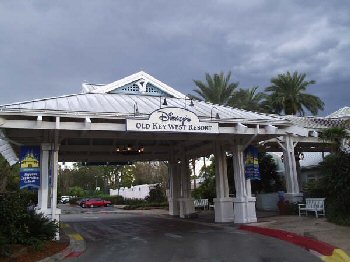 From the moment you pull up to the security checkpoint on the property you will feel transported to "The Keys."  Just past the checkpoint and over a small bridge guests will notice that this resort is more of a community than a hotel. Each of the building units are cool blue and light pink in color with bright white trim.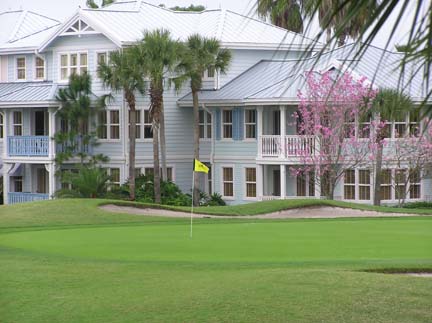 The Hospitality House is where guests check-in and has everything a vacationer needs.  The area is unique in that there isn't a traditional lobby waiting area. There is Papa's Den, a large room filled with lots of overstuffed furniture, which is a nod to Ernest Hemingway's time in Key West. There is a place for the kids to watch TV, like all other Disney resorts, and lots of comfy chairs and couches for relaxing and reading. Island tunes (think lots of Jimmy Buffet) are playing throughout the area.  There is also the valuable concierge for all ticketing and dining needs.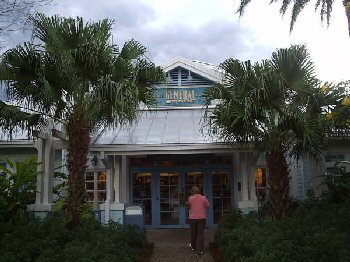 Across from the check-in area is the Conch Flats General Store (Conch rhymes with "honk"). In addition to a modest selection of grocery items you will also find snacks, microwavable items and packaged deli meats. Plus, this is the place to stock up on DVC and Old Key West themed items. Of course there is still a selection of Disney items and other sundries that a guest may need on vacation.
Hospitality House area also hosts some great places to munch. Olivia's is Old Key West's full service restaurant. Breakfast, lunch and dinner are served in a friendly dining area reminiscent of a 1950's kitchen. If you are just interested in a snack, Good's Food to Go is the spot. Located near the main pool and on the dock, stop here for hamburgers, hot dogs, snacks or ice cream. And right next door, the Gurgling Suitcase will offer Mom and Dad a spot for some decidedly adult beverages.
Recreation is a key amenity at Old Key West. They have even created an acronym for it: R.E.S.T. This stands for Recreation, Exercise, Swimming and Tennis. All of these can be found at the Hospitality House area.
Recreation: There is plenty to be had. Volleyball and shuffleboard are offered here. There is a beach themed play area for the kids, too.
Exercise: If all that walking around the parks isn't enough for you, there is a full service workout area including stationery bikes and stair climbers.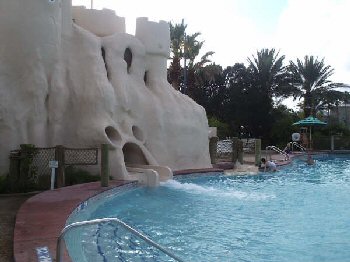 Swimming: What is a trip to sunny Florida without a dip, or a day, at the pool? Old Key West recently redesigned the main pool and has a uniquely themed slide. Kids and kids-at-heart will love zooming down the slide inside the sand castle and launching into the pool through a cleverly placed, not so hidden, Mickey.  There are three other, smaller pools located throughout the resort, for those not interested in traveling to the feature pool.
Tennis: A bit self explanatory, there are three tennis courts, two of which are lighted.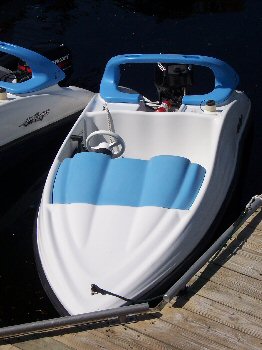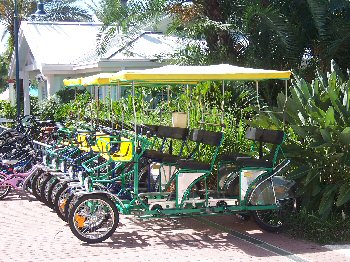 The recreation fun does not end here. Hank's Rent-N-Return offers oodles of recreation alternatives. There are surrey bikes for a leisurely ride around the resort. There is also a great variety of boats to rent and take a journey down the Trumbo Canal, including Pontoon boats, SeaRaycers and pedal boats. Guests can rent DVD's to be viewed in the in-room DVD players and borrow life jackets to be used in the pools.  Look here for a variety of other sport equipment to use in the other recreation locations around the resort.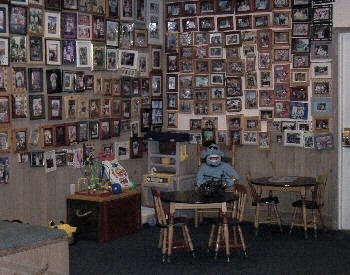 Hank also runs the Community Hall. This multipurpose room offers a cool break from the warm Florida sun. Play ping-pong or air-hockey here. There are daily crafts and activities for the kids and even a couple of Disney themed PCs for checking on email or some other online pursuits. There is also a corner with toys and tables for the younger ones. The walls of the room are adorned with photos of members enjoying their trips.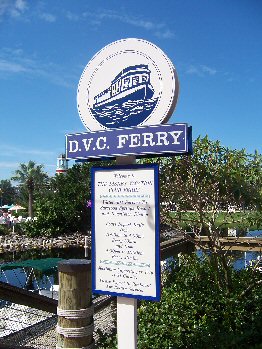 Getting around Old Key West is a breeze. Although the resort is big, there are internal resort buses that go from all bus stops to the Hospitality House. The usual Disney Bus Service brings guests to all four theme parks and two water parks from the bus stops located throughout the resort. A pontoon-type boat brings guests to Downtown Disney Marketplace, with a stop at Saratoga Springs as well. This is a great resort for those who drive or rent a car as well. There are parking spaces located outside of each building, so dealing with luggage and grocery trips becomes much easier.
So, as you can see, a stay at Old Key West is more of a stay in your own private condo. With views of the golf course or the canal from each room, privacy is a key feature.  And the Florida Keys atmosphere is very relaxing and laid back after a day of touring theme parks. So for a family gathering or a special trip, Old Key West is a great option to consider.
Room Types at Old Key West:
Studio (sleeps 4)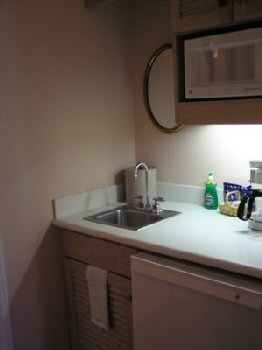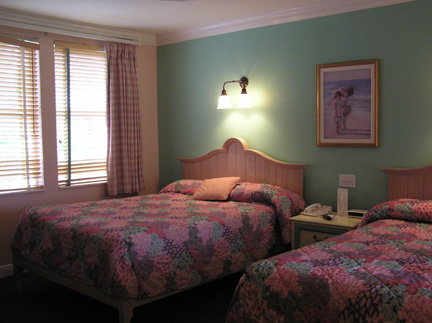 Kitchenette with microwave, mini-refrigerator, dry bar and coffee maker
Two queen-size beds
TV
Private porch or balcony
One-Bedroom Vacation Home (sleeps 4)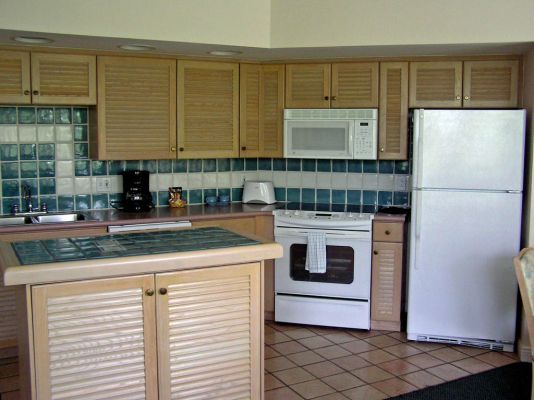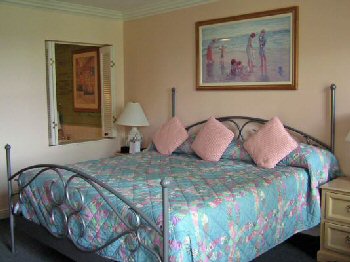 Master suite with king-size bed and whirlpool tub
Queen-size sleeper sofa in living room
TV/DVD
Fully-equipped kitchen
Stacked washer/dryer
Private porch or balcony
Two-Bedroom Vacation Home (sleeps 8)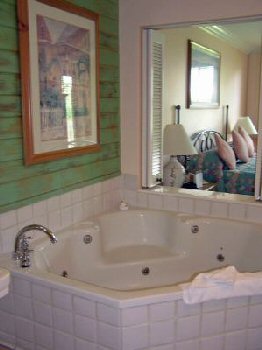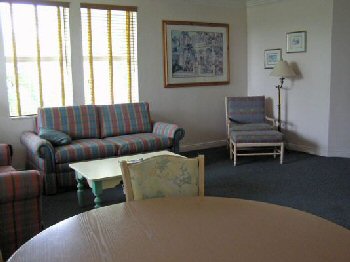 Master suite with king-size bed and whirlpool tub
Separate bedroom with private bath and either one queen-size bed and double-size sleeper sofa or two queen-size beds
Queen-size sleeper sofa in living room
TV/DVD
Fully-equipped kitchen
Stacked washer/dryer
Private porch or balcony
Three-Bedroom Grand Villa (two-level; sleeps 12)
Master suite with king-size bed and whirlpool tub
Two additional bedrooms, each with two queen-size beds and private bath
Queen-size sleeper sofa in living room
TV/DVD
Dining room
Fully-equipped kitchen
Stacked washer/dryer
Private balcony on each level
For more resort reviews of Old Key West, visit TheMouseForLess website.
Magically Speaking Featured Article
Library of Congress ISSN:1556-3863