This post may contains affiliate links for your convenience. If you make a purchase after clicking a link we may earn a small commission but it won't cost you a penny more! Read our full disclosure policy here.
On cruises we seldom do any shore excursions but instead usually tour the island on our own, or just look around the port where we're docked.  However, when you're cruising with two teens that like adventure, sometimes there's just something that you can't pass up.  This trip there was a new shore excursion to bobsled in Jamaica.  Now, I wasn't sure what I was getting in to, but it said you could go the speed you wanted, so I'm thinking that if I can go slowly, I'll be ok, so we signed up.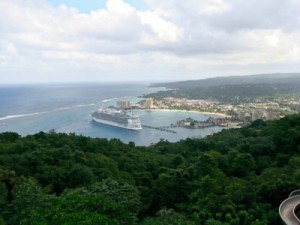 We got to see some of the area as the shuttle took us about 15 minutes to the base of a mountain where we got on the aerial tram to take us up Mystic Mountain.  This is actually like a chair lift skiers would take to the top of a mountain.  Again, not fond of open heights, it was a little nerve-wracking for me, but I soon forgot about that as we went through the rainforest and saw the beauty all around us.  The lift took about 15 minutes and in true tourist fashion, partway up they took your picture so you could buy that once you were at the top.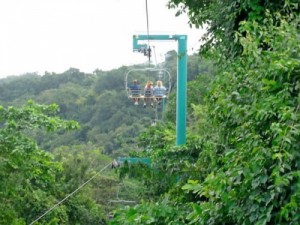 At the top the view is spectacular!  There is also a restaurant, a nice gift shop and the chance to do the bobsled or zip line.    There's also a small pool if you want to swim for a while.  We headed to the bobsled area where saw how to brake your bobsleds to slow down, or stop at the bottom.  You could either do your own, or be hooked up with another bobsled.  I had pictured a cement trough like the bobsleds in the Olympics, but once I saw that they were on a track, rather like a roller coaster track where it was hooked around the track and I couldn't go flying off, I decided this wasn't so bad after all.  When it was my turn I just opened it up and let it go full speed, which was great!  The only problem with this is that it was done too quickly—they should let you do it more than once, for sure!  At the bottom a cable pulls you back up to the station where you got on.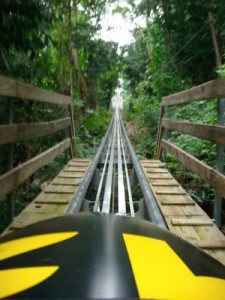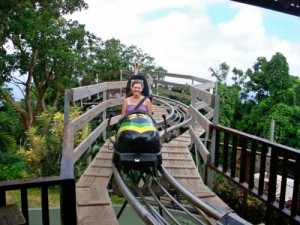 This had been so fun that we decided to do the zip line as well.  Now, I'd done one once before and it wasn't a good experience (was more like an obstacle course and NOT fun!) but I decided to give it one more try.  That was a great decision as this was wonderful!!  We went from one tree platform to the next, high above the trees, then right through the canopy.  The two guides we had were great, and lots of fun.  Unlike the other one I had done, they connected you, and disconnected you, from the line, so I always felt secure.  Probably the scariest part for me was where you dropped from one platform down a rope to the ground below.  Stepping off that platform, well, it took some time off this life, I think!  After several zips we were at the end, which is about halfway down the mountain.  As usual, there's a photo shop here, but you can also get on the lift to go back down the mountain.  Now, this is the only thing I found I didn't like about the experience, and one that they could have avoided if we'd only been told how this works.   At the top we put our stuff in a locker.  If we'd known how this worked we wouldn't have as they bring your stuff to the place the zip line ends so you can just continue down the mountain.  With this we had to go back up to get our stuff, then you have to stop there again if you want the picture.  Anyway, all that took extra time that if we'd known how it worked we could have saved about an hour.  Other than that, though, the experience was really good and one that I would gladly do again!