This post may contains affiliate links for your convenience. If you make a purchase after clicking a link we may earn a small commission but it won't cost you a penny more! Read our full disclosure policy here.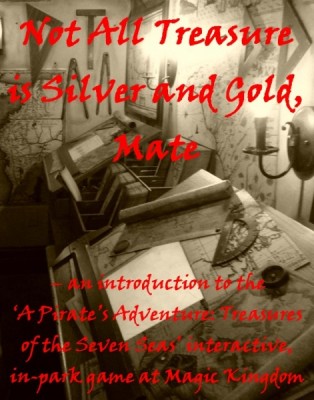 There are treasures aplenty at the Magic Kingdom and having not one, but two interactive games in one park may seem excessive at first, but A Pirate's Adventure: Treasures of the Seven Seas is well worth the time needed to undertake the voyage.
Ask yourself: Do you have the courage and fortitude to follow orders and stay true in the face of danger and almost certain death?
If the answer is 'yes', then this be the game for ye.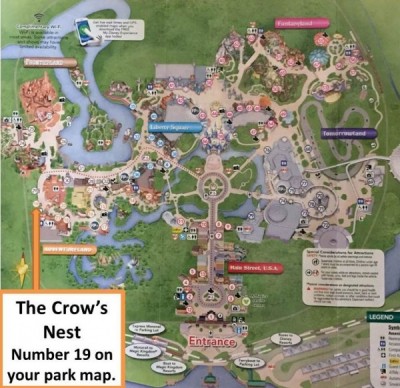 Your saga begins at The Crow's Nest.  Here a scurvy crew member will press you and any other members of your landlubber group into the service of Jack Sparrow – that's Captain Jack Sparrow to you.  After checking with the oracles and handing you a map, the sea dog will set you to sail on the high seas.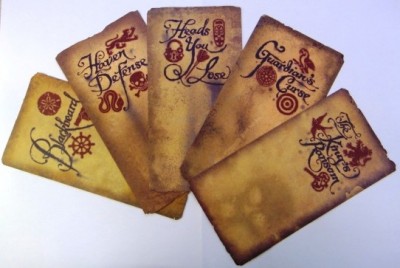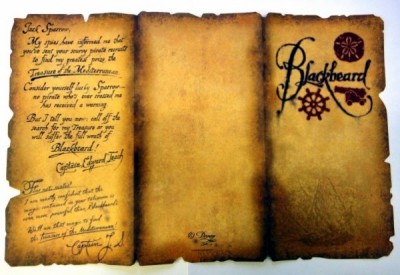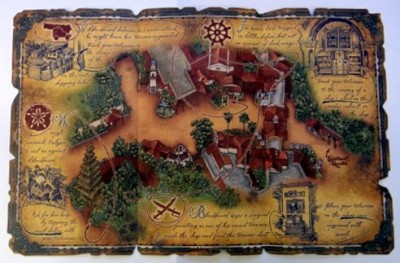 There are five raids to your adventure.  In each one you will help Captain Jack Sparrow search for a treasure of the seven seas.  Each raid has its own map, storyline, lore, and props.  Along the way, you will look for clues by finding locations on your map and then finding them in Adventureland (on your first couple of raids, having a park map as well as your treasure map makes finding your way that much easier).
Groups are welcome to play together – during your set up process, the number of players is entered into the computer.  One magic band, annual pass, or RFID ticket is required as your crew's identifier and that one media will be swiped at each location, so keep it close to hand.  Asking with courtesy should enable the acquisition of more than one treasure map.  If your powder monkeys are similar to mine, this one act will keep keelhauling to a minimum and reduce the requirement for parley.
As you commandeer (it's a nautical term) a ship and set sail (figuratively), you will navigate to your first port.  Once you have, in the manner of our Captain, out worn your welcome there, you will embark to several other ports as you track down informants and eventually, hopefully, the treasure.  You might have the opportunity to fight both pirates and the British Admiralty (Yo Ho), just remember that the good fight will always prevail.  At each location a bit more of your story is revealed until at last the treasure is within your reach.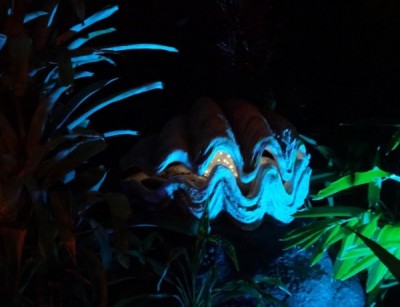 It is important to note that you will never be able to take the treasure with you.  It is far too large and for Captain Sparrow, so you might want to explain to younger crew that the reward is Jack's regard.  The maps are yours to keep.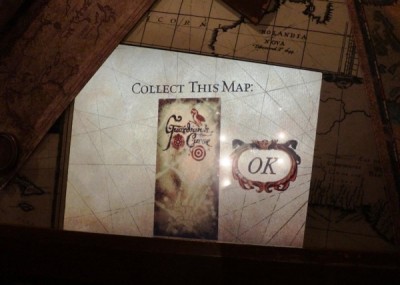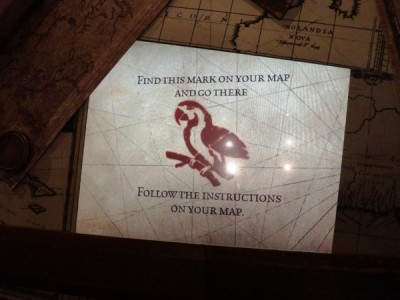 The order in which you experience the raids is decided by the oracles (okay, a computer system), however, at least the last raid is the same for all crews.  In each raid, you will be looking for a different treasure and fighting a different foe.  You can expect to spend about 30 to 45 minutes per raid depending on how quickly you find your targets.  Finding the correct locations can be tricky in a few sections, but do not worry, our Captain will send you back to the last port to regain your bearings if needed.
One note on location: The A Pirate's Adventure 'ports' are not the same as the Sorcerers of the Magic Kingdom 'Portals'. Some are very close to one another.  If there is a line and the players are holding up cards, then keep looking for your port.
All of the raids are enjoyable and me crew, nearly two months later, is still reminiscing about pivotal moments, embellishing tales of monumental fights, and comparing dastardly deeds.
Be aware: This is an interactive, pirate-themed game.  Smaller hands who find Pirates of the Caribbean, skeletons, the supernatural, or sudden noises and lights confronting, might find this game a bit too intense.  As the game is available during the majority of the park's opening, proceeding to the first raid during the daylight hours might be advisable.  This will allow the First Mate of your crew to judge the appropriateness of the other raids for those members and allow them to set sail to Fantasyland before bed, if needed. We did most of our raiding after dark and enjoyed the effects against the night backdrop of Adventureland, however, keep in mind that some of the effects are dimly lit.
If you complete all five raids, you will see a special ending to the last raid.  If you complete all five in one day, that ending is very special indeed.
~ Fair Winds, Matey, by ye Cap'n Nate.
Incoming search terms:
https://www themouseforless com/blog_world/not-treasure-silver-gold-mate-review-pirates-adventure-treasures-seven-seas/