This post may contains affiliate links for your convenience. If you make a purchase after clicking a link we may earn a small commission but it won't cost you a penny more! Read our full disclosure policy here.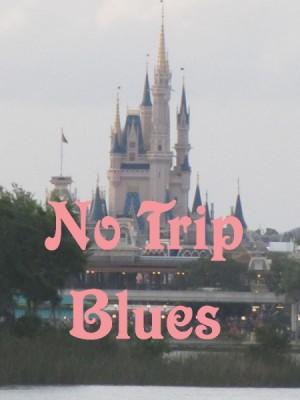 A year ago my husband and I were celebrating our 10 year anniversary in Walt Disney World.  In a year, we plan in celebrating our daughter's 9th birthday in Walt Disney World.  Right now however I am not visiting Disney but my younger sister is and I want to throw the it isn't fair card.  But since I am old enough to know better and old enough to realize that I am SO lucky to have gone to Disney before and will return again I instead find ways to 1. Help my sister, and others, with their trips 2. Relive previous trips 3. Bring Disney to our daily to our daily lives and finally 4. Start planning yet again, even if it is 365 days away.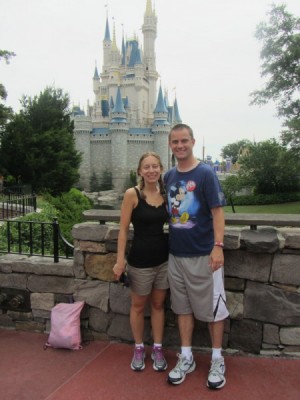 My husband and I celebrating our 10 year anniversary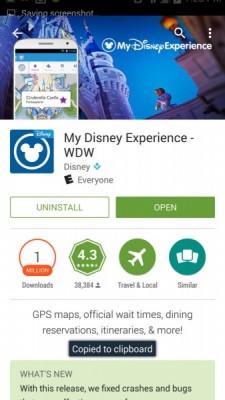 Disney's My Disney Experience App
As my sister gets ready for her first trip to the world in around 7 years, I have offered little tips along the way.  First have been different apps to download to help her while she is there.  We started with Disney's My Disney Experience App to keep track of reservations and Fastpasses.  I then suggested she look into different apps for keeping track of lines, characters, her reservation numbers (backup plan) as well as bookmark sites she might want to use such as Mouse For Less, Magically Speaking  and others that might offer suggestions and ideas while she was there or waiting in the airport.
From there we talked about her plan of action for each day.  Although she isn't as type A as I am, she still enjoys having a general plan so I suggested the number one tip for all Disney travelers:  get there early.  I feel like you can get so much done by getting to the park ahead of rope drop and having an idea of what rides you want to hit ASAP.  From there, we talked about taking breaks each day and drinking a lot of water.  She was surprised that Disney allowed people to bring snacks and water bottles into the park.  Learning that food service places will also provide ice to guests was another surprise to her. All of these were small pieces of advice that I enjoyed sharing with her.  So even though I am a little jealous of her going, okay maybe a lot, I did enjoy giving advice to make her trip even more magical.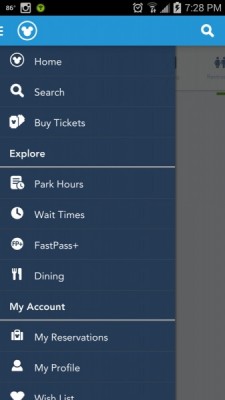 Another look at Disney's app
Giving my sister advice brought back all of the memories from our trip last year so I took advantage of that all pulled out the pictures, scrapbook and memories.  Each day during this past week I looked back at my journals, pictures and scrapbook and read through what we did that specific day a year ago.  It was so much fun reading through what rides we enjoyed, what food we tried, what advice we had for future trips, and looking through all of the pictures we took together.  It was a great way to jog our memory and remind us how magical our trip was last year and how lucky we were to have that trip together.
Our Scrapbooks From Previous Trips
We all know that most of us can't get to Disney every year, so we have to find ways to bring Disney to us. I have tried to find different ways to do that for myself as well for my family. An easy way to do this is to pull out those Disney books, movies and songs and enjoy the magic they all bring. There are also tons of ideas online of themed meals that you can do for your family and although I don't always follow them exactly, they are fun and do add some magic to the meal. We also head to the ice cream store and although there isn't a kitchen sink or Mickey bar, there is still delicious ice cream where we can pretend it is Disney magic. Finally, there are YouTube videos of Disney rides, shows and different entertainment that can allow you to pretend that you are there. All of these are great ways to bring Disney into your world even when you aren't in the world.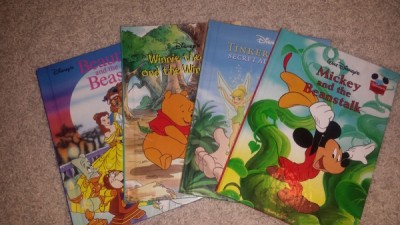 Some of our Disney book collection
Finally, I am constantly planning the next trip.  Even if it is years away, I am always reading about Disney through blogs, websites, Facebook pages and books.  This allows me to feel like I am part of the adventure that is going on in the parks.  It also keeps me up to date on changes that Disney is making to Fastpasses, restaurants, dining plans, rides, and entertainment.  I absolutely love reading about Disney and find myself constantly thinking about the next trip.  This makes the waiting a little less painful.
So even though I am not at Disney and will probably not be for another year, I have found ways to make the no trip blues a little easier to deal with by helping others plan their trips, reliving our trips, bringing Disney to our world, and continue to plan a future trip.
What do you do to keep your mind thinking about Disney, even when you don't have a trip planned?