This post may contains affiliate links for your convenience. If you make a purchase after clicking a link we may earn a small commission but it won't cost you a penny more! Read our full disclosure policy here.
Transatlantic Cruise on the Disney Magic May 2011 – Day 3 (1st of 6 days at sea with NO LAND IN SITE)
Cast of characters:
Mic from The Magic for Less Travel
Missy, from The Mouse for fewer lists and of Minnesota mom's runaway to WDW fame, one of Mic's BFF's
Ross, Missy's darling husband (aka DH)
Ross here again – Day 3 or our Trans-Atlantic cruise, or as Peter the Cruise Director likes to point out (continually) the 1st day of 6 at sea with NO LAND IN SITE.  You have to imagine an ominous deep voice with subtle undertones of intrigue.  Apparently he believes we will end up at each other's throats, ready to mutiny unless we are kept constantly entertained.  You go Peter!  Although I think we can handle the lack of our earth covered security blanket, whatever motivates you to continue the wonderful service and awesome activities – go for it!
After some relaxing, snacking and delivery of fish extender exchange gifts, we met up at Studio Sea for a cheese tasting and overview from the experts on the ship.  Great expectations turned into a bust.  Though the lecturing was ok there was not a lot of great information.  Also, the cheese tasting was marred by the fact that they were very unorganized – not getting the cheeses for the tasting distributed until 45 minutes into a 30 minute session.  They did not give a lot of meaningful information either.  When one of the guests asked about cheeses we may encounter in Spain, the Chef Cast Member said he did not know – was not knowledgeable of that area.  We thought that may have been a good thing to study up on considering we were headed that way.  Oh well, can't be on-point all the time.  We left early since our next stop was a much anticipated speaker – Don "Ducky" Williams – a Disney Illustrator!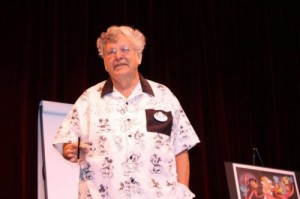 Ducky was great!  He told a long story about how he became a Disney illustrator (not animator).  Ducky's story is a very inspiring tale of persistence and a great window into Disney history from an insider.  If you ever have a chance to hear him speak I highly recommend it.  All the while he was doing wonderful sketches on an easel.  About every 5 minutes a fantastic illustration would materialize.  At the end of the lecture, there was a "raffle" and each of the 23 (!) drawings were rolled up and handed out.  It was amazing to see, and hear about the creative process.  After the session there was an opportunity to sign up for a 10 minute "private" session for him to draw a character especially for us.  Of course we signed up – hopefully well worth the $40.  While we were signing up, I found a great Mickey watch…had to have.
After that a bit more snacking on deck 9!  Goofy's Galley and Pluto's Dog House are great choices during the day.
Mic hit the Spa – a session in the Rainforest Room.  Very relaxing!  Heated chairs, aromatherapy saunas, huge rain shower-heads and quiet.  A great way to recharge and forget the world!  Missy and I did some financial administrivia with Guest Services.  They were very helpful in unraveling a couple of credit card issues.
We met up again and got dressed for dinner – formal night!  I donned my suit and the ladies decked out in dresses and heels.  We wandered a bit and gawked at all the fantastically dressed people.  Everyone looked amazing.  Got pictures with the Captain and headed to Walt Disney Theater to see Twice Charmed – a New Twist on the Cinderella Story.  It was really good.  It was a cool combination of animation and live performance with some great new songs and an "alternative reality" look at the Cinderella story.  A shortened, "Readers Digest" version of the Broadway play and it was a perfect hour to spend with friends (and my DW).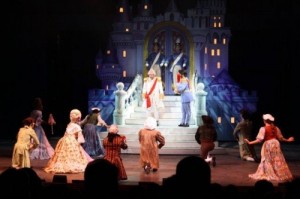 Lumiere's for dinner.  Again, awesome service, awesome food, and more new friends at the table!  Lumiere's is very classy and the food and service matched.  Our seat was next to a window to the main lobby so we were able to watch people lining up for character pictures.  Donald in his tux, princess Minnie and more!  After dinner we headed back to our cabin to relax and have an early(ish) night.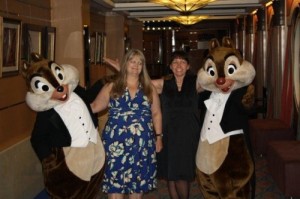 Tomorrow:  Day two of six at sea (with NO LAND IN SITE)!
Mic here, the no land in site thing is beginning to freak me out a bit, all goes back to when I was young and my older brothers were babysitting.  They let me watch part of the movie The Poseidon Adventure, and then sent me to bed.   Yep in my mind those people are still climbing those (upside down but still functional) staircases in the tipped over ship, hoping to reach the top, with ghostly versions of other groups of passengers occasionally passing through.    Yes, I was not keen on the idea of cruising, but did decide to give Disney a chance 6 years ago and well, got hooked.    The whole no land in sight for 6 days however, well, that's pushing my limits and I MAY have to retire to the rainforest room.    Yesterday was awesome however so I am certain the days will go by way too fast.    I got to dance last night with Chip and Dale IN tuxedos, so cute!