This post may contains affiliate links for your convenience. If you make a purchase after clicking a link we may earn a small commission but it won't cost you a penny more! Read our full disclosure policy here.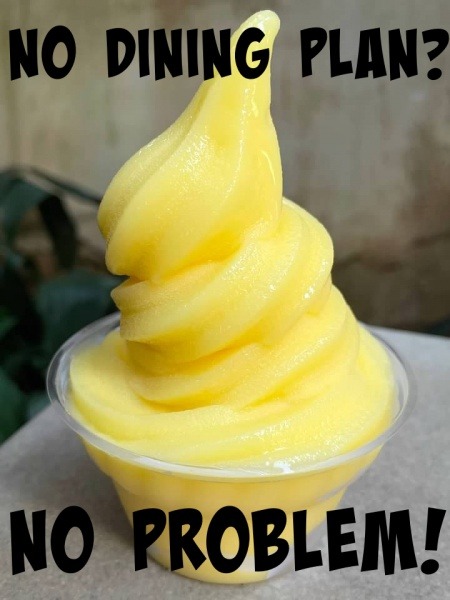 Recently, the Mouse for Less reported the much-anticipated news that the Disney Dining Plan (also referred to as the DDP) will be returning. This is promising news for those of us who appreciate having our meals and snacks prepaid before we arrive. Unfortunately, an exact time was not given when the Dining Plan is returning. If the DDP has not returned by your date of arrival you will now be better prepared in knowing how much to budget for your group.
So just what is the Disney Dining Plan? When staying at a Disney Resort you can add the DDP to your booked package. This means all guests in the same room will be on the same Dining Plan. Your entitlements begin the first night you stay and end at midnight on the day you check out. Your entitlements are kept on your MagicBand or room key card. Your restaurant receipts have the final tally of how many entitlements remain.
Whether purchasing the Dining Plans saves money or costs you more is often a hot debate between Disney fans. Since it is not yet available again it is best you strategize how much your food will cost for the duration of your vacation. This is based on Quick Service meals since the price of Table Service meals right now at Disney have such a broad range in pricing.
It is important to note the various Quick Service restaurants are not just of your burger and fry variety. The various offerings consist of several types of food. Let's explore some of these.
Disney Resorts offer various fantastic QS meals. They are geared to the theme of that resort. The breakfast bounty platter offered at each resort is quite filling and cost effective at just under $13.00.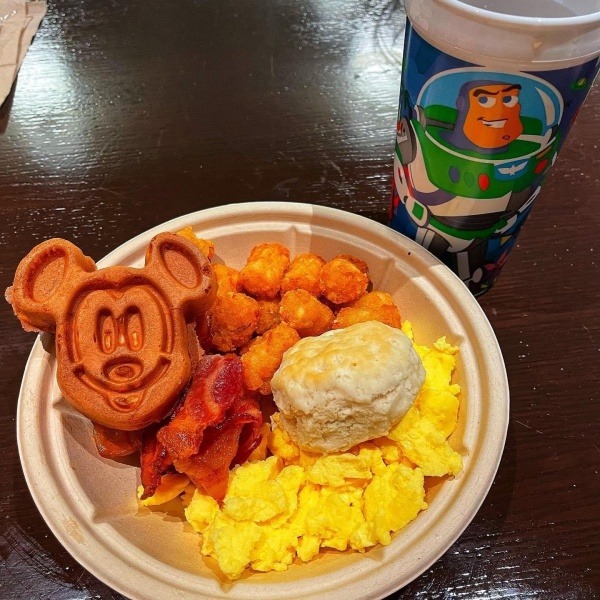 The parks host many QS options. Animal Kingdom has far more than your standard theme park food. Flame Tree Barbeque is one of my family's favorites. The platters have so much food that my nine-year old son and I usually split an entrée between us. Flame Tree's large platters are sure to satisfy any insatiable appetite.
Satu'li Canteen is one of Disney's more unique restaurants. They offer bowls where you choose your base protein and sauce. Another popular choice is the cheeseburger steamed pods.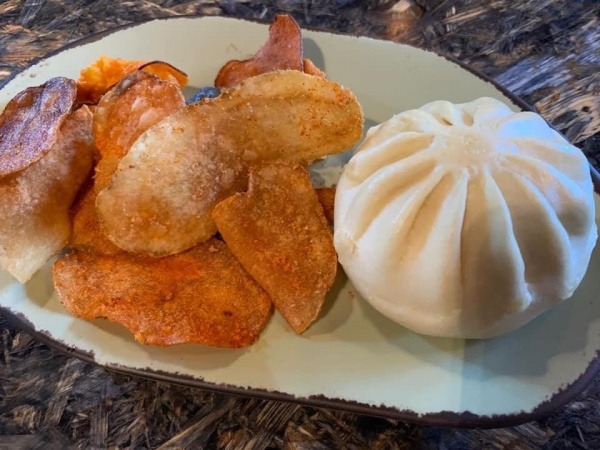 Besides the different flavors AK offers, Tamu Tamu Refreshments in Africa has spiked Dole Whip that we love to get every time we visit.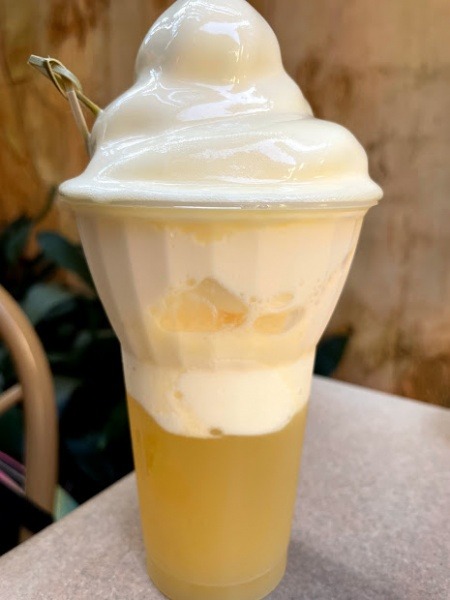 Magic Kingdom has a little bit of everything. Cosmic Ray's Starlight Café has your standard American fare of hot dogs and hamburgers. Pecos Bills Tall Tale Inn and Café is sure to satisfy your Mexican craving. An exciting recent reopening on Main Street is the beloved Casey's Corner. Small, simple and all American, the chili dogs can't be beat and the corn nuggets with cheese sauce just may have their own cult following.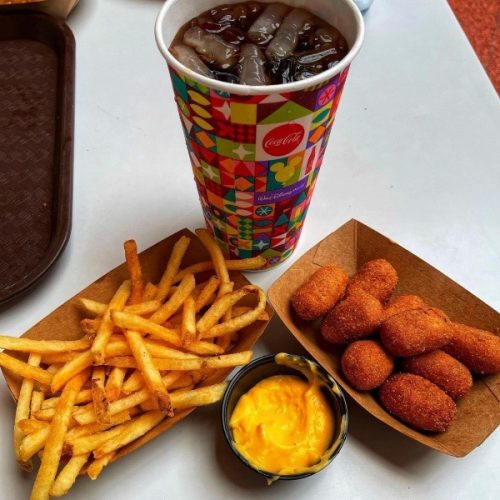 Disney's Hollywood Studios has not always had the strongest reputation for original Quick Service choices but recently there have been changes, such as the new menu at ABC Commissary. This new menu brought us the likes of Shrimp or Pork Carnitas Tacos and a Buffalo Chicken Grilled Cheese.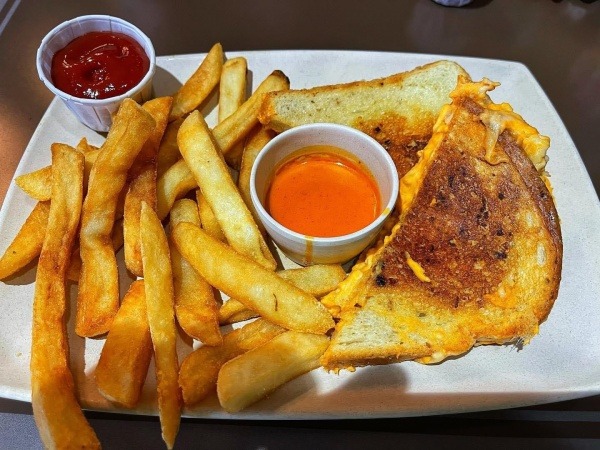 Lastly, we have Epcot. Most of the year, Epcot has a festival taking place with different food booths. Many of the countries also host a quick service location. We love Les Halles in France and La Cantina de San Angel in Mexico. Sunshine Seasons in The Land has a broad range of flavors to meet all types of pallets.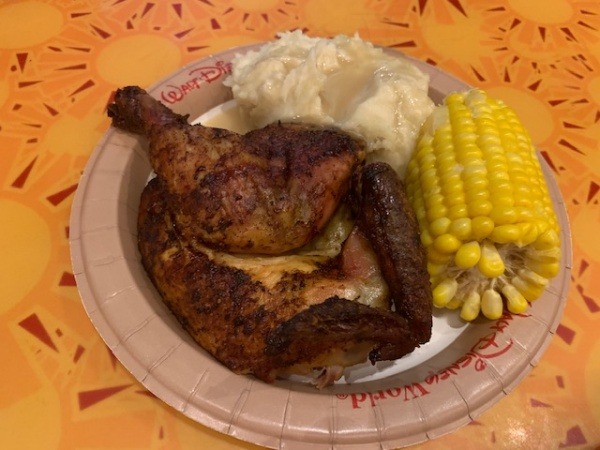 All parks have  great offerings, though, and your My Disney Experience App on your phone will help you easily get familiar with the menus and prices. At the time of this blog it is essential to go ahead and plan where you are eating that day. Mobile Order pick up time on the My Disney Experience fills up quickly. It is a good idea to go ahead and to have everyone in your party's order ready and to reserve your slot for lunch that morning.
I came up with these figures by averaging the highest and lowest, respectively, in each category.
One Quick Service Meal $14.00
One Beverage $4.00
One Quick Service Meal  $14.00
One Beverage $4.00
One Snack $7.00
One Snack $7.00
Total $50.00
This is a loose average of the highest and lowest cost of each item. For someone under 10 it will cost a good bit less. I am a light eater by nature and found myself often getting the kids meal which was sufficient. To save cost we also brought easy breakfast items to the room. Fruit and in between snacks are also a good filler to have on hand in between meals. At the Park we have Disney's free water with our snacks and sometimes meals, to make sure we stay well hydrated.
I look forward to the return of the Disney Dining Plan and will be on the phone to my travel agent at The Magic For Less Travel Agency a Platinum Earmarked Agency to add it for our party of six. Until then, I will use this formula to make sure we have enough money planned to cover the cost to keep from getting that dreaded sticker shock the day of check out.
Do you prefer to use the Disney Dining Plan? Or do you tend to not get it? Why? Let us know in the comments or on Facebook or Twitter!
Did you like this article? Make sure to share it with your friends! Check below for easy ways to share!  
Want to visit a Disney Destination? Contact The Magic for Less Travel for more information and a free, no-obligation quote.

Incoming search terms:
https://www themouseforless com/blog_world/no-disney-dining-plan-no-problem/