This post may contains affiliate links for your convenience. If you make a purchase after clicking a link we may earn a small commission but it won't cost you a penny more! Read our full disclosure policy here.
By Erica Colmenares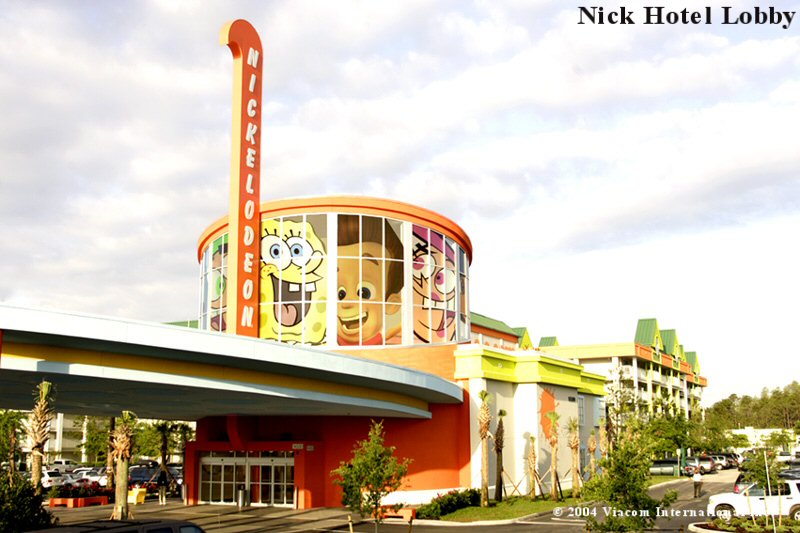 If you've driven down 536 (Greenway) into Disney World since this spring, you'd be hard-pressed to miss one of the newest (or most newly-remodeled) resorts on the block. The first-ever Nickelodeon Family Suites by Holiday Inn is a 24-acre, $110 million resort with 777 suites. Previously named the Holiday Inn Family Suites Resort, the hotel re-opened this May in (s)lime green and orange splendor, an over-the-top kids' paradise, one mile from the Disney gate. Not that you'll be able to drag your children out of the hotel, so be sure to go when you don't want to do anything but play, SpongeBob-style.
I asked around recently about the Nick Hotel, and Katy from New Jersey had this to say: "We had an awesome time there and if your kids are Nick fans they will love it! The price is good, the amenities are good, the accommodations are certainly comfortable (while not at all luxurious- I'll take our two-bedroom Boardwalk Villa over it any day!)." Sue Miller wrote that the "staff was very good. Very polite and helpful. My kids are great SpongeBob fans, so I think they enjoyed it. The decor got to us after a bit, though!" Sue adds, "The place is huge. Our elevator was down and I felt like I had to walk forever schlepping our bags. If I had known it was down I would have gone with a bellman." Jesse echoed both of Sue's comments, saying of her June visit "Our main complaints were the humidity in the rooms and the fact that 2 buildings shared one elevator (slow and not very roomy). But other than that it was very nice. The staff was friendly and helpful, always smiling."
The hotel's one-bedroom kitchen suites have a king bed plus a pull-out couch, so they sleep four. There's a 25″ TV, a ceiling fan, a workstation with vanity, a lighted make-up mirror, hairdryer, an iron and an ironing board. The kitchen has a full-size refrigerator, stovetop range, microwave, dishwasher, coffee maker, cookware and flatware. The suite has high-speed internet access, Web TV, Pay for View movies, and video games. The two-bedroom kid suite can sleep up to seven if you are on very good terms. The semi-private kids' bedroom has bunk beds with a kid-size pullout sleeper bed or 2 twin beds, a 20″ TV with DVD player, an in-room game system, and a CD/cassette player. The private adult bedroom has a king or queen bed plus all the amenities of the kitchen suite bedroom. The "family room" has a pullout sleeper sofa, a 25″ TV with web TV and pay for view movies, video games, a rocking chair, table with chairs, a safe, a mini-kitchen with sink, a refrigerator, a microwave, a coffee maker, and high-speed internet access. All rooms have express check out. Three-bedroom suites sleep up to nine and include a fully equipped kitchen as well as a second "adult" bedroom with a king or queen bed.
For the actual room layouts, visit the hotel's official website (http://www.nickhotel.com/). The room drawings will help you see the differences between the room options but may give a false sense of the suite sizes. One comment many have made is that the suites were smaller than expected. Sue wrote "The rooms are a bit small. The decor was fun. We had a kids' suite – not bunk beds – but two 'rooms' as well as a little sitting room." Katy stayed in a two-bedroom suite, and said even the bathroom "is decorated with Nick colors and the shower curtain has all sorts of Nick characters abstractly painted on (Dora, Blue, Spongebob, Wanda, and Cosmo)." All the two- and three-bedroom suites are Nickelodeon-themed. Motifs include SpongeBob, Rugrats, Fairly OddParents, Jimmy Neutron, and Danny Phantom themes. Specific themes can be requested, but the hotel cannot guarantee any request unless you are interested in the SpongeBob upgrade. That'll cost you $20 extra per night, and is only available for the two-bedroom suites. None of the one-bedroom suites are themed, including the Nick@Night suites (which are considered the honeymoon suites by the hotel, perhaps due to the 117-gallon heart-shaped whirlpool tub and the mood lighting).
The room rates at the Nick Hotel vary widely depending on the season. Trena Stone, who evacuated to the Nick Hotel during Hurricane Dennis in July was offered a discounted "hurricane evacuation rate" at the time. For this October, a king bed suite with kitchen runs $188 plus tax, a 2 bedroom kids suite with bunk beds is $212 plus tax, and a 3 bedroom kids suite with bunks goes for $436 plus tax. These prices require non-refundable payment, and the Holiday Inn "Best Flexible Rate" for the same nights, which charges a much smaller cancellation fee, is about $10 more per night. For the same rooms in January, you'll pay $178 for the king room, $196 for the 2 bedroom suite and $413 for the 3 bedroom. Reservations can be made up to 50 weeks prior to your stay.
There are a variety of dining options at the Nickelodeon Family Suites, including Nick-themed character meals. The character breakfast is held at the Nickelodeon-themed Nicktoons Café. It has a self-serve buffet and includes such characters as SpongeBob SquarePants, Dora the Explorer, Patrick or the Fairly Odd Parents. Adults pay $17 plus tax, and kids pay $10. Only guests of the hotel may attend, and the Kids Eat Free program is not available for this meal. Reservations are recommended (1- 866-462-6425). During September, this character breakfast is free for guests.
The Nicktoons Café also has a nightly buffet as well as an a la carte menu. Kids 12 and under eat free for these meals if dining with an adult. Another dining venue, The Buffet, features, well, buffets for breakfast and lunch, minus the characters. Breakfast offerings include hot and cold selections as well as juice, coffee, tea and milk. At lunch, the buffet includes a beverage, bread, desserts, hot and cold selections, vegetables, fruit, soup bar and salad bar. Kids also eat free here, with an adult.
The Grill at the Lagoon Pool is only open seasonally. When open, sandwiches, wraps, salads and snacks are served. The Lagoon Pool Bar has beverages. There are also snacks and a bar at the Oasis Pool area. The Food Court has a Pizza Hut Express, an A&W and Barnie's Coffee and Tea Company. There is also a convenience store with packaged food, drinks, snacks, and sundry items. The Nick@Night Lounge offers frozen drinks, after-dinner coffees and a full bar. Finally, room service is available for breakfast and dinner.
Food reviews are mixed. Trena Stone called the buffet breakfast "OK, nothing special. We ate dinner one night from the A&W in the food court and it was standard fast food." Jesse and her family did the character breakfast and thought "it was like any buffet breakfast with characters at Disney. Nothing extra-special food-wise. The characters were much like the Disney grounds, making their way around the room in a certain order and stopping at each table before you leave. They make special announcements for birthdays, anniversaries, and such and sing to the parties. Truly we found the food fine, nothing spectacular, mind you, but not awful either. Sue reminds us that "the fact that the kids can eat for free is great!"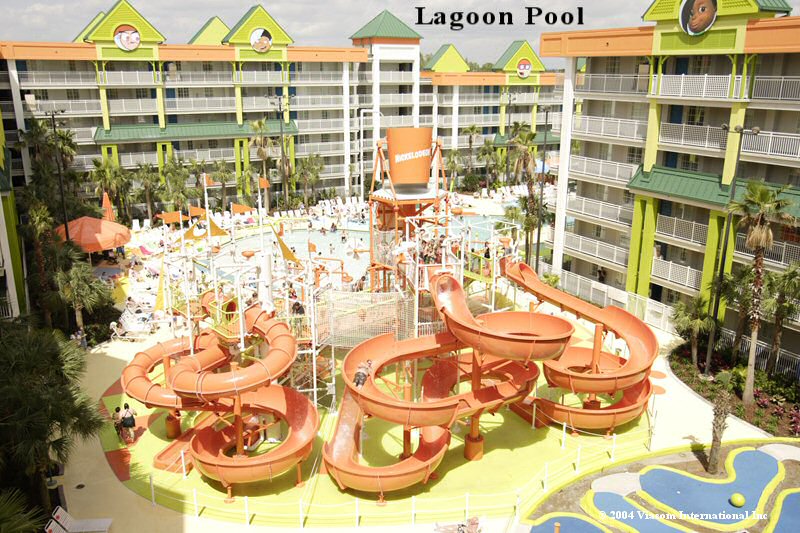 Pool reviews were nothing but splendid. The hotel has two pool areas, the Lagoon pool area, and the Oasis pool area. The Lagoon Pool is a zero-depth entry pool with a five-story water tower, a 400-gallon dump tank, a basketball court, seven water slides and flumes, climbing nets, water jets, carpet mini-golf, and two family-size whirlpools. Activities are scheduled each day, run by the recreation staff. Life jackets are available at the lifeguard stand. The Oasis pool area has an Olympic-style lap pool, more water flumes and slides, a shaded play space with a splash zone for pre-schoolers, a sand play area with a slide, and another two family-size whirlpools. There is a swim pants policy for all children under age four. Guests are given wristbands for admission to the pools. Jesse said, "Apparently they were having a lot of pool crashers."
Katy described the two pool areas, "One is geared for older kids and one is geared for younger kids. The guest rooms are built around the pool so the walk from any room is less than 5 minutes. The lifeguards are abundant and very friendly with the kids. They also have poolside Nick Live shows about every hour where they pick kid volunteers out of the pool to participate in Nick-themed games." Jesse's family mostly used the Lagoon pool and added this description: "There is a nice selection of tables with umbrellas, some quite large if you get there early or later in the day. You were allowed to throw water toys in the large pool. They had water cannons for the kids to aim around, a water umbrella, water shooting into the pool – the kids had fun blocking the holes and causing the others to shoot farther or higher. Trena said "We had to talk Emily (8 years old) into trying the big slides. She was afraid at first but loved the slides after she tried them. Harrison (6 years old) was not afraid of anything! It was hard to keep track of him at the pool, though." The lifeguard presence was good, according to Jesse: "I felt it was as safe as letting your kids swim at Walt Disney World. There were many lifeguards all around; we were almost falling over them, really."
If the weather's bad, or you can't take one more second of water play, there's plenty to do inside. The Arcade is a 3000-square foot game room stocked with today's most popular and challenging games – tickets can be redeemed for Nickelodeon stuff! Videogame and movie rental is also available. At Studio Nick, there's a live interactive show each night, with audience participation. Trena's family saw the family quiz show: "They paired up 3 parent-child sets and asked them funny and sometimes embarrassing questions, like 'who in your family has the stinkiest gas?' All of the kids got a good laugh out of the 'bathroom' humor and making fun of their parents." The Kids Spa offers hair-wraps, hair-braiding, airbrush tattoos, manicures, and pedicures. There's also a guest photographer in the Mall area for scheduled family photos with Nick characters. Parents may want to look into the Nick After Dark program where "the kids will play while the parents are away." This evening program offers activities to kids ages 5-12 while allowing free time for adults.
If despite all these resort activities, you still want to leave the hotel for an area hotel, the resort offers free scheduled buses to Universal Studios/Islands of Adventure and all four Walt Disney World Theme Parks. Reservations are required one day in advance, or 48 hours in advance for guests requiring ADA assistance. Unescorted minors, 15 and younger, are not allowed on shuttle buses.
While we have included the thoughts of a few TheMouseForLess yahoo groups list and TourGuideMiKE forum reviewers, another good place to look for reviews is http://www.tripadvisor.com On Tripadvisor, the Nick Hotel is rated 39th out of 208 Orlando-area hotels that are rated. Here's the link to reviews: http://www.tripadvisor.com/Hotel_Review-g34515-d144437-Reviews-Nickelodeon_Family_Suites_by_Holiday_Inn-Orlando_Florida.html
If you are staying off-site from "The World" to save money, the Nick Hotel certainly won't be the way to go. But it might be a fun splurge night when you arrive, or before your departure day, or for DVC members on those point-expensive weekend nights. Katy concludes her review enthusiastically: "We'd definitely stay here again but probably under the same premise of going just to enjoy the hotel for a day or two. It's not the kind of place that's easy to leave when you have small kids. That pool's just way too enticing. So in my opinion, if you stayed here to go to the parks, you wouldn't get to enjoy the activities at the hotel anyway so what's the point? If you have a few days in your itinerary to check in and hang out, go for it!" And I think we will! How about you?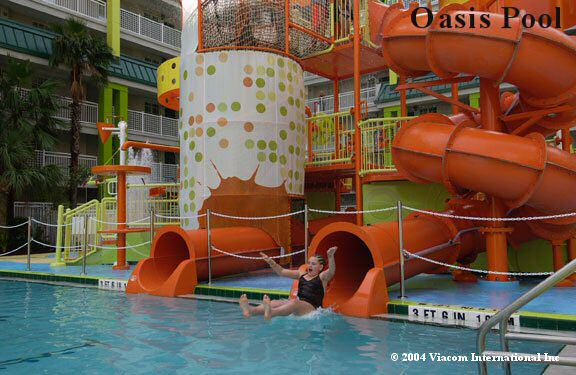 Magically Speaking Featured Article
Library of Congress ISSN:1556-3863