This post may contains affiliate links for your convenience. If you make a purchase after clicking a link we may earn a small commission but it won't cost you a penny more! Read our full disclosure policy here.
Contributed by Magically Speaking Readers; Compiled by Erica Colmenares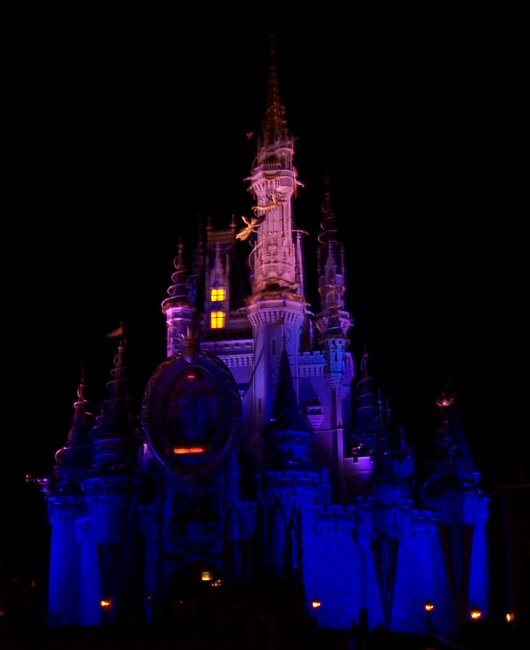 It is January 2nd, one day into 2006. Time to look at those resolutions I made yesterday. Get more sleep: check. Drink more water: check. Eat fewer sweets: ehrm . . . enough about me! What about you?
We asked you, our Magically Speaking readers, about resolutions. Specifically Disney travel resolutions. After your last trip, what did you resolve to do differently? What would you never do again, or make sure to include in an upcoming Disney vacation? We're glad we asked. Read ahead; you will be too.
A number of emails addressed the benefit of Smelling the Roses. Kimberly O. related a story of a rainy day at Epcot when her husband neglected to pack the kids' rain gear: "As the rain starts to let up, we decide to brave walking through World Showcase. It's still sprinkling and gets worse every now and again. I'm cranky, longing for our rain gear. Then I notice my children. My 5-year-old daughter is having a blast, jumping in every puddle she sees. My 2-year-old son is mesmerized by Germany's train set. He stands watching it for 20 minutes, ignoring the drizzle which, I suddenly notice, has stopped. My husband and I watch the two of them and realize that this is what it's all about. It's not just the rides, shows, characters, and attractions, although — don't get me wrong — we love all of that. It's just our family in a place we all love, making our own memories, and enjoying being together."
Magically Speaking Co-Editor Michelle wrote "After our last trip we resolved never to say, 'We'll come back to it.' It always seems that whenever we say, 'Oh, we'll do this later or 'Let's come back to this after we do such-and-such we never do. We've missed many shows and other attractions because we were in too much of a hurry to get to something else. We resolved to try to plan more of the things that we've wanted to do (mainly shows and performances) rather than add them in as secondary (or dare I say it, tertiary) activities. When we have taken the time to literally smell the roses (at Epcot's rose path) we have enjoyed it as much as the rides and other 'big' attractions."
Tami H. offers this advice: "After just returning from a week-long WDW trip, all of our resolutions are fresh in my mind. We have decided not to try to do everything on our future trips to the 'World.' We end up leaving disappointed at the thought of all of the things we missed and just couldn't fit in. Also, there were many times we caught ourselves pulling the kids away from things they were doing just to get to a bigger attraction. So many magical memories come from those moments away from all the hustle and bustle–just little things that kids find so fascinating. We want to take the time to sit, watch and enjoy with them. Finally, we've decided to take a day and dedicate it to just relaxing at the pool/resort. With all the rushing, it's a great way to unwind! We were all so sore about halfway through the trip. A day of downtime is just what we needed."
Tracy J. likes the idea of a free day at Disney World, as well: "We go to WDW every other year in the first week of December. This was the first year where we planned a full day, a morning and an evening, to remain completely free. Our trip was so much more laid back knowing we had that extra time to relax, tour resort decorations, or go back and visit something we missed. It was wonderful, and we'll never plan another trip without all the extra downtime."
Joanne Myers recommends just adding more time, period: "We decided after our last trip that we would add another few days to our next trip. There were a couple of things that we did not get to do that we would have liked to do."
Magically Speaking Senior Editor, Carol, tries to avoid getting in a rut during her family visits: "All too often, we get stuck in our routines. The kids like the same thing for breakfast, we go to the same restaurants, watch the same TV shows, read books by the same authors. As a frequent traveler to Walt Disney World, this routine can transfer into our vacations as well. We still eat at the same restaurants, stay at the same resort, ride the same rides. The problem is that there is so much more in the World to see and do. So we have resolved to try new things. Sure, we still eat at the Crystal Palace and ride Big Thunder Mountain. But we also try a new restaurant, find a type of food we have never tried, go on a tour or stay in a new resort. We have found that mixing something new with our familiar places helps keep our trips enjoyable. We have also found that the kids are more likely to try something new at Disney than at home. Once they realize that eating in a steak house won't scar them for life, we can try it again at home and broaden our horizons there, too."
A number of readers vowed that they'd never go again without buying the dining plan. Heather B. writes: "My boyfriend and I resolved that, for our next trip to the World in May '06, we will buy the dining plan – we had tried it for free back in September '05 and we were able to eat at the greatest restaurants we otherwise wouldn't have tried. On the flight home, we swore we would never go to Disney again without the dining plan!" Dmress3 adds this meal resolution: "Do make reservations way ahead of schedule — On day 2 of our 12-day trip, we called for a seating for any meal at the Crystal Palace and were told that they had a table available in 17 days! However, we could show up 1 hour prior to any meal seating and wait for a no-show. (Tell that to a couple of kids!)"
Where to stay on future visits was a popular topic among readers. For the most part, folks vowed to never stay off-site again. Tracey A. wrote: "We resolved never, ever, ever to stay offsite again. We stayed offsite for one night when we arrived in Orlando until we could check into our Disney Resort. There was no Disney magic there." Barbara B. concurred: "We had not stayed on Disney property the last two times we visited WDW, mainly due to cost. This time we stayed at the Caribbean Beach Resort and were delighted with the entire experience. We were chauffeured for the entire week, starting and ending with Magical Express, then with the Disney buses during the week on-site. It was great and the most amazing part was that, no matter how tired they were, people were 'gentlemen' and gave up their seats on the buses time and again to those needing assistance. Late one night a dad even got up and let our 9-year-old twins sit down without hesitation as they boarded the bus. How wonderful people are! What would I vow to do- STAY WITH DISNEY or STAY AT HOME!!!"
Suzie M. vowed to keep it simple, hotel-wise, next time around: "My husband and I usually switch hotels part of the way through the trip, but on our last trip we spent so much time doing this, it took away from our time at the parks so we resolved to spend the whole trip in only one resort when we return."
Bree H. wants to avoid the heat next time around: "I can tell you, we resolved never to go to Disney in the summer months. The heat and humidity were something in June 2004. We're pulling our 3 children out of school in December 2006 to go at a more temperate time of year as well as a less crowded time. Plus, we'll have the added bonus of seeing WDW all decked out for the holidays! Woo hoo!"
Some veteran Disney travelers resolved to add special tours or treats during their next Walt Disney World vacation. Suzie M. wrote: "We'd like to add a tour each trip. The last trip we took was the Backstage Magic Tour, and we loved it! It really gives a different perspective to this wonderful place. Next, I'd like to do a Segway tour." Heather B. agrees: "We resolved we would try the Around the World on a Segway tour at Epcot after reading so many great reviews!"
Tracey J. wants to add to the holiday fun with her resolution "to attend two Mickey's Very Merry Christmas Party events. Once to watch all of the special shows, and once with dinner at Liberty Tree Tavern and then do nothing but rides! The fireworks are worth the cost of admission alone, and this way we get two nights of the festivities in case there's something we missed the first night! The second night, while everyone else is watching the shows, we'll walk on all of our favorite rides!"
Here's a final resolution, from Lucinda M: "My son and his wife surprised me with a trip to WDW in October. It had been 5 years since I had been, and I wanted to enjoy it to the fullest. Since they are both serious Disney Nuts, I knew that would be easy. But, this time, I wanted to really abandon myself to this wonderful place. Usually, when I ride any of the "mountains" I would grip on for dear life! Not this time! I vowed I would throw my hands up in the air, scream loudly and joyfully and experience each one like a child (and I'm no child, let me assure you!) And you know what? I did just that! I came away from the trip with a newfound sense of thrilling freedom and it made everything else there that much more wonderful. It was my best trip to Walt Disney World ever, and I can never thank my kids enough for the gift!"
Lucinda's resolution to surrender to the Magic will serve us all well in 2006. Happy New Year!
Magically Speaking Featured Article
Library of Congress ISSN:1556-3863