This post may contains affiliate links for your convenience. If you make a purchase after clicking a link we may earn a small commission but it won't cost you a penny more! Read our full disclosure policy here.
By Carol Garcia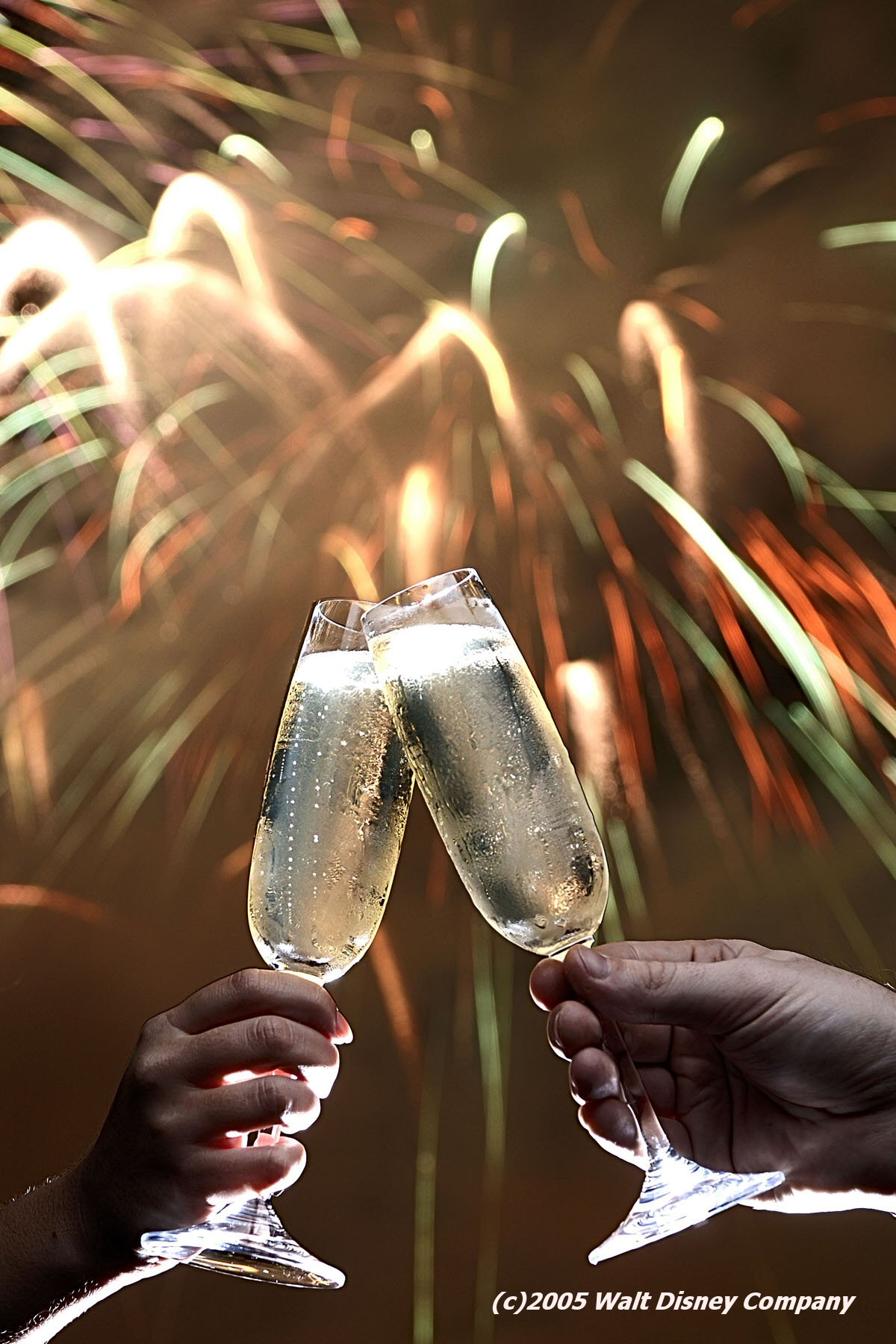 So you are going to be in Walt Disney World for New Year's Eve? Well, you won't be at a loss for places to ring in the new year.
The headline event is of course the bash at Pleasure Island. Nowhere else will you find a party with the likes of Smash Mouth, S.O.S. Band and Paul Jackson Jr. This is a ticketed, island-wide street party for adults only (21 years and above). Admission is $89 plus tax, but that also includes admission to all the nightclubs that Pleasure Island has to offer. The party is held from 8 pm to 2 am. The new year will be rung in with a fireworks display and a champagne toast. For tickets, call 407-W-DISNEY.
Another option is at the West Side of Downtown Disney. Cirque du Soleil La Nouba is always a great option for an evening out. On New Years' Eve, there is even more in store. There will be a champagne toast and a souvenir program, complete with an autographed insert. To top it all off, a special finale created just for the night will be shown. For tickets and information, call 407/939-7956.
If parks are more to your liking, there will be activities there, too.
Magic Kingdom: The Magic Kingdom will be open from 8 am to 1 am on December 31st. And if 17 hours at the Magic Kingdom isn't enough, there is a morning Extra Magic Hour scheduled for that day, too! Also on the schedule are two showings of Mickey's Very Merry Christmas Parade (12:30 pm and 3:30 pm), two showings of SpectroMagic (7 pm and 10:30 pm), and a presentation of Wishes Nighttime Spectacular at 8:30 pm.
Epcot: Future World is slated to open at 8 am and remain open until 1 am. World Showcase will open from 10 am to 1 am. There will be two (yes, two!) Illuminations presentations. One for the early birds (or those with younger kids) at 7:30 pm and another to ring in the New Year at 11:40 pm. And Disney also has The Making of Me, open seasonally that day. Maybe not the ultimate in New Years' celebrations, but it hasn't been open in a while. For a bevy of mini celebrations, you can also ring in the new year in each pavilion of the World Showcase as the clock strikes midnight in the actual country.
Disney-MGM Studios: The Studios will be open from 9 am – 1 am. You will be able to really study the Osborne Lights with viewings from 6 pm to 1 am. The Hollywood Holly-Day Parade will be shown at 3 pm and Fantasmic! will be shown three times at 6:30 pm, 8:30 pm, and 10 pm. Those not done partying at 1 am (and staying on-site), might head over to the Studios where evening Extra Magic Hours are scheduled, as well. This is one of the few times you will be able to see fireworks at MGM, too. The fireworks presentation will ring in 2006 at the Studios.
Animal Kingdom: Although the hours aren't quite as late as the other parks (8 am – 6 pm), there will be a presentation of Mickey's Jingle Jungle Parade at 3:45 pm. This is also a morning Extra Magic Hour day for the Animal Kingdom.
Remember that the parks will be extremely crowded on New Year's Eve and some may reach capacity. That could hinder your ability to enter the park later in the day. Getting to the park early and spending the day is an option. Just don't plan on this being a commando park day. The lines will belong. The is the day to stop and smell the roses! Another option is to watch the park celebrations from outside of the parks. The beach at the Polynesian is a great place to see the Magic Kingdom fireworks without the huge crowds (you won't be the only one there, but it will be less crowded than Main Street). The Boardwalk area offers views of Epcot's celebrations (and some of MGM, too!) without park entry. Also, driving will be difficult this day, so either relies on Disney transportation if you are an on-site guest or park your car once and leave it for the rest of the day, using Disney transportation if you are going to another location on site.
The resorts will also be ringing in the new year Disney-style!
At Boardwalk's Atlantic Dance Hall will be rockin' with the band The Big Ide, playing tunes from the '80s, '90s, and now. There will be a grand champagne toast at midnight, wonderful snacks, and divine dancing. This is a 21 and over party. For those wishing to indulge in the champagne, Disney transportation will continue until the party is over. A limited number of tickets will be sold on the day of the event starting at noon at the Atlantic Dance Box office.
Some of the resort restaurants offer special package meals for New Years' Eve. Among them are California Grill and Narcossee's in the Grand Floridian. For complete package details, call 407-WDW-DINE.
You may also choose to venture over to Universal for the last day of the year. Universal will host its celebration, at Universal Citywalk from 8 pm to 2 am. Tickets are $109 plus tax for general admission and $149 plus tax for VIP access to select areas and free drinks. The entertainment for the evening will feature Styx and The Funk Brothers featuring Gloria Gaynor. Comedians Kevin Meaney & Jim Breuer will appear in CityJazz. There are seven total clubs that will host parties throughout Citywalk. The event price includes a selection of all-you-can-eat gourmet food, a midnight champagne toast, and fireworks.
If SeaWorld is more your style, they will also be hosting a New Year's Eve bash with live entertainment and fireworks. The countdown continues all night as a 14-piece band, jazz musicians and a DJ keep the party going all the way through midnight.
Magically Speaking Featured Article
Library of Congress ISSN:1556-3863