This post may contains affiliate links for your convenience. If you make a purchase after clicking a link we may earn a small commission but it won't cost you a penny more! Read our full disclosure policy here.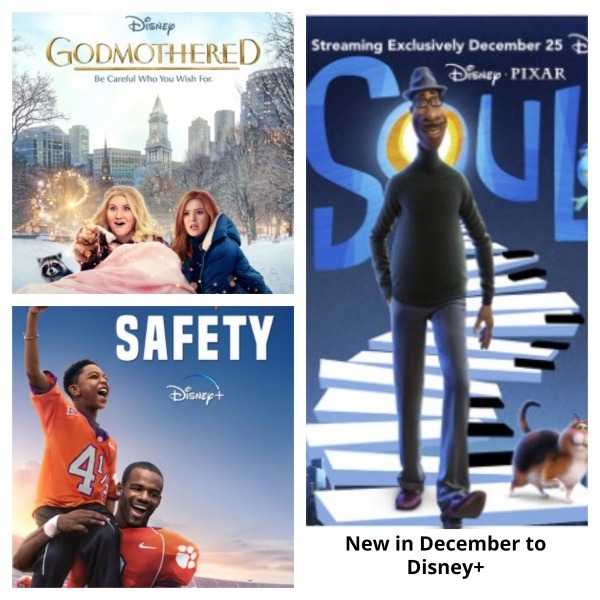 Disney+ offers a great selection of new streaming for viewers in December 2020.  Let's take a look at what everyone has to look forward to.
Disney+ New on December 4
Disney+ adds Anastasia and the new live action Mulan in addition to the the newest episode in Season 2 of The Mandalorian.  The highlighted premiere for the week was the movie Godmothered.
Godmothered is the story of Eleanor, a fairy godmother in training, who sets off with a goal of proving that people still need fairy godmothers.  It's a feel good story set at Christmas time where Eleanor does her best to answer the request of a letter written by a ten year girl named Mackenzie.  However, Mackenzie is now all grown up with a family of her own and Eleanor is not aware of what is considered normal in non-fairy world.  Hilarity quickly ensues.  If you're looking for a feel good with some comedic relief, this is the movie for you.
Disney+ New on December 11
Another episode of the award winning The Mandalorian makes its debut this week.  Also available for the first time is Ralph Breaks the Internet.  But the movie that everyone will be talking about is Safety.
Safety is based on the true story of Ray McElrathbey.  Ray is a football player at Clemson University who makes the decision to become legal guardian to his younger brother Fahmarr.  Coming from a background where family support was lacking, Ray and Fahmarr are embraced and supported by the Clemson community.  Ray takes on the NCAA in order to receive permission for additional benefits so that he can take care of his brother while receiving his football scholarship.  This is a heartwarming story about football and family for everyone.
Another premiere is High School Musical: The Musical: The Holiday Special.  The cast shares their favorite holiday songs, traditions, and stories.  Of course, there's also a sneak peek of the long awaited Season 2 in the series.
Disney+ New on December 18
The last episode of Season 2 of The Mandalorian arrives on Disney+ this week.  Already renewed for a third season, Star Wars fans will have to wait for several months for new content. (And based on the reaction from everyone, it was insane!)
Disney+ New on December 25
The big premiere on Christmas Day is the Pixar movie Soul.  Originally supposed to be a theatrical release, Soul tells the story of Joe Gardner, a middle school band teacher.  He has the one in a lifetime chance to perform at the best jazz club in town.  But like in all Disney movies- then something goes wrong.  Joe has an accident before he gets the chance to perform and ends up in The Great Before where he joins soul 22.  Soul 22 has no desire to take part in human existence.  Yet Joe wants nothing more than to return to his life.  If you're looking for a movie with amazing music, animation, and a heartwarming story that Pixar is known for- look no further than Soul for your Christmas Day entertainment.
What have you enjoyed so far this month on Disney+? Share with us in the comments or on Facebook or Twitter!
Did you like this article? Make sure to share it with your friends! Check below for easy ways to share!  
Want to visit a Disney Destination? Contact The Magic for Less Travel for more information and a free, no-obligation quote.