This post may contains affiliate links for your convenience. If you make a purchase after clicking a link we may earn a small commission but it won't cost you a penny more! Read our full disclosure policy here.
Many months of anticipation came to an end when the last of the new Fantasyland rides, the Seven Dwarfs Mine Train, opened in the Spring of 2014.  For over two years the Fantasyland hub underwent major constructions and fans eagerly awaited to see the outcome of the largest expansion Disney undertook in the Magic Kingdom since it opened on October 1, 1971.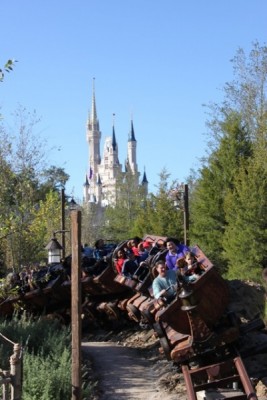 Does the New Fantasyland live up to expectations?
The initial plans released by Disney imagineers called for individual meet and greet areas for several of Disney's beloved princesses. Fans, including me, started to dream of castles for each and everyone of them dotting the landscape. By now we know that that dream did not entirely come true. Rapunzel's Tower and the Beast and Prince Eric's castle went up, but none of them is home to any princess really; not like the initial plans had called for.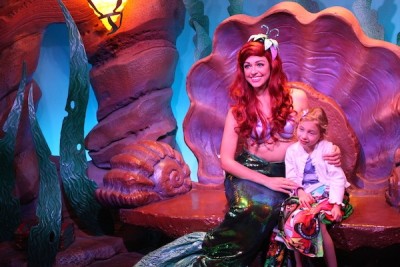 We do have a new ride "Under the Sea – Journey of the little Mermaid" but why does it feel like deja vu? Well, because it is. If you have visited Disney California Adventure at Disneyland, it's a clone of "The Little Mermaid – Ariel's Undersea Adventure."  Plus, at Walt Disney World, the ride is similar in nature to "The Seas with Nemo & Friends", which opened in 2006 at Epcot.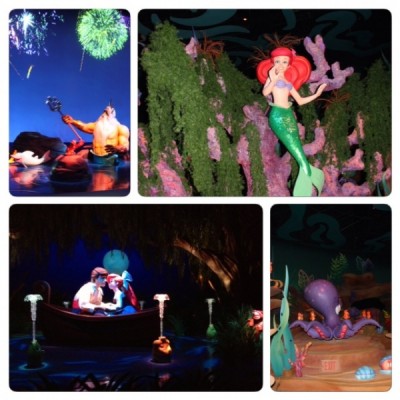 Right next to Prince Eric's castle facade is the Beast's castle facade. Both are towering over new Fantasyland, but except for the dining rooms of Be Our Guest Restaurant there really is no castle.  The only way you can meet Beast is if you are lucky to snatch at dinner reservation at the Be Our Guest Restaurant.
Belle's cottage is lovely and the storytelling aspect is cute for little ones. After years of no real major Beauty and the Beast presence in the Magic Kingdom, I had hoped for a ride, a real WOW factor, but the only WOW moment is when the enchanted mirror comes to life and the door passage from Maurice's workshop opens.  In the next room, guests will meet Madame Cupboard who assigns roles for the upcoming story experience with Belle. Enchanted Tales with Belle is an interactive story telling featuring Belle, Lumiere and the guests that Madame Cupboard picked.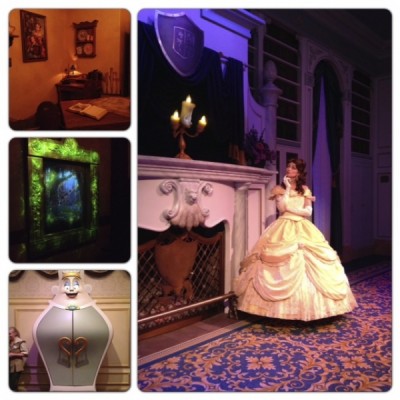 Than there is the beautiful Rapunzel tower but sadly one quickly learns that, at times, a bathroom is just that, a bathroom. I am however the first to admit that they are the nicest bathrooms in the entire Magic Kingdom.  Yet, I can't help feeling let down. Rapunzel, Rapunzel…pun intended.
Delivering on Dumbo
Disney did stay true to their promises when it comes to Dumbo. There are two identical Dumbo rides and the waiting area is really nicely done. I love the fact that one gets a pager that alerts guests when it is time to fly with Dumbo.  In the meantime little kids can play inside an air-conditioned circus tent, evoking the Dumbo fire rescue scene from the movie. Parents can – dare I say it – sit down, breathe and relax.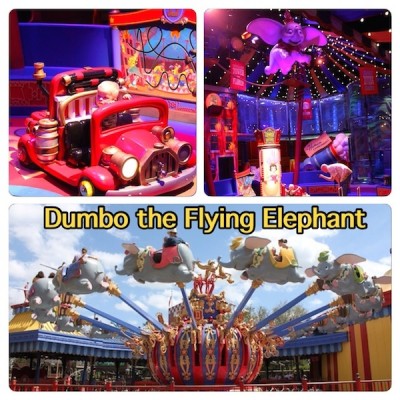 The Storybook Circus stuff is something I still am trying to wrap my head around. I am not fond of Pete's Silly Sideshow character meet and greet. Goofy as the Great Goofini, Donald charming snakes as the Astounding Donaldo; Daisy Duck playing Madame Daisy Fortuna and, Minnie Mouse a.k.a. Siren of the Seine, in the role of a poodle trainer are simply not doing it for me.
I love the themed shopping tent however and really enjoy watching the kids getting soaked in the splash area. As for the huge empty tent near the train station, I hope you have plans because it is a lotta empty space! (Ed note:  The space being referred to was originally an area for guests to collect FastPasses tickets at, however, with the implementation of FastPass+, which occurred almost immediately after the opening of this section of the park, the area was left vacant and has become this weird area. It has held a meet and greet with Jack Skellington for Mickey's Very Merry Christmas Party this past holiday season, but it's also recently been the home to a random combination of chairs and benches. Seems odd that an area like this, that's been built so recently sits empty, with no real purpose. Hopefully something will happen with this section soon.)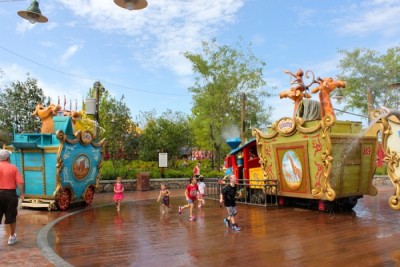 New Name – Same ol' same
The Barnstormer Starring the Great Goofini does not even attempt to be anything else but the same ol' same Barnstormer roller coaster of Wiseacre Farm days.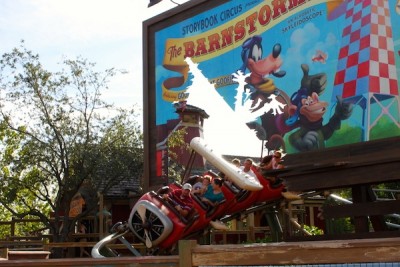 And talking about renaming, was it really necessary to rename Cinderella's carrousel to appeal to little boys?  Don't take me wrong, I am the proud mom of a lovely boy, who when he was little, never had any reluctance to ride Cinderella's carrousel and certainly never complained that it was not named after a prince. Nowadays Gaston is often caught riding it but I doubt that it is because of the name change.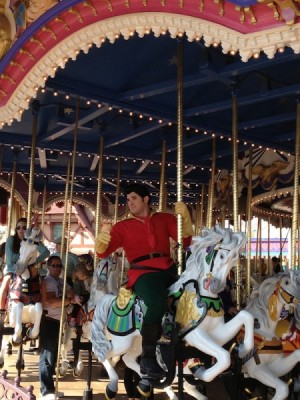 Moving over to the most recent addition, The Seven Dwarfs Mine Train is a nice roller coaster and the landscaping is well done. I am fully aware that this is a family roller coaster so I was cool with the mellow and smooth ride but I had hoped for the same type of holograms used on the inside of the attraction instead of Snow White and the dwarfs cutouts in the cottage.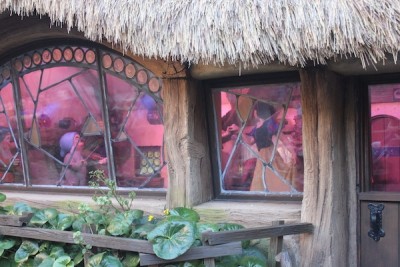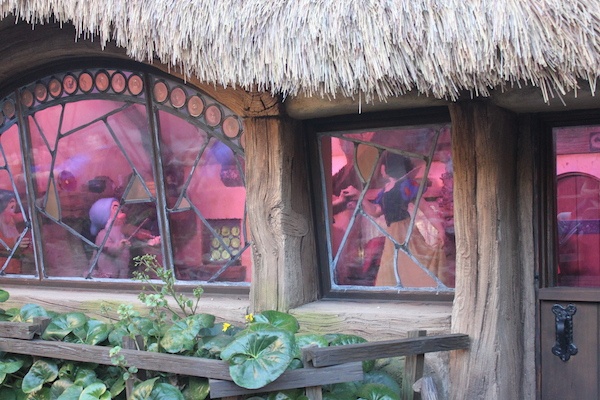 The Princess Fairytale Hall, which replaced Snow White's Scary Adventure started out as a meet and greet for Cinderella, Snow White, Aurora and Rapunzel with at times, what Disney calls "Visiting Princesses" joining the royal ladies. However, with the arrival of the Frozen girls things quickly changed.  There are two lines now, one to visit with Anna and Elsa and one to visit with Cinderella and Rapunzel. Snow White and Aurora have been moved from this location, to now meeting on Main Street U.S.A.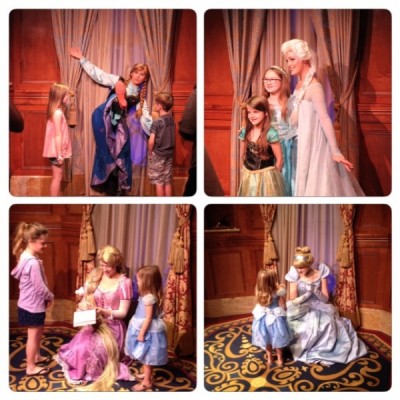 Both meet and greet options require FastPass+ and it is needless to say that FastPass+ reservations for Anna and Elsa are hard to come by if you are not staying on property and planning long in advance of your visit. For those who choose the standby queue, the wait times for the Arendelle Princesses average anywhere from 90-160 minutes.
The new Fantasyland is beautifully landscaped and a feast for the eyes, but to me, overall its underwhelming when it comes to experiences available for guests.
What do you think? Does New Fantasyland meet your expectations or do you find it just a bit lacking?