This post may contains affiliate links for your convenience. If you make a purchase after clicking a link we may earn a small commission but it won't cost you a penny more! Read our full disclosure policy here.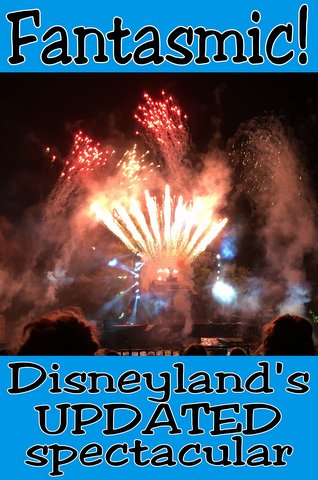 Disneyland possesses the prototype, best version of the popular long-running spectacular, Fantasmic. In 2016, Star Wars: Galaxy's Edge construction closed the Rivers of America for more than a year. The Imagineers took advantage of the forced downtime to retool and update Fantasmic, 25 years after its debut. Unveiled in July, the new Fantasmic at Disneyland maintains the heart of the original while refreshing it for a new audience.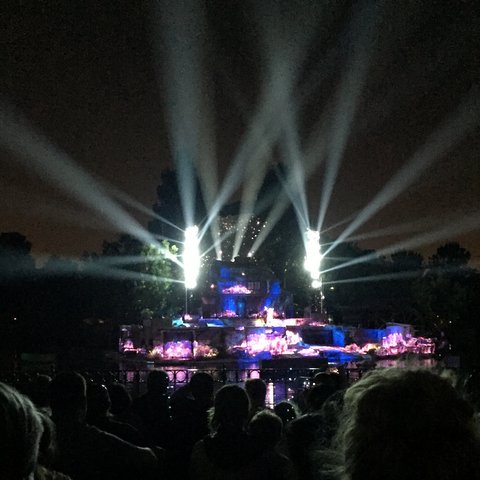 Disneyland's version suffers from one major challenge that Disney Hollywood Studios doesn't — no dedicated arena. This means that finding a place to see Fantasmic can become an event itself. You'll find very limited standby room around the fringes of the viewing area along the riverfront. FastPasses for Fantasmic still use paper and don't affect the rest of the MaxPass/FastPass system. They are distributed each day, currently near the Mark Twain dock. These FastPasses allow you into a angled, standing-only view of the stage on Tom Sawyer Island.
The best — but costly — way to see Fantasmic would be to buy a dining package. This includes a meal in the park and a ticket into a reserved viewing area where you will be able to sit during the show. We'll take a look at one of these packages in a future article. For now, know that if you prefer to sit or want a straight-on view of the show, a dining package would really be your only option.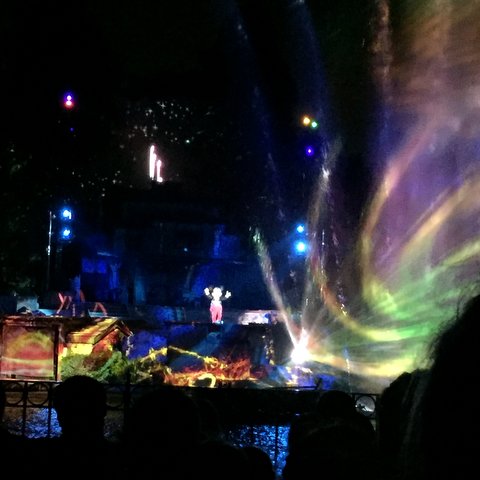 Mickey still holds the heart of Fantasmic — it's his imagination we're transported into, after all. Upgrades to the fountains and mist projection screens look crisp and clear. Projections onto Tom Sawyer Island also reflect the new mapping technology Disney uses for other nighttime spectaculars around the world.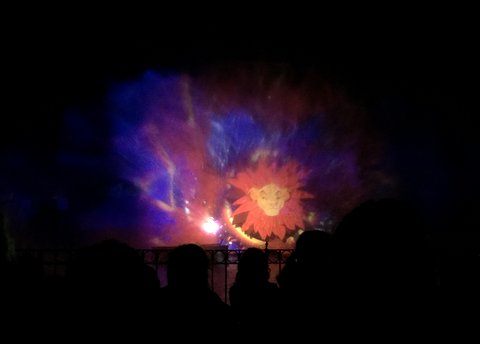 Many of the added characters, like The Lion King sequences, didn't exist when Fantasmic debuted in the early 1990s. I'd venture to guess that many more children (and adults) can recognize and identify Simba than Pinocchio. Disney tries to balance its efforts to honor the vast Disney catalog without getting too disjointed.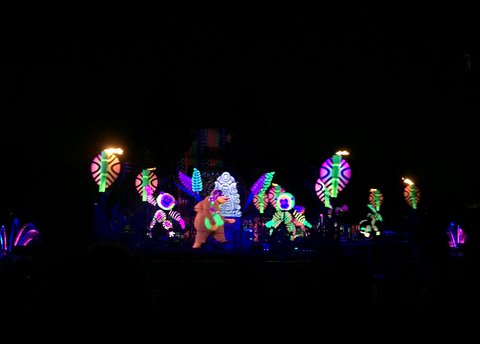 Also new: barges with dancing monkeys under blacklights
Up to $75 Disney Gift Card!
Deal
Book a Disneyland package of $1500* or more and receive a $25 Disney gift card. Packages of $3000 or more receive a $50 Disney gift card. Packages of $5000 or more receive a $75 Disney gift card. Gift cards are accepted at many Disneyland Resort locations and can be used to pay for shopping, dining, and so much more. We are sure you will find a way to put this to good use!   Read More
More
Less
The most noticeable change replaced Peter Pan on the towering Columbia with Jack Sparrow and Pirates of the Caribbean. Even expecting it, the effect of seeing the Black Pearl emerge from the mist almost overhead stuns you.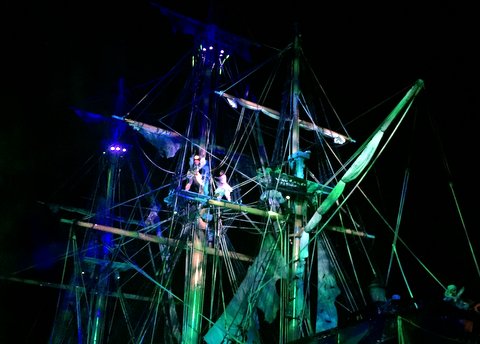 Disneyland doesn't have a stadium, but it does have a real river and a ship to give its version of Fantasmic some real wow power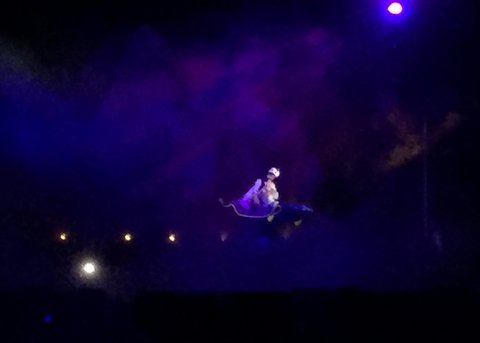 Another new addition: The "Whole New World" sequence with Aladdin and Jasmine on a seemingly flying carpet. I won't reveal how it works, but it can be beautiful when the fog settles just right.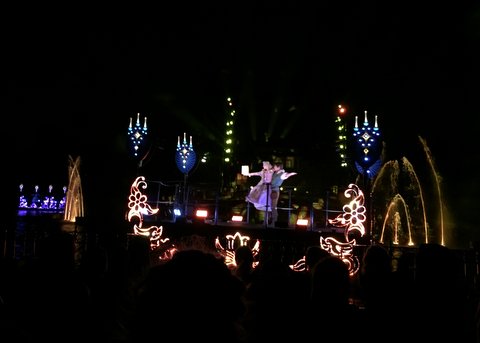 Rapunzel is the other princess added during the update. She and Flynn Rider replace Snow White and her prince on the series of princess barges.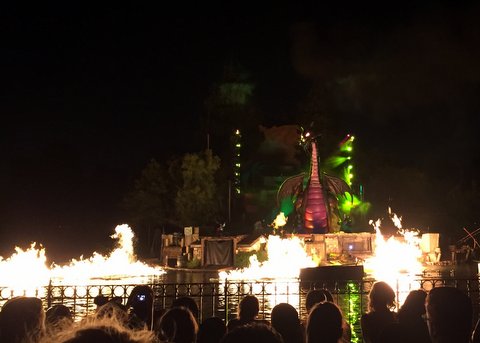 But we all know who comes after the sweetness of the heroines … the villains. Maleficent rises from the island and lights the river on fire. Will Brave Mickey defeat her in dragon form? Luckily we all know who wins in the battle of good vs. evil!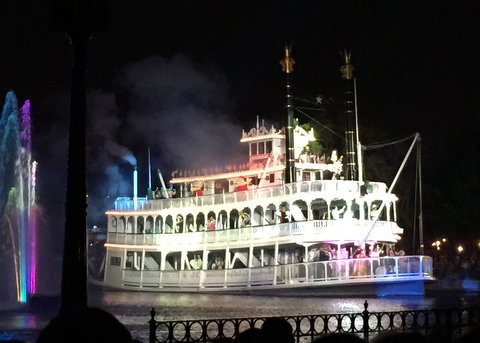 And then here comes Mickey as Steamboat Willie, piloting the Mark Twain filled with Disney characters waving streamers. If you can't find a favorite character here, you're probably not much of a Disney fan!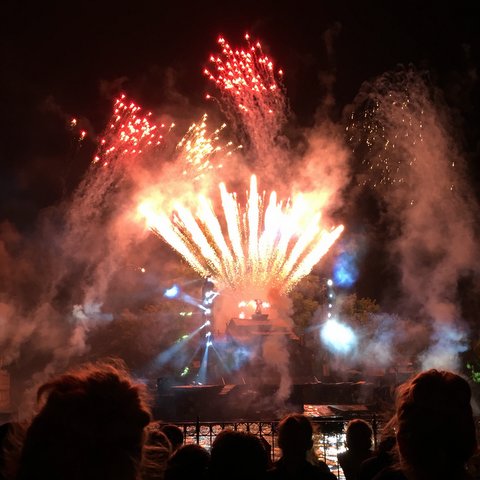 Part of me always thinks that the Mark Twain marks the finale. Then I'm surprised when the real pyrotechnics of Sorcerer Mickey light up. The finale sequence with its lasers, fireworks, and familiar theme always tugs at all of my emotions.
A few Disney classics from the former version will be missed, but the new Fantasmic at Disneyland's upgrade will entertain guests for another 25 years. All of Disney's multimedia spectaculars owe a great debt to the continuing popularity of a little mouse and his big imagination.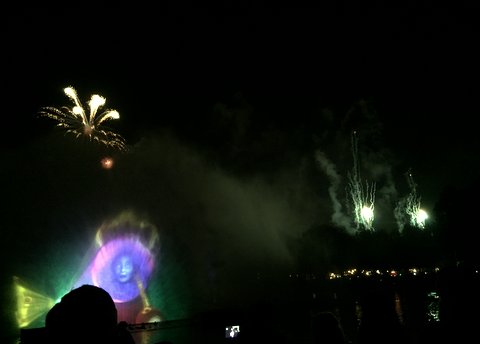 BONUS: On nights when Disneyland shows both, the fireworks begin less than five minutes after Fantasmic ends. It would be impossible to make it back to Main Street for a centered view (and you wouldn't find a place to stand when you arrived). The speakers will remind you that you can stay to watch the fireworks from your Fantasmic viewing area. The castle projections will appear on the water screens. Don't expect a perfect view (the picture overheard shows the high bursts on the left and the castle bursts on the right), but if you only have one night it allows you to participate in both shows.
Have you seen the new version of Fantasmic at Disneyland yet? What did you think? Share your experience in the comments.
Did you like this article? Make sure to share it with your friends! Check below for easy ways to share!
Incoming search terms:
how to replacement the battery in the walt disney world fantasmic! sorcerer mickey light-up pin