This post may contains affiliate links for your convenience. If you make a purchase after clicking a link we may earn a small commission but it won't cost you a penny more! Read our full disclosure policy here.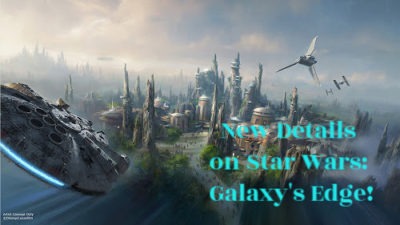 Star Wars Celebration Chicago was just a few weeks ago, and oh boy! What a celebration it was! A major highlight was the Star Wars: Galaxy's Edge Panel. The details revealed have made my impatience for the land opening even worse…get ready, scoundrels. Here we go!
Batuu will carry Coca-Cola
Nothing beats a Coca-Cola…especially one that can be found with an Aurebesh label. Walt Disney Imagineering and Lucasfilm have teamed up with the Coca-Cola Company. The new bottles and designs have been formed into something that you can enjoy your favorite drinks in without interrupting the immersive world you are in. Coca-Cola, Diet Coke, Sprite, and Dasani water have all been translated into Aurebesh, the universal Star Wars language. As if that was not amazing enough, the bottles truly have the Star Wars look due to their scratched and roughed appearance. All the Coca-Cola drinks are exclusively available at Star Wars: Galaxy's Edge.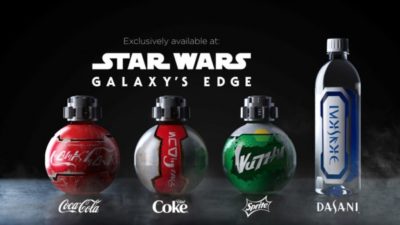 Master Yoda's Presence will be felt
You may feel the presence and voice of Master Yoda. AND…it has been confirmed that Frank Oz will be voicing him. Happy to hear this, we are.
Music of Batuu
Figurine D'an, the cantina band from Star Wars: A New Hope, is making a comeback, including a brand new song! At celebration, they mentioned that the music will include different styles as well. Techno and hip-hop elements will be blended into a new song that will feature droid sound effects and outer-worldly aspects.
R3X has returned
It has been confirmed that Paul Reubens, will be returning as the voice for everyone's favorite droid from Star Tours. However, now he has a brand new gig as the DJ in Oga's Cantina! I wonder what his music skills are like…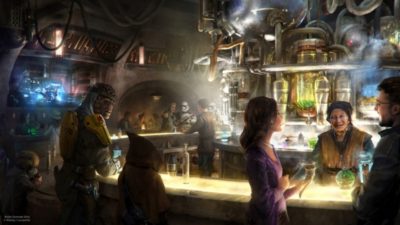 Not a scratch on her…or is there?
The Millennium Falcon: Smuggler's Run attraction will put you behind the wheel, guiding the fastest hunk of junk in the galaxy through the stars. However, how good is your flight crew? Depending on the performance of your flight crew, the Falcon's appearance will reflect how much damage was done, or not done, during your mission. If you flew the ship well, the hallway will be pristine and beautiful as you exit the Falcon. However, if you took on a lot of fire from TIE fighters, there will be sparks flying, lights broken, and chatter on the comms about how much of a failure your mission was. It is important to bring back the Falcon in the best shape possible, because Hondo Ohnaka will not appreciate how poor your effort was in taking care of his ship.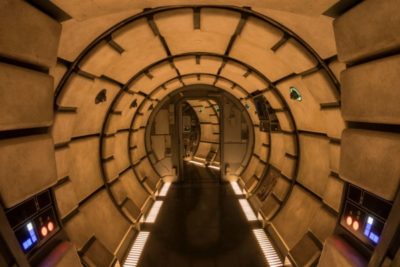 What are you most excited for in Star Wars: Galaxy's Edge? Let us know in the comments below or on Facebook or Twitter! 
Did you like this article? Make sure to share it with your friends! Check below for easy ways to share!
Want to visit Star Wars: Galaxy's Edge? Contact The Magic for Less Travel for more information and a free, no-obligation quote.

!