This post may contains affiliate links for your convenience. If you make a purchase after clicking a link we may earn a small commission but it won't cost you a penny more! Read our full disclosure policy here.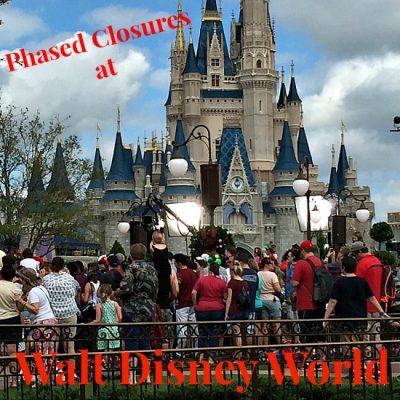 The Holiday season is one of the busiest times of the year at Walt Disney World.  It's often the time of year that you'll hear about Disney enforcing "phased closures" of the parks.  But what exactly is a phased closure?  Read on to learn all you need to know about phased closures at Walt Disney World!
Each of the Walt Disney World parks has its own capacity level (meaning the number of people the park can handle at one time).  Occasionally the parks reach that number and Disney has to restrict the number of guests entering the parks.  Or they might close the parks to entering guests completely!  But, never fear!  These closures don't happen often and, when they do occur, the parks don't just close all at one time.  If you're visiting Walt Disney World at a popular time of year, it is important to learn about phased closures.
Phases of Closure
Phase 1 Closure
Phase 1 closures are, as you would expect, the first "step" of closures on particularly busy days.  During a phase 1 closure, guests who are entering the parking lots with one-day single-park tickets, cast member passes or guests who had planned on buying tickets at the gate will be turned away.  Most guests will still be admitted during this type of closure, including guests staying at an on-site resort, guests returning to the park or hopping from a different park, Annual Passholders, those who have reservations in the park that day, etc.
Phase 2 Closure
A bit more restrictive than Phase 1 closures, Phase 2 closures are a bit more common.  During this phase the only guests who will be admitted to the park are Annual Passholders, those staying at an on-site Disney resort, those re-entering the park after visiting earlier in the day or hopping from another park, those arriving on Disney transportation or guests who have in-park reservations for the day.
Phase 3 Closure
Phase 3 closures are, usually, the most restrictive you will see at Walt Disney World.  During this phase, the only guests that will be admitted to the park are those who are staying at an on-site Disney resort, Annual Passholders and those with in-park reservations that day.
Phase 4 Closure
Although very rare, Phase 4 closures are a possibility.  During this phase the park is closed to all arriving guests.  The parking lots are closed completely and no additional guests are admitted through the turnstiles until the closure is lifted.
How Often Do Closures Occur?
The vast majority of guests visiting Walt Disney World will never experience a closure of any sort during their vacations.  Historically, there are very few times of the year when these types of closures take place – below are some quick facts about the frequency of closures in the past.
EPCOT is the park that is least likely to experience any type of closure.  It has not had a single phased closure in the last ten years.
Disney's Animal Kingdom and Disney's Hollywood Studios are far less likely to experience any type of closure than Magic Kingdom.  Animal Kingdom and Hollywood Studios have each only hit a "phased closure" twice in the past 10 years.  Those closures seem to happen during the week of Christmas.
Phase 2 closures are typically the most common.
Phase 3 closures, historically, have only been experienced at the Magic Kingdom.
Phase 4 closures are exceedingly rare.
Final Tips
Remember that these closures are only applicable to the theme park that declares the closure.  If the Magic Kingdom is in a phased closure, that doesn't impact guests entering EPCOT, Disney's Hollywood Studios or Disney's Animal Kingdom.  So even if you're at Walt Disney World on a day when a phased closure is declared, you will still have plenty of choices of entertainment!
The parking lots at the parks close far more often than the actual parks.  If a parking lot is closed that does not mean the park is in a phased closure.  It usually doesn't even mean the park is closed due to reaching a phased closure!  If a parking lot is closed, guests will be directed to another parking area and can take alternate transportation to the park they are visiting.
Phased closures, usually, do not last all day.  Phased closures are usually not announced until a few hours into the day, and as guests leave the park, the closures may be lifted.
Have you experienced the park when it saw phased closings? What were your experiences? Share in the comments!
Incoming search terms:
disney phase 2 closure
disney world phase 4 closure
https://www themouseforless com/blog_world/need-know-phased-closures-walt-disney-world/