This post may contains affiliate links for your convenience. If you make a purchase after clicking a link we may earn a small commission but it won't cost you a penny more! Read our full disclosure policy here.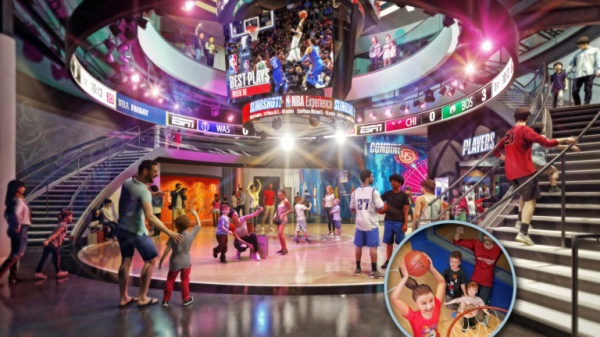 If you are anxiously awaiting the ability to shoot hoops or "call" an NBA game, then I have good news! The NBA Experience will be opening officially on August 12 at Disney Springs and you can now purchase tickets for this one-of-a-kind destination.
Guests who have purchased tickets to the NBA Experience will be able to be immersed in the world of basketball. Here they will be able to do things like test and improve their shooting and dribbling skills, get a photo taken while throwing down a rim-rocking dunk, and feel like a top draft pick.
What is it that Guests will be able to do?
Dunk! – Challenge Your Skills "Above the Rim": Demonstrate the dunking skills you've only dreamed of until now.
Shoot! – Beat the Clock, Bring Home the Win: Step on the court, where you'll be guided through a sequence of shots, with a virtual crowd cheering you on.
Dribble – Bounce that B-Ball… "Show-off": Grab a ball and let the coach take you through the drills to assess your basketball-handling skills.
Slingshot – Score, Score, Score!: Using a large slingshot, you'll try to shoot the ball through hoops set at varying heights.
Combine – Stand out from the Crowd: Explore the science behind the sport as you put your skills to the test through a series of Combine drills. You'll get real-time feedback on your performance to see how you measure up to a real player.
Trivia – Get your Brain in the Game: Test your knowledge of the NBA—past and present—in a competitive game of trivia. The heat is on as you compete against up to 24 other players, as well as the clock.
Champions – That Winning Feeling: Relive the NBA and WNBA's history in the Hall of Champions.
Replay – Be the Ref!: Do you have what it takes to make the correct call? Correct calls will earn points.
Theaters: The NBA Experience is home to 2 custom-made theaters showing new, short films.
Draft – The Number One Pick is… You!: Experience what it's like to be drafted into the league.
Players – Inside the Player Sanctuary: Enter the locker room, where you can explore current team rosters, records and highlights from the season.
Trophy Moments in Hall of Champions: Have your own championship moment with a league MVP trophy to hold high and proud for a thrilling photo op.
Arcade Area: Test your hand-eye coordination at a variety of arcade games:

B-Ball Games Up-Close and Personal: Beat the clock with a perfect shot as your basketball skills are put to the test in this spin on classic basketball arcade games.
Pop-A-Shot: Fan can try their hand at a series of Pop-A-Shot arcade games that include static hoops and hoops that move side to side.
NBA 2K, NBA Live and NBA Playgrounds: Test your skills in the digital arena with the latest immersive video games of the NBA
The good news is that Guests are welcome to participate as many times as they would like in each activity. So, this won't be a one and done thing. The activities inside the NBA Experience will take between 5-15 minutes each and Disney estimates that it will take approximately two hours to enjoy everything the NBA Experience has to offer.
Tickets to NBA Experience cost $34 (plus tax) for Guests ages 10 and older, and $29 (plus tax) for children ages 3-9. The NBA Experience is a single entry experience and reentry into the building is not permitted.
Do keep in mind that because this is an athletic experience, Guests visiting this attraction are encouraged to wear athletic shoes, as well as athletic gear, since they'll be moving around quite a bit. In addition, Guests will also be asked to sign a waiver prior to entering and children under 18 will need a parent or guardian to sign the waiver for them.
Also important to note is that food and beverages are only permitted inside the experience if they are in sealable containers and alcohol is not permitted. In addition, there will not be a place to purchase food or beverages inside the NBA Experience. Guests looking to dine should do at one of the Disney Springs restaurants.