This post may contains affiliate links for your convenience. If you make a purchase after clicking a link we may earn a small commission but it won't cost you a penny more! Read our full disclosure policy here.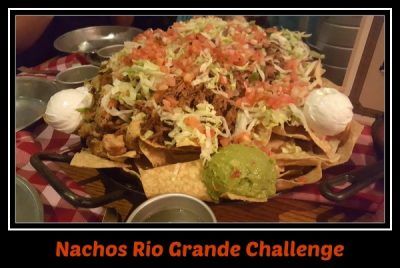 Do you love nachos? I mean…really, really love nachos? If so, then the next time you visit the Magic Kingdom, make a stop at Pecos Bill Tall Tale Inn and Cafe and take on the Nachos Rio Grande Challenge!
Until a couple of months ago, I had no idea that such a thing existed.  Once I heard about it though, I knew I had to give it a try. If you want to try the challenge yourself, here's how:
Photo by: Rikki Niblett
First, you need to find yourself a large group of hungry friends and family members to join you. They don't call this a challenge for nothing!  You are going to need some help if you want to be successful.
Next, you will need to take your group to Pecos Bill between the hours of 3:00 pm and 6:00 pm. Step up to the register and let the Cast Member know that you are interested in the Nachos Rio Grande Challenge. Then, get ready to pull out your credit card or ask your friends to chip in because this meal rings in at around $90. The good news for Annual Passholders is that there is a discount! Our nachos came out to $72 with the discount. Not cheap, but this pile of nachos is definitely big enough to feed a large family.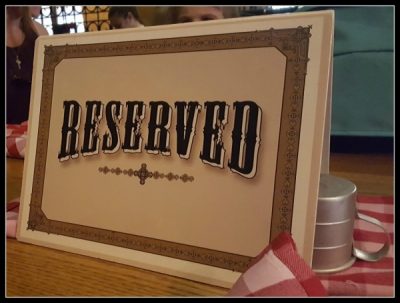 Reserved tables for you and your party
The nachos are served with several standard toppings: ground beef, shredded beef, chicken, cheese, lettuce, and tomatoes are served on top of the chips. Sour cream and guacamole also come with the nachos, but they are sort of off to the side and easy to work around if you don't like them. You also have the option to remove toppings you don't want. I personally like jalapenos, but we had several kids in our group and decided not to get them.
The mound of nachos comes with bowls of queso and salsa on the side. You are also able to order pitchers of soda, tea, or water with your meal. The cost includes these drinks.
Once you place your order, the fun begins! Normally, Pecos Bill is a quick service restaurant, but when you take on the challenge, you will get the VIP treatment. A Cast Member (or several Cast Members) will escort you to your reserved table where you will find tin cups, plates, napkins, and utensils waiting for you.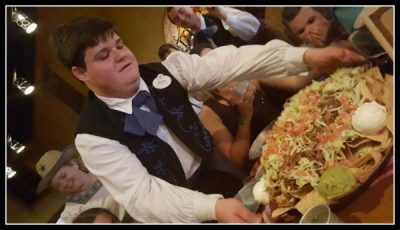 Nachos Rio Grande delivered right to your table
Now you can take a seat and wait for the challenge to begin! You will know when your nachos are on their way. Trust me. Cheering, cow bells, and a whole crowd of Cast Members will accompany your dinner as it is delivered to your table.
The pictures do not do this mountain of nacho goodness justice. To put the size into perspective, the sour cream and guacamole blobs are the size of ice cream scoops! Once you've marveled at the dish in front of you, there's only one thing left to do. Dig in!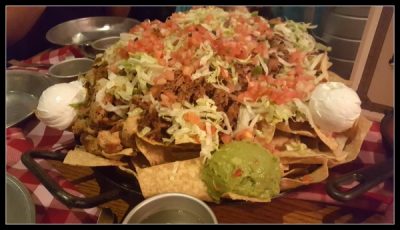 I thought the nachos were very tasty. The shredded beef was definitely my favorite topping. I kept going back for more of that and the guacamole. The chips stayed crunchy even though they were loaded down with toppings. It was nice to have the queso and salsa on the side for dipping.
Cast Members will come by to check on you and cheer you along as you eat. Then, once everyone has stuffed themselves, they will be there to congratulate you for your efforts. At the end of the meal, the Cast Members conduct a little "ceremony" where you will be sworn in as deputies of Frontierland for the day. Everyone gets cowboy hats and badges to wear!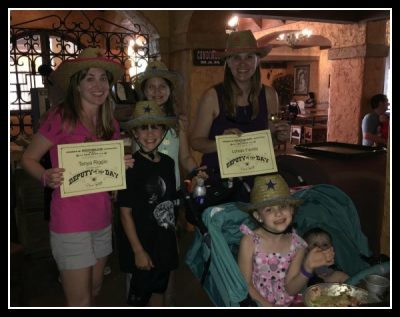 Deputies for the day
We took the Nachos Rio Grande Challenge with a group of five people and only managed to finish about half of the nachos. I think you will need a larger group, or at least more adults than we had, if you want to clear the entire plate. Still, we had a great time and have no regrets. After all, calories don't count at Disney, right?
Have you taken the Nachos Rio Grande Challenge?  Was your family able to finish all of the of nachos? Share your experience in the comments.
Did you like this article? Make sure to share it with your friends! Check below for easy ways to share!
Incoming search terms:
https://www themouseforless com/blog_world/nachos-rio-grande-challenge-pecos-bill/