This post may contains affiliate links for your convenience. If you make a purchase after clicking a link we may earn a small commission but it won't cost you a penny more! Read our full disclosure policy here.
Not long ago I shared some of my recent Walt Disney World firsts with you guys. Well then I created a Walt Disney World Bucket List and holy Mickey pretzels! I didn't realize just how many rides I haven't been on, events I haven't been to, and most importantly, how much food I haven't eaten! I am shocked at the small amount of items I was able to check off my Bucket List!
Little disclaimer, this list just covers Walt Disney World resorts, rides, attractions, and dining. It doesn't include anything associated with a runDisney event (expos, chEARing, running, etc.), Food & Wine Festival, Epcot International Flower and Garden Festival, etc. It also doesn't include Disneyland because I've never been and that's its own bucket list! Believe me when I say creating this list was overwhelming enough! Ok, let's see what we're working with.
Walt Disney World Resorts
When it came to resorts, I listed only Disney Vacation Club Resorts since my husband and I are DVC members and will most likely only be staying at these resorts in the future. So far, I'm only able to check Boardwalk Villas off the list but as of October we'll be able to mark off Old Key West, too!
As far as Disney's other resorts, I've stayed in All Star Movies, Art of Animation, Pop Century, Coronado Springs, Port Orleans French Quarter, and a few that are no longer with us (R.I.P. Dixie Landings!). These resorts, as you can imagine, are amazing and all have something special to offer (including dining options…keep reading!). I certainly don't want to suggest that DVC resorts are the only ones worth staying at, because that is absolutely not the case! A big part of me already misses Pop Century!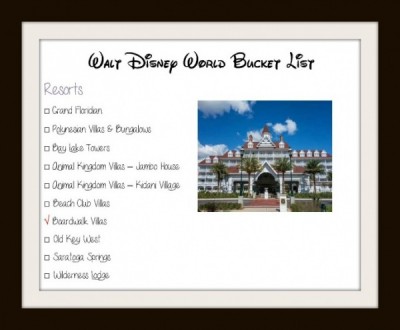 Resort Dining
The resorts at Walt Disney World are truly spectacular; each one with its own theme and stellar detail. I've said several times I'd love to do a trip to the World that only involves the resorts, no parks. Okay, maybe Epcot because Rose & Crown and that Grand Marnier slushy drink in France. But still, the resorts offer so much entertainment on their own, and that includes the dining options.
For this portion of my Bucket List, I included all of resorts that have dining options other than their food courts. When making dining decisions with my family and friends, I always forget about the resorts, which is a huge mistake!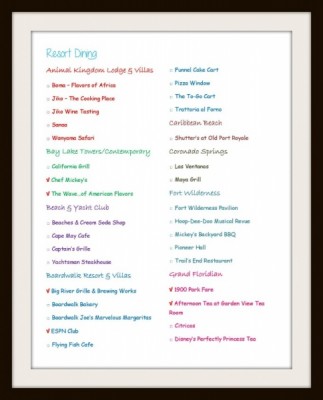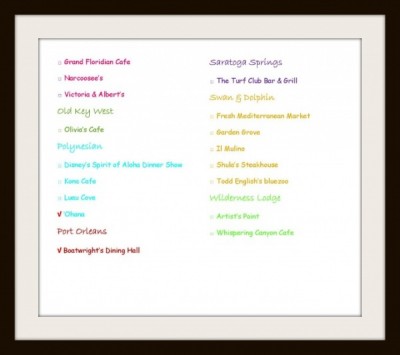 Magic Kingdom
For all of the parks, I included the rides, attractions, and dining options listed on Disney's planning website. I didn't list parades, characters, or stage shows since they change semi frequently. Also, did I mention this list was kind-of overwhelming to begin with?!
My showing in Magic Kingdom isn't so bad! I only checked off rides I could remember riding. For example, I'm sure I rode Dumbo as a kid (in fact, I know I did because I've seen pictures), but I don't remember so I left it unchecked.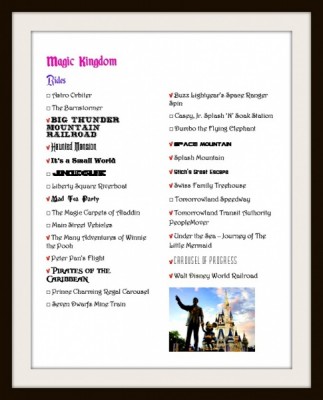 Epcot
Every ride in Epcot is checked off! Score! Which is, quite frankly, surprising considering my time in Epcot is usually dedicated to eating and drinking! Although, you wouldn't think that looking at this list of Dining options. I've got some reservations to make!


Animal Kingdom
So for Animal Kingdom, I left off all the things you can do at Rafiki's Planet Watch, Conservation Station, etc. Animal Kingdom has so many things to do that I was finding it impossible to list everything! So I picked the "big" attractions and will add to my list as we do the other "little" things.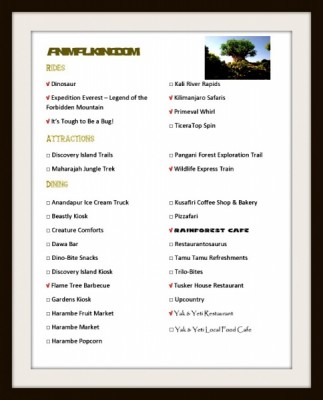 Hollywood Studios & Disney Springs
I left Hollywood Studios and Disney Springs off my Bucket List for now. I'm going to wait until they're both done with their massive makeovers, and then add them. I know Disney Springs is mostly done, but I wanted to wait nonetheless. I'm so excited for all the new and exciting things both of these pieces of Disney property will have to offer!
So that's my Walt Disney World Bucket List, for now. It will always be changing as I cross things off and add things along the way. Do you have a Disney Bucket List? Tell us about it in the comments below!