This post may contains affiliate links for your convenience. If you make a purchase after clicking a link we may earn a small commission but it won't cost you a penny more! Read our full disclosure policy here.
From Our Magically Speaking Newsletter Archive – subscribe today!
by Roye Ann Morris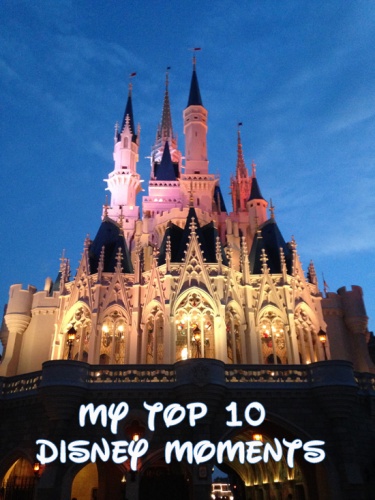 Our family is constantly growing and changing, but one thread running through all the years is our trips to Walt Disney World. Although all our trips have been special in different ways, each one seems to have a highlight that stays in my memory. Here, in no particular order, are my top ten moments from the last fifteen years (give or take a few)!
Watching my five year old son come down the clown waterslide at the Boardwalk pool with his dad: My youngest son had never been the adventurous type, and it took some convincing to get him to the top of the slide. Seeing him land in the pool with a smile on his face was priceless. And his dad was smiling pretty big, too!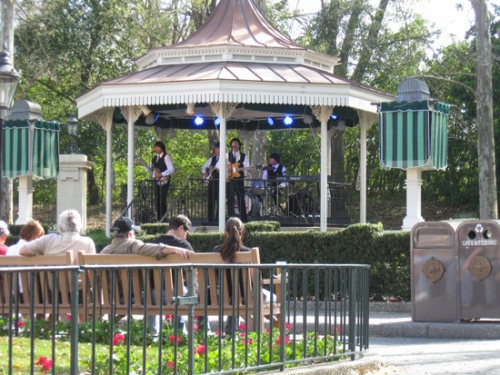 Listening to The British Revolution with my family: We always try to make it to at least one of their shows while in the World Showcase, because we are all Beatles fans. The way the music crosses generations is amazing, and you can see it as people young and old clap, sing, and dance along to each concert.
Finding Winnie the Pooh, Eeyore, and Tigger in the United Kingdom: We happened to be in the shop browsing for gifts, and were so surprised to see the characters walk in and set up for pictures! This was on one of our early visits to the World Showcase, and we had no idea that a character meet and greet took place here. Our kids (and me!) have always loved Winnie the Pooh, so we were very excited to be first in line!
Watching Illuminations while eating a Cronut and sipping hot tea: My 22 year old son made a flying trip to the other side of the World Showcase to get us both Cronuts before the fireworks started, and my sweet husband surprised me with hot tea from the cart outside the Rose and Crown. Yum! However, my son does not recommend eating a double cheeseburger and fries for supper, running halfway around the world, then eating a Cronut!
Breakfast at Crystal Palace: Especially when we thought we had missed our reservation! We had gotten in late to Disney's BoardWalk Inn after a very long drive, and my husband mistakenly set his alarm for an hour later instead of an hour earlier. We woke up, rushed around like mad getting us all ready, then headed to the bus stop just as a bus was leaving for the Magic Kingdom. We must have looked pretty dejected, because the cast member at the stop walked over and asked if there was anything he could do. When we told him our problem, he got on his phone, called the Crystal Palace, called to see when the next bus was arriving, and then assured us it was all taken care of. We got on the bus, but I didn't really have much hope that we would be able to get a table without a long wait. As soon as we got to the restaurant, though, we were seated right away! That cast member really saved the day for us!
Holding someone else's sleeping child: We were on the bus heading back to our hotel after a very long day at the parks, and it was standing room only. I had taken a seat, as I was 6 months pregnant with our third child. It was just the two of us, as we had taken a short trip together before the next baby arrived! Another couple got on the bus with two sleeping toddlers and a stroller, and started down the aisle. My husband gave his seat to the mom, who was holding one child, and the dad tried to balance the stroller and the other sleeping baby. I offered to take the little one, and he handed the baby over to me. I don't know why this memory stuck with me, but it was the sweetest thing, having that baby sleep on my tummy all the way to the hotel!
Hearing my youngest son, 14 at the time, singing in the shower: He went straight from "Smells Like Teen Spirit" by Nirvana (having older siblings makes your tastes in music very eclectic) to "A Whole New World" from Aladdin, never missing a beat. In falsetto. And he knew all the words.
Dinner at Artist's Point in the Wilderness Lodge: This was a special trip for just my husband and me, and it still rates as one of the best meals I've ever eaten anywhere. We both had the bison steak, which melted in our mouths, and everything from the wine to dessert was amazing.
Watching the fireworks in the Magic Kingdom from behind the castle: We waited a little too long to find a good viewing spot, trying to get in one last ride, and ended up sitting on the wall of the entrance to the New Fantasyland. It was a great place to watch the fireworks going off on both sides of us, feeling like we were right in the middle of the show. And for a little extra magic, the cast members who were sweeping the street stopped and put on a show for us, directing the fireworks from each side as if it were an orchestra!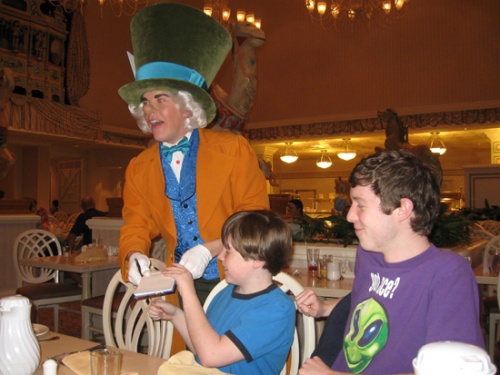 Breakfast at 1900 Park Fare at the Grand Floridian: My 15 year old was having a really bad day, and somehow the Mad Hatter saw it from across the room! As he headed our way, my son was insisting that we make a run for it before he arrived, but I made him stay. We got some of the best character pictures ever, and by the time we left, the Mad Hatter had worked all the grumpiness right out him!
So, there's my list. I could probably come up with a hundred more of my favorite things, but that's for another article! What are your top Disney memories?
Magically Speaking Featured Article
Library of Congress ISSN:1556-3863