This post may contains affiliate links for your convenience. If you make a purchase after clicking a link we may earn a small commission but it won't cost you a penny more! Read our full disclosure policy here.
I am a big Muppet fan, so when I saw that Disney had a new app featuring the Muppets I was pretty excited to try it. It is a free app, but unlike many other free apps it is not filled with ads. There is an in app purchase option for more coins and diamonds (more on those in a minute) but purchase is not necessary for game play.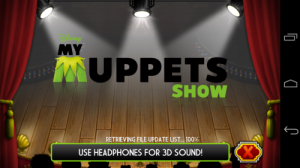 The premise of the game is that through a new invention, courtesy of Dr. Bunsen Honeydew and Beaker, called the "digitizer" The Muppet Theater and the Muppets can be digitized allowing you to create your own Muppet show. There are 20 different characters, each of which either sings or plans and instrument (or both) contributing to the music you hear. This is an app that definitely is better with the volume up a little.
You are guided through the game by Scooter who, through a series of dialogue boxes, helps get you started. First you must give your "company" a name. I tried my name at first, but was told that it was "inappropriate" and should choose something else. I thought this was a little odd. It's good that there is some kind of filter as kids may be playing, but I'm pretty sure my name is appropriate for all ages. However, I chose another name and moved on. After the name choosing you are then presented with the Muppet stage, however it is in less than desirable condition. Scooter guides you through the process of getting some Muppets for your stage and various other tasks (like cleaning up some of the garbage!)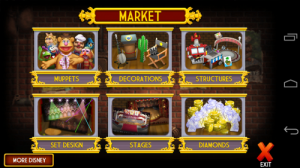 Some of the early Muppets you will purchase using the coins you have. Once a Muppets is placed on your stage it will earn you more coins as well. Beyond the first few Muppets, the remaining characters can be obtained in one of 2 ways. The first is to directly purchase using your diamonds (these can be earned by completing certain tasks or can be purchased in app) or you can get the "HARV-E" robot who uses 2 Muppets to create another one (no purchase required).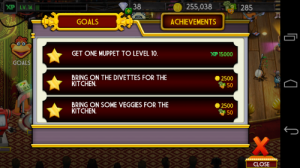 In addition to HARV-E, you will also build concession stands. These will "make" food for your Muppets to eat. While you are not required to feed them at any particular time, doing so enables them to level-up. The higher the level the more coins they earn and the faster they earn them. In addition when a Muppet levels-up you earn XP points which is how you level-up and unlock additional characters, decorations, structures, and eventually you can purchase, with your coins, the kitchen stage (home to the lovable Swedish Chef). XP points can also be earned when making food, clearing garbage, and accomplishing tasks.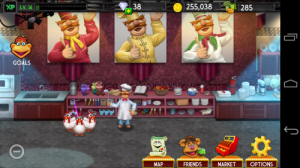 This game can be social too if you link your Facebook account, but it is not necessary for game play to do so. If you do link to Facebook, you can find the stages of your friends and visit them. You can also visit stages of random players as well. You cannot view any personal information when visiting another stage. The only name shown is the one they have given to their company. So if others visit your stage, they will not see any of your info either which makes me feel safer letting my kids play.
All in all I liked the app. It's fun to play for all ages, even my 2 year old likes to just watch the Muppets play. I have gotten to about level 14 after playing for a week or so. I have not made any in app purchases for more coins or diamonds and it has not seemed to affect game play at all. One thing I would have liked, however, is a way to block in app purchases so that my kids can't get to them, even accidentally. I think it is a great app for Muppet fans.
This app is available in both the App Store (iPhone, iPad, and iPod Touch) and the Google Play Store (Android devices). I was using a Motorola Droid Razr M and the app had no technical issues.