This post may contains affiliate links for your convenience. If you make a purchase after clicking a link we may earn a small commission but it won't cost you a penny more! Read our full disclosure policy here.
By: Dena Burkett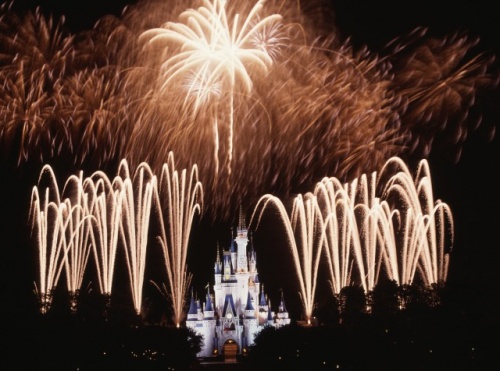 On a recent trip to Florida to meet my parents for a Spring Training baseball game in Tampa, we decided to make a last minute trip to Walt Disney World to spend a half day and have dinner. One thing to keep in mind is that I am a huge Disney planner so I was beside myself about going to Disney without any sort of plan.
We arrived on property at 4:00 pm and since we could only pick one park we decided on the Magic Kingdom (my favorite!). First things first, when we entered the park, we decided to watch the flag ceremony which is something that I had heard about but had never before seen. (Editor's Note:  The Flag Retreat, in our opinion, is a must do for all guests.  It takes place daily at 5:00 pm on Main Street USA and involves a Veteran from a branch of the Armed Forces).
Next we headed to Tomorrowland. After riding a couple attractions, we decided it was time for a bite to eat. With the last minute nature of this trip I knew it might be difficult to get in somewhere for dinner.  I called the Disney dining phone number (I happen to know it by heart!) and they said there was nothing available in the system for that night for dinner unless we wanted to leave the Magic Kingdom AND eat at 8:45 pm.  With such a short window of time in the Magic Kingdom this was something we just weren't willing to do so we decided to pass.
Instead we did something we've never done and ended up walking to Liberty Square and eating at Columbia Harbour House. It was good, as most of the food in Disney is, but I was a little saddened that on our one night in Disney we couldn't eat in a sit-down restaurant.  Under different circumstances, I always have reservations for meals and we typically get to eat at the first sit down restaurant of our choice.  (Editor's note: While your advanced dining reservation window opens 180 days before your trip you can call any time, even the day of, to check if something is available. It's worth a shot!)
After dinner, we watched Wishes from the side of the Castle.  To cap off the night, we walked back down Main Street through the shops and bought a few mementos to bring home.
It was a great day, as every day in Disney is, however, being the planner that I am, I am not sure that I would choose to go on a whim again. The thrill of it was amazing, however I did learn first-hand just how important it really is to plan ahead.  Everyone has their own vacation style, and I know that it definitely works for some to be totally flexible.  This trip taught me that I'm definitely not in that group.  While it was still a Magical experience, I'll be sure to plan ahead for my next trip!