This post may contains affiliate links for your convenience. If you make a purchase after clicking a link we may earn a small commission but it won't cost you a penny more! Read our full disclosure policy here.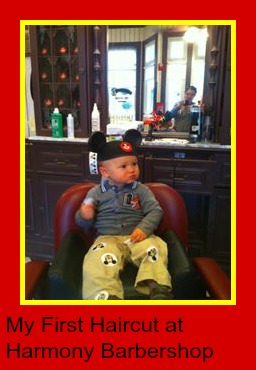 A baby's first hair cut can be a BIG DEAL. It is emotional to watch your little one's curls get snipped away and to see them almost magically transform into a toddler right before your eyes. Like all emotional milestones in life there is only one way to top it. Celebrate it at Walt Disney World!! Luckily for us the Harmony Barbershop on Main Street USA in The Magic Kingdom allows us to do just that.
This quaint and conveniently located barbershop offers the " My First Haircut" package for little ones ready to meet this milestone. For twenty five dollars, children not only receive a haircut from a licensed hair dresser, they also receive a first haircut certificate, a pair of iconic Mickey Mouse Ears embroidered with " My First Haircut" on the back and a commemorative pouch with a lock of hair to save. This is a bargain by Disney standards as the mouse ears alone cost almost as much.
We brought my son to the Harmony Barbershop at Walt Disney World, for his first haircut when he was 13 months old. I had called in advance to make an appointment, but to my surprise my son had fallen asleep in his stroller just moments before his appointment. The hairdressers were very kind and allowed me to bring him back later on that day as a walk in appointment.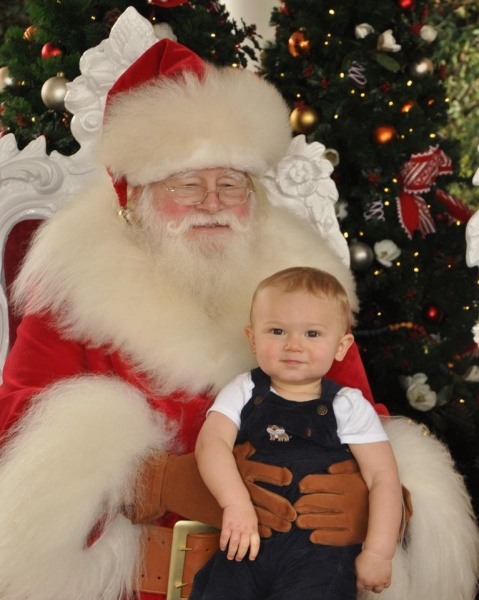 Before the haircut, a little shaggy with Santa at Epcot
From the moment we brought (my now awake) son into Harmony Barbershop the hairdressers put both of us at ease. They covered him with Mickey Mouse stickers and blew bubbles and allowed him to play with a light up toy while he was getting his hair cut. The shop is very small, and intimate, so it is not an experience you can bring your whole extended family to watch, but my husband, my son and myself were able to fit in just fine. The hairdressers made quick work ( less than 15 minutes) of cutting his hair so it didn't take up a lot of our touring time, yet provided a truly unique memory for years to come.
Although I thoroughly enjoyed this experience there are a few good things to keep in mind before you go
The Harmony Barbershop is a dry barber shop. Although they may mist or dampen hair in order to cut it, they do not have the facilities to wash or shampoo hair. You must arrive with clean hair for your appointment
The hairdressers are fabulous and you will want to tip them, however they cannot accept tips on Magic Bands or Credit Cards. Make sure you bring cash to tip
Appointments are helpful, but not always necessary. There is a 10.00 dollar no show fee for missed appointments.
In my opinion if you have Memory Maker it is a great idea to do " before " and " after" shots in front of the castle to capture your little one's new look.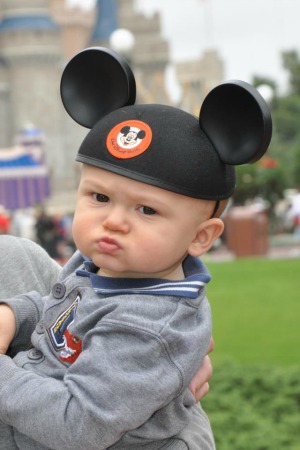 After the haircut, modeling those Mickey Ears in front of the castle
Would I visit again? Absolutely!! I have an appointment to take my daughter for her first haircut at The Harmony Barbershop this coming October. I am hoping to make this Disney experience a family tradition.
Have you ever had your child's hair cut at the Harmony Barbershop? What did you think of the experience? Share in the comments.
Did you like this article? Make sure to share it with your friends! Check below for easy ways to share!
Incoming search terms:
https://www themouseforless com/blog_world/my-first-haircut-harmony-barbershop/