This post may contains affiliate links for your convenience. If you make a purchase after clicking a link we may earn a small commission but it won't cost you a penny more! Read our full disclosure policy here.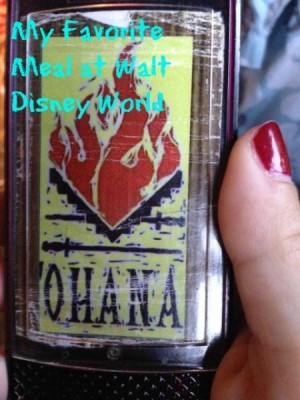 I have eaten many meals at Walt Disney World, from the quickest of quick service to the formal five star elegance of Victoria and Alberts, but there is only one meal which stacks up as my all time favorite- dinner at 'Ohana. This is the meal that I dream about in between vacations, and I have been known to skip lunch to "make extra room" in my stomach for this all-you-care-to-eat experience.
'Ohana is located on the second floor of the Grand Ceremonial House at the Polynesian Village Resort. It serves breakfast and dinner. If you are looking to have dinner at 'Ohana, it is important to get a reservation, and to look for that reservation as soon as possible (you can begin booking dining reservations 180 days prior to your resort check-in if you are staying onsite or 180 days prior to your proposed reservation date if you are staying offsite, and that is a good time to look if possible). I have found dinner at 'Ohana to be one of the most difficult reservations to secure, so it is usually one of the first reservations I try to book. (Editor's Note: Because of how hard it is to make reservations, Disney recently began taking reservations beginning at 3:30 p.m. for Guests wishing to enjoy dinner.)
The wait staff at 'Ohana calls the guests "cousins", with true Hawaiian spirit, making you feel completely at home, even within the immersive tropical décor. One of the best parts about eating at 'Ohana is that you feel like you've been transported to Hawaii, with the carved tikis, the large plants and the giant fire pit that cooks the meat skewers. At the same time, you are so close to the Magic Kingdom that if you're seated near the windows, you can see Cinderella's Castle from your table.
If you're looking for a quiet meal, this is not the place. 'Ohana has an entertainment director who performs for most of the night, singing Hawaiian songs, teaching guests the hula, giving out flower leis, and organizing coconut races for the children. This is the type of meal where guests may be running through the aisles or dancing near your table, and you're bound to sing "Happy Birthday" to some strangers.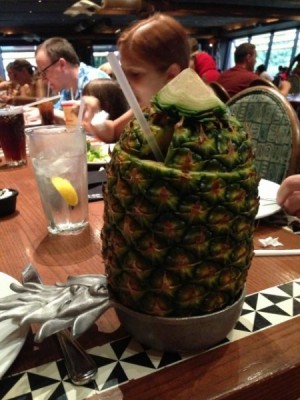 As you walk to your table, your server/cousin will pick up a loaf or two of 'Ohana's pineapple coconut bread. This bread is a treat unto itself- warm and sweet. Inevitably, the loaf disappears into our bellies soon after we sit down and needs to be replaced at least once. There is no need to place orders here. The meal is family style and brought right to your table.  Nonalcoholic beverages are included in your dinner price, but for the full experience, I have been known to order the "Lapu Lapu," a rum cocktail served from a whole pineapple. Notably, if you do have any allergies or special requests, please tell your server. We have always found 'Ohana to be very accommodating for guests who require a special menu.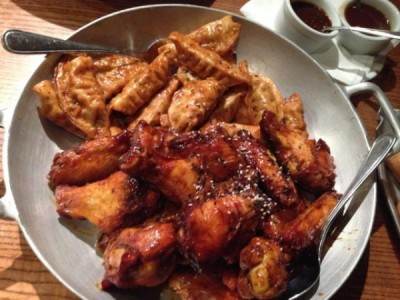 That being said, the regular menu suits me perfectly. It begins with a house salad with passion fruit dressing. This salad has your basic lettuce, cucumber, onion and tomato, but the sweet dressing makes it delectable. It is one of the only salads I know where I have to stop myself from going back for more (to save room for the other courses).
The next items to come to the table are honey coriander chicken wings and pork pot stickers. I don't know what makes the 'Ohana pot stickers so perfect, but they are amazing- crunchy on the outside, soft on the inside, and the right combination of pork stuffing. I never admit to how many pork pot stickers I've eaten after a dinner at 'Ohana. A girl has her secrets. The last family sized entree is a platter of peanut flavored noodles and vegetables. These are all delicious as well, and pairing the noodles with the pot stickers is the way to go. Trust me.
While the family platters could be enough for an entire dinner, they are only part of the meal. Next, your server will come to the table with some dipping sauces (peanut sauce and sweet and sour sauce) and some skewers of meat that have been roasting over the giant fire pit. On our last visit, we had chicken and steak kebobs as well as spicy peel and eat shrimp. All of them were great. The fire creates the right amount of char on everything, and each piece was well seasoned.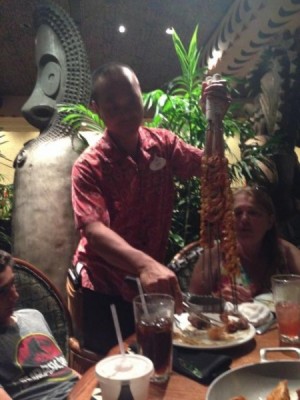 By this point, I am usually quite full, but no dinner at 'Ohana is complete without at least a taste of their signature dessert, bread pudding with bananas foster topping and vanilla ice cream. It should be said, I do not normally eat bread pudding, but this one is an exception. It's sweet and creamy, and the sauce is on the side so that you can add as much or as little as you want.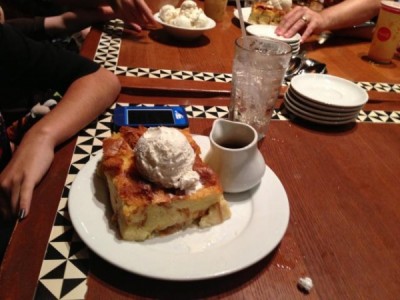 There are so many high notes at 'Ohana that it's hard to clarify what makes this my favorite meal. It is truly the sum of all parts adding up to perfection. 'Ohana qualifies as one table service meal on the Disney Dining Plan and accepts a discount with Tables in Wonderland. So go, make a reservation for your next trip, but be sure to save me a table!
What is your favorite part about dining at 'Ohana? Do you have any great tips? Share in the comments!
Incoming search terms:
https://www themouseforless com/blog_world/my-favorite-meal-at-walt-disney-world-ohana-dinner/