This post may contains affiliate links for your convenience. If you make a purchase after clicking a link we may earn a small commission but it won't cost you a penny more! Read our full disclosure policy here.
By Carol Garcia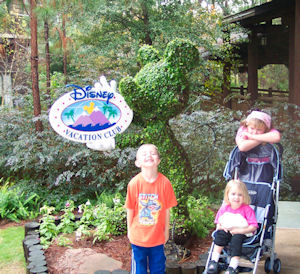 Admittedly, I didn't start the Disney fanaticism all at once. Who does? I had been to Walt Disney World four times before that fateful hurricane blew us to Orlando on our first family vacation with our daughter. Since we couldn't get into Cancun for a beach vacation, and had a week off of work, we were going to go somewhere. Disney World was available, so off we went.
The ease of bringing a toddler on her first trip was amazing. As our family grew, we continued to visit central Florida because of the ease of our vacations. We were comfortable there; the restaurants on-property were always accommodating, and we had a great time hanging out at the parks.
About the time our third child turned two, we realized that five people in one hotel room wasn't going to cut it. Our children were too young to be by themselves. Enter Disney Vacation Club.
As we researched options for our growing family, Disney Vacations Club (DVC) became more appealing to us. We could have a kitchen to cook some simple meals (no more keeping milk cold in an ice bucket!), we could have closets, and we could even have our own bedroom. My husband and I bought our first contract on the resale market. We had never actually been in a villa at WDW before, but we knew that we wanted to continue staying on Disney property, we knew we were going to need bigger accommodations, and DVC seemed to fit the bill for us.
Our first vacation in our "new home" did not disappoint. It was very relaxing to not have to try to stick five people in one room, not to have to sit in silence as a sleeping toddler napped, and to have enough room to really feel comfortable and unpack.
Disney Vacation Club offers four different room sizes: studio, one-bedroom, two-bedroom, and grand villa. The size of the rooms varies by property, but they are all spacious. A studio is still bigger than a regular hotel room and offers a kitchenette. The larger accommodations have a full kitchen. The kitchen itself is fully stocked with dishes, silverware, and cookware.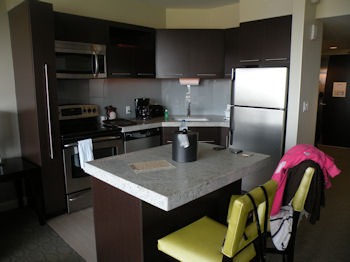 The kitchen at Bay Lake Tower.
We can easily make a trip to the grocery store (or the shop at the DVC resort which is stocked with more grocery items than a typical gift shop), and cook a meal in our villa. Now I'm not always interested in cooking full meals on vacation. Truth be told, I'm not always interested in cooking full meals at home either, but having breakfast in the room is easy and far more economical. We can have snacks at night or during an afternoon break. All of those left overs from restaurant meals can be popped into the refrigerator and eaten again. On a recent trip, we spent a relaxing day in our villa, we cooked a full breakfast, spent time at the pool, and even had a chance to pop over to Epcot for dinner and Illuminations. If only every day could be that easy!
Speaking of chores while on vacation, villas one-bedroom and larger have laundry facilities in the room. This means less packing for all of us. And for my child who used to prefer to wear her spaghetti rather eat it, it made clean-up much easier. I can throw in a load of laundry while we are getting ready in the morning, dry it during a break in the afternoon, and not have to worry about finding quarters. Studio accommodations have access to a laundry facility on properly at no charge, too. And best of all, we almost always go home with a suitcase full of clean clothes now, so that day of laundry after a trip has been virtually eliminated (except, of course, that trip when we watched our luggage literally sit on the tarmac during a thunderstorm, but clean, wet clothes has been an exception rather than the rule).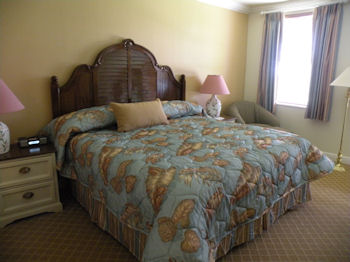 A cozy king-sized bed in the master bedroom makes a nice retreat for relaxing after a day at the parks.
Fast forward seven years. We have added on points to our initial modest purchase. Of course this comes at added expense, but for us, adding on over time allowed us to get to the point where we could travel to Disney twice a year if we choose.
We often stay in two-bedroom villas. The kids have their own room to contain their stuff, mom and dad have our own room, and our own bathroom. Getting ready for the parks is much easier with multiple showers. Our son has even found the benefits of the extra large closet in the second bedroom at Old Key West as his own private changing room, away from his sisters.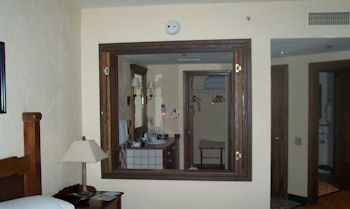 A spacious bathroom with a closet, too!
DVC has also added a perk that allows us to get $100 off of an annual pass. That makes annual passes worth our while if we have one longer trip in the summer, and allows us to drop back into the parks for shorter visits during the year, if we are able, without adding to our ticket expenses. Speaking of tickets, five annual passes is no small feat. We have found that if we stager the anniversary dates on the passes, it helps the budget a little bit.
My husband and I are now parents of three busy children, one of whom is about to embark on her high school career. As our time (or their time, more accurately) becomes more scheduled and less flexible, we have some wonderful memories to look back upon.
We have friends who have cottages in nearby states. They drive up almost every weekend when the weather is nice. They clean, do yard work, and deal with maintenance issues in addition to spending time away with their families. We admittedly travel farther, but we also avoid the maintenance tasks that come with home ownership. We save those for our primary residence.
Since we have the extreme flexibility of DVC and annual passes, we can go to Florida (or California, South Carolina, and soon-to-be Hawaii) as long as there is availability. We don't have to worry about trying to "see it all" on our trip, because we know we will be back. We get away from our over scheduled lives and spend some time doing what we would like with our children. We also have the flexibility to bring others with us and vacation together if we choose.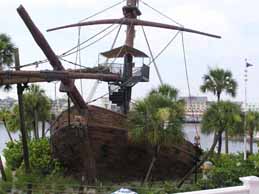 DVC has allowed us to vacation at a variety of resorts, with just one purchase. We can have the laid back feel of the Florida keys at Old Key West. We can experience the African savannah at Animal Kingdom Villas. We can be Magic Kingdom's next-door neighbor at Bay Lake Tower at the Contemporary. We can experience one of the best resort pools around at the Beach Club. The list goes on and on. We can easily choose our vacation experience based on where we choose to stay.
I know DVC isn't for everyone, but it has done wonders for us. And as our family changes and children grow up, we know that we can use our vacation points to adapt to a new way of travel that may creep up one day.
So, yes, we are addicted to DVC. The flexibility, the fun, and the magic.