This post may contains affiliate links for your convenience. If you make a purchase after clicking a link we may earn a small commission but it won't cost you a penny more! Read our full disclosure policy here.
Blizzard Beach, one of Disney's water parks, is incredibly fun.  Though I have never been to Typhoon Lagoon, I highly recommend Blizzard Beach as your choice of water parks.  In 2009, my family went there to do something special that we had not done before.
We arrived about twenty minutes before the park opened.  We quickly bought our tickets.  On our way to the line, a Disney cast member stopped us and asked me if I wanted to be Ski Captain.  I unhesitatingly said yes.  I was very excited about having this position.
As Ski Captain, there were many great benefits.   My family got free towel rentals and a free locker rental which was good for holding the camera and video camera.  We also received two free Blizzard Beach refillable drink mugs which are approximately 1 ½ times the size of the resort drink mugs although they could only be refilled at Blizzard Beach.  Another gift was four Disney buttons, which were purple and had the words "HONORARY CITIZEN of Walt Disney World Resort Where Dreams Come True" on them and a picture of a key with Mickey ears going through a Disney D.  Since there were only four buttons for our family of five, Dad and Mom shared one.
For myself, I received a Blizzard Beach medal, which had the park's alligator mascot and the words "Disney's Blizzard Beach" on it, and I wore it whenever I was not on a wet ride or water slide.  I still wear it around the house every once in a while.  (I am even wearing it now!)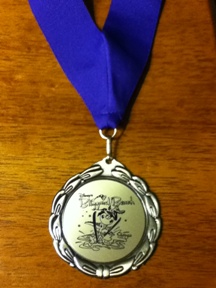 One more perk was my family was let into the park early and I was allowed to test Summit Plummet, a 120 foot high water slide with almost a 90 degree angle.  We rode the ski lift to the top of the mountain and the peak of Summit Plummet.  On the way up, I found a Hidden Mickey.  About three-fourths of the way up, there are three smooth stones, one large and two small, in the shape of a Mickey ears.
Once we were at the top, I sat in the cold water for about five minutes, eager to go down.  At the entrance of the water park, the cast members told the rest of the guests that I was going to test Summit Plummet, opening the park.  I was part of the opening show.  I started down the slide.  At about the quarter mark, there was a tunnel where I was sprayed with water at the entrance.  When I exited the tunnel, I still had over half the slide left.  The plummet leveled out, and I slid down a long surface to a stop.
This whole attraction only lasted around three to five seconds.  When I checked my speed I saw I had gone a huge fifty-five miles per hour.  It was awesome!  I waited at the bottom as the rest of my family zoomed down the humongous water slide.  Testing Summit Plummet was spectacular.
When we arrived home after our fun vacation to Disney World, I took my button and put it on my corkboard.  I also put a tack on the board for my medal, but wore it around the house the rest if the day before I put it on there.  That trip to Blizzard Beach will probably be the best trip to a water park I will ever have.  I am so glad I was chosen to be Ski Captain.