This post may contains affiliate links for your convenience. If you make a purchase after clicking a link we may earn a small commission but it won't cost you a penny more! Read our full disclosure policy here.
Extraordinary and unforgettable, my best day ever at Disney World occurred on September 7, 2008, with my brothers, parents, and grandparents. This was our first trip to Disney World with our grandparents, and Grandma's first time ever at Walt's theme parks. Some unique and exciting incidents happened. One, which was part of the Year of a Million Dreams theme, can no longer be repeated. Others could happen again, but are very unlikely to.
We spent this memorable day at Magic Kingdom. We were joyful, yet totally unprepared for what was to come that day. We arrived at the park before it opened and walked briskly to Fantasyland when the opening show ended. Our matching t-shirts and Mickey Mouse haircuts attracted a cast member's attention. He chose us to be the Royal Family, allowing us to ride one attraction in Fantasyland before the park opened. My brothers and I jumped and shouted for joy, suddenly ten times more excited than we were before. After being introduced to the crowd, we jogged over to Dumbo, our chosen attraction. As we flew up into the air on the backs of our elephants, the park opened.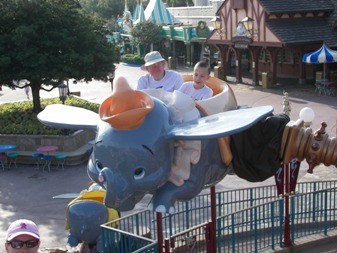 When Dumbo ended, we rode the rest of the Fantasyland attractions before going to the Haunted Mansion. As we got out of our doom buggies and began exiting the attraction, a cast member stopped about twenty-five of us, including my entire family, and gave us Magical Fast Passes. We were happier than ever, never expecting even one exciting experience in a day. The Magical Fast Passes had small, rectangular tabs around them, one tab for each fast pass ride in the park, that could be used at any time that day. This gave us a total of nine very useful fast passes each. We visited some attractions an additional time that we do not usually ride again due to long lines.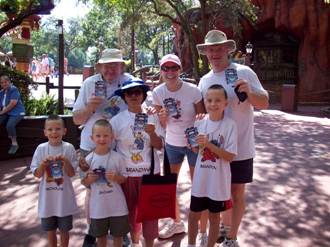 Later, just when we thought the day could not become more magical, we were stopped at the exit of Thunder Mountain. Two female cast members asked us if we wanted to pan for gold. We unhesitantly said yes. They gave us each a pan filled with dirt and water. When we shook the pan around, gold Mickey Mouse shaped confetti rose to the top. While we were shaking our pans, collecting our gold, and putting it in a small brown pouch, the ladies sang, "Shake yo' pan; shake yo' pan," in a funny singsong voice. Looking at them curiously, my family was slightly embarrassed for these eccentric women. My brothers and I were allowed to take our pouches and a special certificate home as a reminder of this exciting, yet peculiar occasion.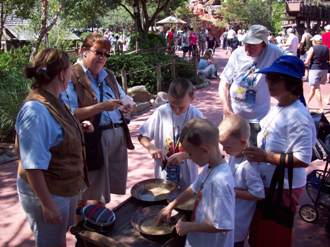 For lunch later that day, we chose Pecos Bill's Tall Tale Café. We then played around in the parks using six of our Magical fast passes. If you remember from one of my previous blogs, Grandpa greatly enjoys Buzz Lightyear's Space Ranger Spin. This was the day his enthusiasm for the ride began. For supper, we ate at Crystal Palace, my favorite restaurant in all of Magic Kingdom, making the day even happier.
After dinner, we rode a few more attractions. We used two of our last three Magical fast passes on these. On the bus taking us back to the resort, we talked about how fun the day had been. We peacefully slept that night, falling asleep on thoughts of just how magical Disney World truly is.
Outstanding and amazing, this day at Magic Kingdom was unquestionably my favorite ever at Disney World. For me, no other exciting days have ever exceeded this one. How I wish that I could go back and relive that extraordinary day!