This post may contains affiliate links for your convenience. If you make a purchase after clicking a link we may earn a small commission but it won't cost you a penny more! Read our full disclosure policy here.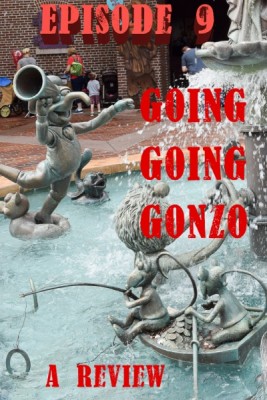 Season 1, Episode 9: Going, Going, Gonzo
Originally Aired: Tuesday December 1
Guest stars: Joseph Gordon-Levitt, Dave Grohl
This episode of The Muppets is essentially a big Gonzo feature. It starts during a Joseph Gordon-Levitt appearance on the show, singing "Fly Me to the Moon" with Miss Piggy. Sweetums was supposed to lower a moon behind them, but he sneezed and broke his headset so when Gonzo goes to cue him, he sneezes again and Gonzo gets caught up in the rope and flung around the studio.
This incident causes Gonzo to try to recapture and reminisce about his time as "The Great Gonzo," and this event also inspires Scooter to reevaluate his life, by trying to find himself with the Electric Mayhem.
Gonzo decides that to get in touch with his "Great Gonzo" side, he wants to get shot out of a cannon again, and to get it on the show Kermit arranges for Miss Piggy's newest venture, "Piggy Water," to sponsor the jump, as well as Gonzo himself.
After Bunsen shows Gonzo that the stunt will almost definitely end with him becoming a "flesh and blood smoothie", Gonzo gets scared and Kermit decides to not include the stunt on the show. However, during Dave Grohl's performance of "Learn to Fly" (which specially arranged for the stunt), Gonzo decides to try it anyway. He makes it and Kermit declares him the "Greatest Gonzo."
This might be my favorite episode of The Muppets so far. Starts with a guest actor singing a song with goofy antics. A backstage scene featuring that guest hanging out with the Muppets. Several features for the band. A guest musical star playing a song. Great lines from the supporting cast. And on top of that the final tag at the end of the episode is a drum battle between Animal and Dave Grohl.
Because of the production timeline, I think we are really starting to see the creative team behind the Muppets write and create shows based on what works and what doesn't, and the show, as a whole is getting better. I hope to see that continue.
Top quotes:
Gonzo: "No, no, my nose is the only bone in my body I haven't broken – that's why I look so good."
Zoot: "Is that the real moon or just a department store one?"
Floyd: "Ain't real moon, not since the 70s."
Bobo: "I just want to say "thank you" Gonzo. I mean you're doing this for all of us who don't get to live out our dreams. I always wanted to be a Chicago Bear."
Chip:" I didn't know you played football!"
Bobo: "Oh, I didn't – I just wanted to live in Chicago – good food, good people…no pressure on the body image."
Gonzo: "So the network has no objection to people of all ages watching that kind of carnage?"
Sam: "Carnage? No…that's healthy fun! It's what keeps the lights on around here. All I ask, is that when you hit the wall and explode, you do not curse."
Kermit: "Well, I don't think you want your name associated with Piggy Water. The FDA is investigating if it has the right to be called "water" at all. I heard it might fall into the category of "sauce."
Dave Grohl: "So, you guys remember how we did it in rehearsal?"
Janice: "So, we'd like to do it different from rehearsal."
Dave Grohl: "Okay, well then why did we even rehearse?"
Floyd: "Oh, cause if we don't rehearse there's nothing to do it different from."
Dave Grohl: "You know actually, I dig that."
Check out clips and episodes of "The Muppets" here.
Did you enjoy this episode as much as I did? Do you think "The Muppets" are finally hitting their mark?
Incoming search terms:
https://www themouseforless com/blog_world/muppets-review-episode-9-going-going-gonzo/