This post may contains affiliate links for your convenience. If you make a purchase after clicking a link we may earn a small commission but it won't cost you a penny more! Read our full disclosure policy here.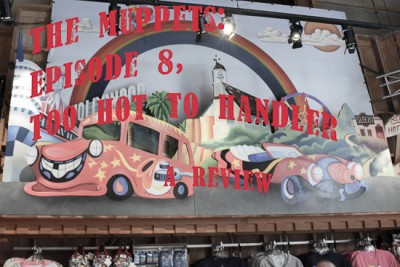 Season 1, Episode 8: Too Hot to Handler
Originally Aired: Tuesday November 17
Guest stars: Chelsea Handler, Riki Lindhome
This episode features Chelsea Handler, whom Scooter has developed an enormous crush. Scooter is, however, incredibly nervous and awkward, even when his date with Chelsea goes well. He eventually wants her to slow it way down (to her Junior High School moves) and they agree to talk on the phone while she is on the road.
This episode also features a re-occurrence of Riki Lindhome as Fozzie's girlfriend Becky, who Fozzie wants to invite to move in with him, much to Kermit's unease. To check out the situation Kermit and Denise join Fozzie and Becky at trivia night at Rolf's. During their evening, Kermit tries to bring up fun table conversation like criminal records and credit scores, and while he doesn't discover anything unusual about Becky, however, Denise is full of less than desirable tidbits. Kermit does, however, think Becky is cheating at the trivia night and is conflicted about telling Fozzie. Later, he tries to trap Becky by asking random trivia, but other staff members keep yelling out the answers. In the end, Kermit makes a fool of himself.
With this episode, The Muppets is starting to solidify some of its strengths. Quick one liners, especially from "minor" characters are great. Besides the quotes I have below, for example, there is some great interplay with the Electric Mayhem and the silliness of Fozzie taping regional promos while he and Kermit talk it out is hilarious.
Additionally, they continue to really effectively use Bobo and Uncle Deadly. Deadly has a quick wit that really fits the show well and Bobo is sweet, goofy, and caring, but also quite funny. On top of that, some of the character groupings, like the writing team of Rizzo and Pepe, are really coming into their own.
I mentioned last time about how Fozzie had basically disappeared from that episode. While this episode was a much better usage of him, I do think one of the strategies for handling this many characters is coming through. For example, this episode only had Miss Piggy for about the first minute, and Gonzo didn't appear at all. Especially recently, I think this has allowed them to spend more time showcasing a variety of characters while not incomprehensibly jumping between story lines. It can be tricky to juggle, but I think the fact that I had to stop and really think about it to notice at all means it is mostly effective so far.
Top quotes:
Scooter: "Well excuse me for enjoying the magical fun stairs."
Uncle Deadly: "Hmmmm, boy toy. Trust me Scooter, you are a boy toy."
Kermit: "210? But you're born with like 250."
Denise: "Yeah, I walked away from a condo in San Diego."
Rowlf: "Hint, it wasn't a dog – canine-Americans still can't hold public office."
Scooter: "You're a racy gal, which is thrilling when you're on my TV, but in person I can't just click over to the weather channel to catch my breath."
Bobo: "Why is there a number two pencil? You know what I mean, like why isn't one enough?"
Fozzie: "You wouldn't know anything about the City of Brotherly Love, Kermit. Probably because you live in the City of Meddling in Someone Else's Relationship."
Uncle Deadly: "Based on my experience, that's Reno."
Check out clips and episodes of "The Muppets" here.
Did you happen to enjoy this week's episode of The Muppets?
Incoming search terms:
https://www themouseforless com/blog_world/muppets-review-episode-8-hot-handler/