This post may contains affiliate links for your convenience. If you make a purchase after clicking a link we may earn a small commission but it won't cost you a penny more! Read our full disclosure policy here.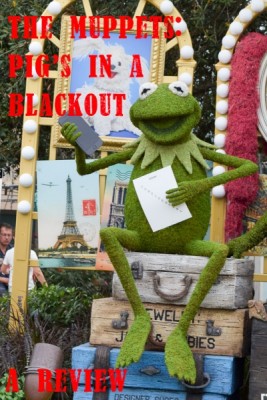 Season 1, Episode 7: Pig's in a Blackout
Originally Aired: Tuesday November 10
Guest stars: Jason Bateman, Pentatonix
While it contains throwbacks to some previous sub-plots, this episode of The Muppets focuses mainly on one storyline. Essentially, Kermit suffers a nervous breakdown after a series of hilarious mishaps, ending with Miss Piggy getting stuck in an elevator. After some attempts to make him feel better with new age medicine and lasers, Kermit is convinced by Miss Piggy and Denise to take some time for himself at a spa, leaving Scooter in charge of the show.
At the spa, Kermit's attempts to relax are derailed by Jason Bateman, who wants help producing his daughter's elementary school production of "Wicked." Eventually, Jason Bateman gets Kermit kicked out by forcing him to make a phone call, which is forbidden.
Meanwhile, back at the studio Scooter decides to turns down the thermostat, normally forbidden by Kermit, and the AC unit falls through the ceiling, freezing Beaker with Freon, ruining Miss Piggy's new winter collection and subsequently causing all of the lights in the studio to explode, among other things.
In a panic, Scooter wants to give up, but eventually because the show must go on, they come up with the idea of saying the show is raising awareness for energy conservation, bringing on Pentatonix as a musical guest, since they don't need power.
Kermit ends up a Rowlf's, and has a deep conversation while Rowlf noodles on the piano – a scene kind of reminiscent of the bar scene in The Muppet Movie. Keeping with that theme, the episode ends with Kermit playing banjo and singing "Rainbow Connection" as stress relief.
This episode really continued the momentum of the past few weeks. It kind of seems like after using a few weeks to establish the kind of show they would make, The Muppets have settled into a routine so they can just be goofy and do their thing. This episode had several really funny moments, both visually and through dialogue, and was paced pretty well.
They continue to use the range of Muppets pretty well. However, one thing I have noticed, and that was definitely the case with this episode, is that the creative team of this show seems to not know what to do with Fozzie some times. Earlier in the season, there were a few episodes where he was off on his own almost the whole time, and in this episode he falls down an elevator shaft and doesn't appear again. If nothing else, it is something I'll be watching as the series continues.
I think "The Muppets" is starting to come into its potential, and I can't wait to see what they do next.
Top quotes:
Bobo: "Ooh, falafel, yeah, get me one of those would you please."
Kermit: "First of all I want everyone to know that I am fine."
Zoot: "Are you sure? You look a little green."
Kermit: "I'm always green Zoot,"
Zoot: "Oh! You look great then."
Rowlf: "They tell you to relax and then they stick you outside with a million squirrels who won't mind their own damn business."
Rowlf: "It took me years to accept the fact that I'm part Corgi – I guess that's why I can't dance."
Check out clips and episodes of "The Muppets" here.
What did you think of the latest episode?