This post may contains affiliate links for your convenience. If you make a purchase after clicking a link we may earn a small commission but it won't cost you a penny more! Read our full disclosure policy here.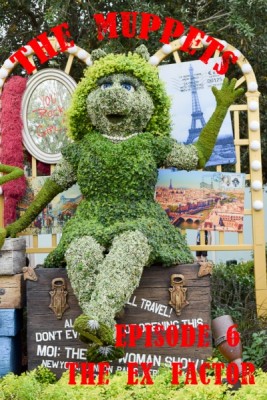 Season 1, Episode 6: The Ex-Factor
Originally Aired: Tuesday November 3
Guest stars: Kristin Chenoweth
This episode features Kristin Chenoweth, initially as a guest on Up Late with Miss Piggy, however she then gets asked to play at a party for Floyd's parents. However, this doesn't go well, and she ends up being left on the side of the road.
Additionally, this episode features the return of Denise, Kermit's new girlfriend, and Kermit's dilemma about getting her a birthday present. This includes a trip to a pottery panting place with Scooter, and even asking Miss Piggy for advice. (Always a good idea to ask you ex for help with your new girlfriend.)
This episode definitely improves on a few areas of The Muppets so far. First, it started with musical number featuring the guest star. Second, while many of the jokes throughout the series have been funny, I found myself laughing out loud much more during this episode, probably because of how unexpected and goofy some moments were. Or maybe it was just that the band was featured heavily throughout.
Either way, I think last week and this week show that The Muppets is moving in a good direction.
As I almost predicted last week, The Muppets was officially picked up for the rest of its first season this week. The actual order is a little less than typical, but that is because of accommodating their mid-season show schedule. I will be especially interested to see how the show evolves over the rest of the season now that they are definitely able to finish it, but also are able to incorporate audience reaction and feedback so far.
Top quotes:
Uncle Deadly: "Actually I own the domain name chenowethfannumber1.com, so we both know that's not true."
Miss Piggy: "I am pretty great with kids."
Uncle Deadly: "I don't present solutions, just dramatic problems."
Animal: "Animal always wanted to perform with live snakes, but Zoot big baby."
Check out clips and episodes of "The Muppets" here.
What were your thoughts of this episode?