This post may contains affiliate links for your convenience. If you make a purchase after clicking a link we may earn a small commission but it won't cost you a penny more! Read our full disclosure policy here.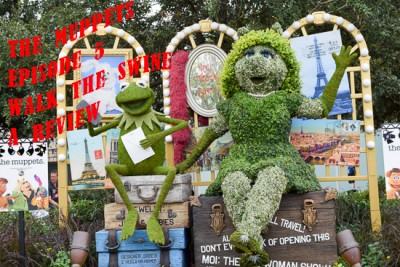 Season 1, Episode 5: Walk the Swine
Originally Aired: Tuesday October 27
Guest stars: Reese Witherspoon, Riki Lindhome
This episode features Reese Witherspoon, who Miss Piggy is holding a grudge against for losing out the part in Walk the Line. Piggy takes this as far as showing up at a Habitat for Humanity build to take attention from Reese, thinking that it would be a photo op. After a mishap, Miss Piggy invites Reese back on so she can apologize, but Piggy ends up with an elaborate musical number apology, complete with mic drop.
The episode also shows the return of Riki Lindhome as Fozzie's girlfriend, who is the unhappy new focus of his stand-up routine. Also, there is a sub-plot of Scooter's new car getting hit by Rizzo, who then tries to set Scooter up with increasingly sketchy family members to fix the issue.
As with previous episodes, this one had plenty of funny moments. It also affirmed for me that random and ridiculous musical numbers should be a part of every episode. I also think that having a guest star throughout the episode that is completely game and willing to make fun of themselves (much like the Josh Groban episode) fits well with how the show is laid out.
As a whole, if you have been enjoying any of this series you will like this episode, if you haven't been enjoying it, you probably won't. While "The Muppets" is still waiting for its exceptional shining moment, it is effectively holding serve.
On that note, I want to take a moment to talk about the ratings for this show so far. The premiere had the highest rating of any new show with 9.1 million viewers. That is even more impressive considering it was up against two ratings juggernauts, NCIS (the most watched show in all of television) and The Voice. Unsurprisingly, these numbers dropped off the second week to 5.1 million. The third week was similar, at 4.8 million with week four at 4.34 million (although most reports pointed out the great ratings for the debate going on at that time).
Looking at these numbers, those wanting to show how doomed the Muppets is point to the dramatic drop off. However, especially considering its time slot, the ratings are fairly strong. For example, it is routinely outperforming Agents of Shield and is much better than really any of the new Fox comedies. Time will tell about renewal or the future, but currently the Muppets ratings are pretty much in line with the show itself: decent and solid but not exceptional or terrible.
A Muppet themed topiary currently at Disney Springs
Top quotes:
Reese: "I mean did you see my movie "Wild"? I did all my own walking in that movie, so…"
Bobo: "I have an associates degree, I use a towel."
Fozzie: "It's just hauntingly beautiful on a sax"
Kermit: "Jeez, the last room you guys were in together doesn't even exist anymore!"
Check out clips and episodes of "The Muppets" here.
What are your thoughts of this latest episode of The Muppets?
Incoming search terms:
https://www themouseforless com/blog_world/muppets-review-episode-5-walk-swine/