This post may contains affiliate links for your convenience. If you make a purchase after clicking a link we may earn a small commission but it won't cost you a penny more! Read our full disclosure policy here.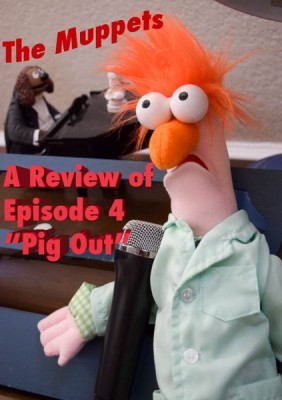 Season 1, Episode 4: Pig Out
Originally Aired: Tuesday October 13
Guest stars: Ed Helms
In this episode of the Muppets, there are two main storylines. First, Fozzie accidentally shoots Statler with a t-shirt cannon. Fozzie then continues by attempting to make things right and assist Statler in his recovery. As you can expect, this may not go as planned.
The main story, however, involves Miss Piggy finding out about and then forcing her way into an after work event with the staff. They end up at Rowlf's Pub where they proceed to run into Ed Helms, who then joins them for a round of karaoke. There is also a small side story of Sam Eagle trying to impress Janice because he suddenly becomes infatuated with her. As the evening winds down, the staff wants to do the responsible thing and leave early, however, Piggy convinces them to just go into work late. This causes Kermit to get upset the following morning when no one shows up for work on time. He intervenes to then convince Piggy to stop keeping the crew out all night.
This episode once again shows the promise of this new series, but is a little uneven and slow at times. There were some great Muppets featured  particularly several instances of Swedish Chef, who had many great lines. (Editor's Note: His rendition of Rapper's Delight is fantastic.) Like with much of the series so far, however, there is some dead space in between those brilliant moments.
I think this still shows a lot of potential for this show, it just needs some time to get its footing (like many shows do). In fact, for me, much of the first season of the original Muppet Show was a little bit rough. I just hope that the executives give the show enough of a chance to fully find that footing.
Top quotes:
-Kermit: "Who has a vat of pudding at home?"
Sam: "You know America's struggle with portion size."
______________________________________
-Kermit: "Piggy, be rational."
Piggy: "Kermit, that doesn't sound like me at all."
______________________________________
-Swedish Chef performing Rapper's Delight
______________________________________
-Kermit: "Welcome to the morning meeting everybody, or should I say the whenever you decide to show up meeting."
Floyd: "Uh, is that the official name now, cuz that works a lot better for us."
Check out clips and episodes of "The Muppets" here.
What did you think of Episode 4 of "The Muppets"?