This post may contains affiliate links for your convenience. If you make a purchase after clicking a link we may earn a small commission but it won't cost you a penny more! Read our full disclosure policy here.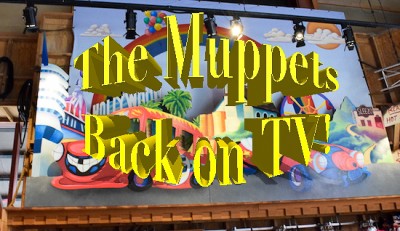 Season 1, Episode 3: Bear Left then Bear Write
Originally Aired: Tuesday October 6
Guest stars: Christina Applegate, Liam Hemsworth, Nick Offerman
We now arrive at episode three of the new ABC Primetime show, "The Muppets." This episode is entitled "Bear Left then Bear Write." This episode has two main plotlines, one where Miss Piggy tries to get back at Christina Applegate for and embarrassing moment, and the other where Kermit tries to spare Fozzie's feelings about his comedic writing, and inadvertently inspires him to quit the show to write a movie in the woods. The main subplot involves Gonzo going on a date after using a picture of Liam Hemsworth in his dating profile. In this episode we also get to see Rowlf, who is the bartender at "Rowlf's Tavern."
The episode itself more or less continues the trajectory of the first two without any major waves in any direction. It had funny moments, utilized a bunch of characters, had good guest stars, but also was a little uneven like it was still finding its footing. This episode, however, has been the best so far at integrating Fozzie into the main action of the show. The guest stars were all great in their segments and really seemed to interact well with the Muppets.
One of the aspects of the Muppets that I still think is missing from any of these episodes is some complete insanity. So far this show is a competent sitcom with beloved characters, but seems to be playing it a little safe. I'd like to see something completely off the wall and absurdist that breaks them out of the conventions of traditional sitcoms.
Top quotes:
-"Kermit is like the third most common frog name in America"
-Bobo to Nick Offerman: "Boy I wish I could grow a beard like that"
-"No, but I did lick my third cousin once and the walls started melting, so I feel ya bro."
Check out clips and episodes of "The Muppets" here.
What did you think of Episode 3 – Bear Left then Bear Write?