This post may contains affiliate links for your convenience. If you make a purchase after clicking a link we may earn a small commission but it won't cost you a penny more! Read our full disclosure policy here.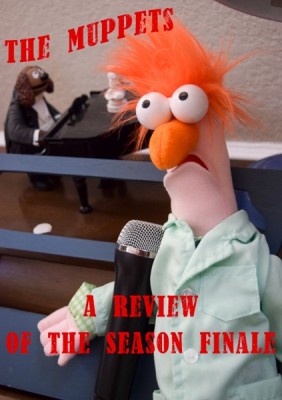 Season 1, Episode 15/16: Generally Inhospitable; Because…Love
Originally Aired: Tuesday, March 1
Guest stars: Willie Nelson, Jack White, Utkarsh Ambudkar
This week, The Muppets had a one hour season finale, kind of combining two episodes into one. The set-up for this episode involves Pache (I give up on the pizza thing) still giving the crew trouble, and Miss Piggy severely hurting her leg in rehearsal for a "Single Ladies" dance number.
Kermit asks Yolanda, Rizzo, and Pepe' to keep an eye on Pache while he and Uncle Deadly bring Miss Piggy to the hospital, as Pache wants to bring in a guest host DJ he knows. They end up getting Big Mean Carl's help to steal Pache's phone and lock him up. Yolanda happens to do a great impression of Pache, so they start randomly calling people to play jokes on them, including changing the color of all Pepsi cans. Sweetums finds out that Pache really just needed love from his dad, so the rest of the gang calls him up, they talk, and Pache leaves to run the family sporting goods business.
To try to hold back the network, Kermit decides that they will just have Piggy host the show from her hospital bed. Although she accidentally loads up on morphine right before the show starts.
As the episode continues, we get a few blasts from the past. First is a combination of a Swedish Chef sketch and Muppet Labs, looking at molecular gastronomy. After that, Rowlf and Janice visit the hospital for the return of Veterinarian's Hospital. Shortly after that, Willie Nelson sings "On the Road Again" with everyone in the hospital.
As she goes into surgery, Miss Piggy (still feeling the morphine) tells Kermit that she loves him, and he reciprocates – with the camera still running. As the second part begins, Kermit is getting advice from Rowlf and decides to try to get Piggy back.
Since everyone overheard them in the hospital, Kermit comes in to the entire crew discussing whether he and Miss Piggy should get back together, including a scientific explanation as to why Bruno Mars' yacht ran aground. Fozzie then freaks Kermit out about the whole thing and Kermit goes into hiding.
While trying to figure out what is going on, Kermit leaves and runs into Jack White (who happens to be singing Kermit and Piggy's song). Jack White convinces Kermit to go back to Miss Piggy, and Pepe sets up a "grand gesture" but also tells Piggy that Kermit was unsure, making her want to leave.
To end the episode of Up Late, Kermit has Jack White sing "You are the Sunshine of My Love," and the rest of the gang joins in. However, Piggy still leaves and Kermit has to chase her to her plane, although she passes out before she can answer his case for love. However, Pepe' also sneaked on the plane to "not leave anything to chance, because….love."
As a two parter, this episode had a lot going on. It was great seeing the Swedish Chef/Muppet Labs mash-up and Veterinarian's Hospital segments and the cavalcade of musical acts to replace Bruno Mars, including Marvin Suggs and his Muppaphone and Mahna Mahna, was fun. Also, they covered a ton of ground plot wise.
It is also one of the better episodes, if not the best one of this first season. There were plenty of opportunities for Muppets to shine throughout, we had some great throwbacks, the musical guests worked really well, and the plot moved in a positive direction.
In some ways, with all of the Muppet Show guest spots, it felt like the creators might have been preparing to say goodbye, but not completely with only the near resolution of the Kermit and Piggy situation.
Which brings us to the future – predicting whether the Muppets will be back for a second season is hard. The ratings are better than several other shows that are thought to be safe, especially in "the demo," but the show is right on the edge of being renewed for those that track that sort of thing.
That being said, I really hope they bring it back for another year. While it started a little unevenly, the Muppets has really started to find itself in 2016. In a second season, I think they could really shine and have a lot of fun.
So, if you love the Muppets and haven't seen the past few episodes of this show, now is the time to give it a try.
Top quotes:
Sweetums (carrying a gigantic butterfly net): "I'll need this back by Friday – I'm going to a meadow!"
Uncle Deadly: "Focus on the encased treats, just waiting to be set free!"
Uncle Deadly: "Can we get a nurse in here, or someone familiar with charcuterie?"
Bobo: "Hey boss, these plus elevens are piling up, I'd love permission to maul the next one who asks if I'm the bear from the Revenant.."
Miss Piggy: "You did all that to keep me from finding out there's no such thing as pre-flight calzones?"
Check out clips and episodes of "The Muppets" here.
What were thoughts of this week's finale?