This post may contains affiliate links for your convenience. If you make a purchase after clicking a link we may earn a small commission but it won't cost you a penny more! Read our full disclosure policy here.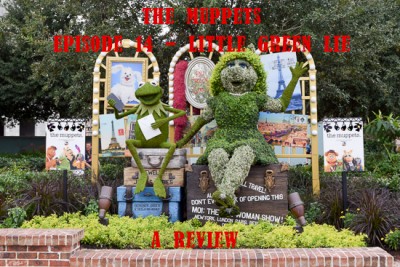 Season 1, Episode 14: Little Green Lie
Originally Aired: Tuesday, February 23
Guest stars: Lara Spencer
This episode features a visit from Kermit's nephew, Robin. However, Robin is convinced that Kermit and Miss Piggy are still together. They decide to pretend they are still together, for his benefit. Kermit then asks the staff to pretend this is true when around Robin. Scooter can't lie, so Kermit tells him that he is back together with Miss Piggy, which becomes more an ordeal when Scooter Tweets about it, and a news crew comes to find Kermit and Piggy at laser tag.
Robin tells Miss Piggy and Kermit that he can't figure out why they aren't together, because everyone knows they are meant to be.  While they continue to object, the duo share many tender moments as the episode continues.
We also see into the house shared by Rizzo, Pepe, and Gonzo, and find that Camilla has reunited with Gonzo, and has moved in (they are doing couples yoga). Since Gonzo is spending a lot more time doing couple things, Rizzo and Pepe try to find a new wingman.  After they strike out in "auditions," Gonzo comes back and joins up with them.
With this episode, some of the the recent trajectory is coming back into focus. First, Camilla is definitely back, and definitely back with Gonzo. Secondly, the "will they or won't they" between Kermit and Miss Piggy seems to be heading much closer to the "they will." In that, this episode spent a lot more time on overarching character and plot development, and a little less time on the random silly stuff just for its own sake (although Uncle Deadly hosting a Family Feud knockoff with the Electric Mayhem was a nice moment).
While very much in line with some of the more recent Muppet offerings, I felt that this episode served to set up the next few rather than as a standalone thing in and of itself. Still good, but less overall resolution.
One last note for this episode – when this show started, my general feeling was that it was uneven, but they understood the characters and had great one-liners. The one-liners are still definitely there, and they are still great. At the same time, the show is evening out, and coming into its own much more. Check it out.
Top quotes:
Kermit: "And we can finally go out for barbecue with a clear conscious."
Scooter: "NOOO! You made me the first person in the world to lie on Twitter!"
Check out clips and episodes of "The Muppets" here.
What were your thoughts of "Little Green Lie"?
Incoming search terms:
https://www themouseforless com/blog_world/muppets-review-episode-14-little-green-lie/