This post may contains affiliate links for your convenience. If you make a purchase after clicking a link we may earn a small commission but it won't cost you a penny more! Read our full disclosure policy here.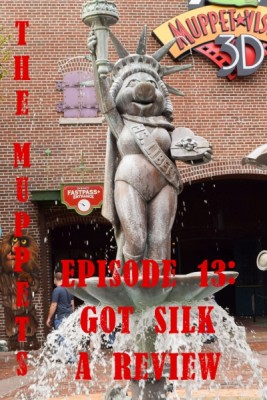 Season 1, Episode 13: Got Silk?
Originally Aired: Tuesday February 16
Guest stars: RuPaul, Ingrid Michaelson, Utkarsh Ambudkar
In this episode Miss Piggy is struggling with not being in the new format of the show as much, and also not having any friends. As such, she tags on to Janice's aerial contortionist class, where Uncle Deadly and Gloria Estefan are also drug along. Piggy tries really uncomfortably to "make" a best friend, to no avail.
Meanwhile, Kermit is trying to get a hold of Denise while holding off Pizza (Pache) trying to add branded content to the show. After Kermit tries to assert his authority, Pizza takes the writers out to lunch/get suits. At the tailor they meet RuPaul.
Once they come back, they had been "convinced" that Pizza's branded content mixed into the show is a good idea. Kermit feels bad about not treating them well, and also finding a box on his desk with all of his belongings from Denise. So, to fix matters, they end up bringing RuPaul on the show to judge a fashion contest between Swedish Chef and Bobo, which also gets Kermit and the writers out of a jam, allowing Gonzo, Rizzo, and Pepe to keep the suits.
At the end, Ingrid Michaelson comes on to sing "The Way I Am" with Miss Piggy, and while singing, she realizes that Uncle Deadly has been her friend all along. Realizing that, she surprises Uncle Deadly by bringing all the Muppets to see his gender-swapped production of Clueless.
Overall, this episode had a lot of strong moments. The only really weak section for me was the aerial class in the middle, and that was more that it was purposefully uncomfortable and I don't usually enjoy that sort of thing. I thought the side story was a good feature for Gonzo, Rizzo, and Pepe and there was still plenty of silliness to go around, with a good warm and fuzzy moment at the end.
I think some fans will be happy that the door on Denise seems to be completely shut. More recently, many fans, myself included, will be happy that Gloria Estefan, the adorable male penguin that Miss Piggy stole from Argentina, also appeared throughout the episode, at least proving that he will be around for a while. Overall, the creators seem to be taking seriously the ideas of both having more joy in the show, and showcasing more of the Muppets. I look forward to seeing that continue.
Top quotes:
Uncle Deadly: "Well if you don't remember, then appendix girl is not your friend."
Zoot: "What if we all went to the Maui Four Seasons."
Kermit: "How is that a sketch?"
Zoot: "It's not. I thought we were all just saying good ideas."
Gonzo: "Just because we've been brainwashed doesn't mean it's not delicious."
Kermit: "And please, can you always wear your pants in the office?"
Rizzo: "Okay Mr. Naked."
Check out clips and episodes of "The Muppets" here.
What did you think of this week's episode?
Incoming search terms:
Muppets show mr piggy girl naked