The Muppets: A Review of Episode 12 – A Tail of Two Piggies
|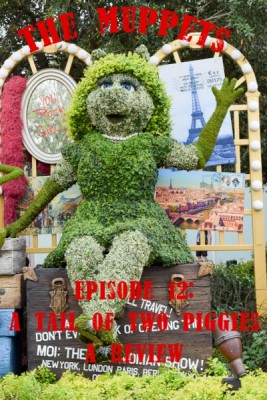 Season 1, Episode 12: A Tail of Two Piggies
Originally Aired: Tuesday February 9
Guest stars: Joan Jett, Ian Ziering
This episode begins with Kermit and Miss Piggy (accompanied by Uncle Deadly) going to the Zootopia opening. While walking the red carpet, Miss Piggy's tail pops out, causing quite a stir. The network wanted her to apologize, but a young pig came to the show's taping and said how inspired she was, so Piggy changes her mind. She decides to make a PSA titled "#UnveilTheTail," but the network president threatens Kermit. After a veritable "I am Sparatacus" moment, Joan Jett comes out and sings "Bad Reputation."
Also in this episode, Gonzo is sad because Groundhog Day is the anniversary that Camilla walked out on him, so Pepe and Rizzo try to cheer him up. Part of that is by getting him to move. The house they look at is too expensive, so the three of them decide to move in together. Later on, at a party celebrating the "Unveil the Tail" event, after a cameo by Ian Ziering, Camilla shows up. Cliffhanger.
With this episode, The Muppets kind of continues along with some of the "changes" introduced last week while still adhering to the character of the show as a whole. On "Up Late," we saw a taste of inclusion of the other Muppets, with Animal playing a game, and a special musical performance from Joan Jett. With the refocusing last week, the showrunners talked about bringing more joy to the show, and I think this episode continues that tradition. The reintroduction of Camilla is definitely something some hardcore Muppet fans have been wanting, so it will be interesting to see where they go with that.
As was the case last week, if you saw the first episode or two and decided you didn't like the show, give it another chance. And if anyone working in Disney merchandizing happens to be reading, I have two words for you: Uncle Deadly.
Top quotes:
Uncle Deadly: "Wait, that's not my neckline – that's your neck."
Sam: "The one million angry parents association are outside protesting right now."
Kemit: "A million, I only see three of them, Sam."
Sam: "They like to round up."
Fozzie: "No, Churchill said it, but Piggy Tweeted it."
Check out clips and episodes of "The Muppets" here.
Did you enjoy this week's episode? Share your thoughts in the comments.