This post may contains affiliate links for your convenience. If you make a purchase after clicking a link we may earn a small commission but it won't cost you a penny more! Read our full disclosure policy here.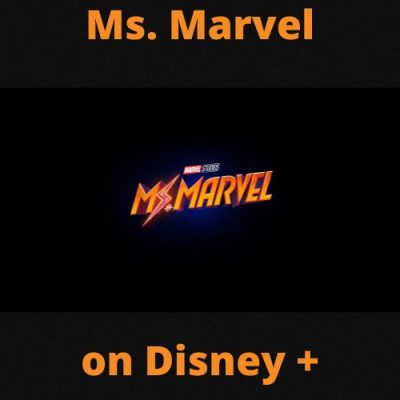 Ms. Marvel, streaming on Disney +
On June 8th, Disney+ dropped the first episode of yet another highly anticipated Marvel original: Ms. Marvel. This is the second Disney Plus Marvel original that is introducing its title character for the first time, the first being Moon Knight.

Ms. Marvel is the story of Pakistani-American teenager Kamala Khan, who lives and attends high school in Jersey City. Kamala struggles with many of the issues most children of immigrants do. She is trying to find a balance between honoring and respecting her heritage while still embracing her life as an American teenager.

There's one other thing you should know about Kamala. She's a huge Captain Marvel fangirl. She has her own YouTube series dedicated to the subject, and when Avenger Con is held at Camp Lehigh (familiar to many MCU fans as a pivotal location in Captain America's origin story) she knows that she not only has to go, but must go dressed as Captain Marvel.

When assembling her costume, she decides to add some of her Pakistani heritage by wearing a bracelet that belonged to her grandmother. Well, once that bracelet is on, things take a decidedly strange turn.

After watching the first episode of Ms. Marvel, I am engrossed in this story. It is more lighthearted and less tense than many of the more recent Marvel outings, which makes sense given its titular heroine.

The visuals and graphics for this show are very unique. Not only do we see some fun animation in the form of Kamala's YouTube video, but we also see her colorful imagination come to life when she fantasizes about the Avengers. And the way a text conversation between Kamala and her best friend Bruno is depicted onscreen is original and delightful.

In a fun case of art imitating life, Kamala is played by newcomer Iman Vellani. Vellani attended high school across the street from a comic book shop and was thrilled to discover that there was a character who looked like her and shared her cultural heritage.

Rounding out the cast is Matt Lintz as Bruno, Zenobia Schroff as Kamala's mother, and Mohan Kapoor as Kamala's father, who quickly became one of my favorite characters. Since only the first episode is available as of this writing, it's difficult to say which of the many characters we met in the first episode will have a significant part in this story.

Bottom line: My entire family enjoyed this first episode and we are looking forward to more. I'm interested to discover if the tension will ramp up or it will remain a lighthearted romp in the Marvel Cinematic Universe.
Have you seen Ms. Marvel? Share your thoughts in the comments or on Facebook or Twitter!
Did you like this article? Make sure to share it with your friends! Check below for easy ways to share!  
Want to visit a Disney Destination? Contact The Magic for Less Travel for more information and a free, no-obligation quote.