This post may contains affiliate links for your convenience. If you make a purchase after clicking a link we may earn a small commission but it won't cost you a penny more! Read our full disclosure policy here.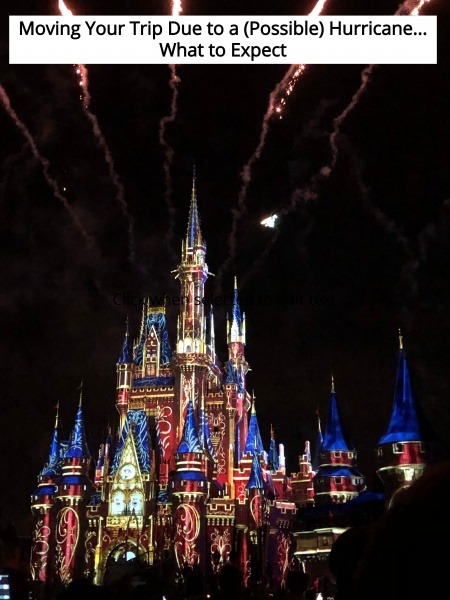 As Star Wars: Galaxy's Edge was about to open, Hurricane Dorian was barreling down on the Walt Disney World Resort in Florida.  As a Star Wars fanatic who had yet to visit Batuu, I was eagerly counting down to my trip.
Leading Up to the Trip
As a teacher, the days off that I get are limited.  I also knew that unlike others who could work from home- or anywhere they could get an internet connection- I couldn't chance getting stranded at Walt Disney World.  My original trip dates were September 1st through September 3rd, which was a Sunday through Tuesday.  But when airlines started issuing flight waivers, and Orlando International Airport announced their closure on Monday, September 2nd, I knew that I needed to move my trip, but I also knew that Disney's hurricane policy wouldn't be in effect until there was actually a hurricane warning.
My Experience
I called Disney and spoke with a Cast Member who told me that I wouldn't be able to change my reservation as Disney wasn't officially under any hurricane warning.  While I knew that this could be the result of my phone call, I was persistent in what I was asking for- that I did not want to cancel my reservation, merely change the dates.  And with those words, the resort reservation Cast Member was willing to transfer me to a Guest Relations Cast Member.
This Cast Member was extremely helpful- in a day of what I'm sure was a lot of people like me asking for help in a situation where Disney really didn't owe us anything- this man was apologetic about the wait, put me on a brief hold- which he also apologized for, and was able to do what I hadn't been able to do online- find me the exact same room for two weeks later.  He was even able to utilize the exact same promotion that I had used on my previous reservation.  The cost of the trip went up because I had moved my trip to take place over a weekend.  If I had been able to stay two weeknights, the cost would have been the same.
One other win was my ability to change my Mickey's Not So Scary Halloween Party Ticket to a different party during my new trip.  It did take another phone call to a different department, but I was able to do it.
What to Expect
One thing that I can say about this whole experience, is that you can expect to wait a long time.  For other customer service systems you can be told the wait and then provided with a callback.  But for Disney customer service, you have to actually stay on the line.  I waited on hold over 2.5 hours to change my resort reservation.  Then, another hour to get my Party Ticket changed.  Overall, every person that I spoke with was amazing- helpful, happy, and full of the Disney spirit.
But the reassurance that I wasn't flying into a hurricane- made it all worth it.  And now I'll get to enjoy my trip, hopefully without the threat of a hurricane bearing down on Disney World.
Did you like this article? Make sure to share it with your friends! Check below for easy ways to share!
Want to visit the Walt Disney World Resort? Contact The Magic for Less Travel for more information and a free, no-obligation quote.