This post may contains affiliate links for your convenience. If you make a purchase after clicking a link we may earn a small commission but it won't cost you a penny more! Read our full disclosure policy here.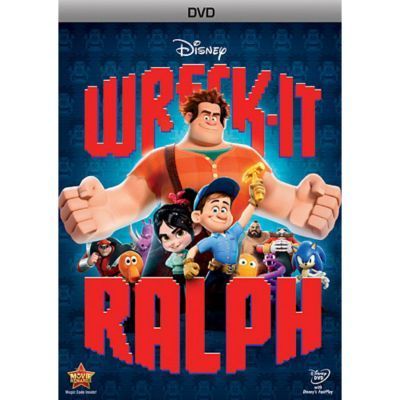 DVD Cover Copyright Disney
Centered in the world of classic arcade games, Wreck-It Ralph was theatrically released on November 2, 2012 as the fifty-second full length animated feature in Disney history. The film is 101 minutes in length.
Development
In 2008, Disney Chief Creative Officer John Lasseter asked Rich Moore, a longtime director of popular television series such as "The Simpsons" and "Futurama," to try something new, to direct an animated feature for Disney. Moore, having admired Lasseter's work since the former was a student at CalArts, gladly accepted the offer, and he was quickly afforded a pleasant surprise. (1)
Said Moore in an article he wrote for the New York Times, "He [Lasseter] suggested that I think about developing a story set in the world of video games. The idea of a video-game movie had been floating around Disney Animation for at least 10 years, though no one had been able to crack a story. So here I was being offered the opportunity to combine my loves at the greatest animation studio in the world. I thought I had died and gone to heaven.
For four years, I lived and breathed the world of video games. The team spent work hours playing games – from Donkey Kong to Halo to Mario Kart – all of which would heavily influence what eventually became "Wreck-It Ralph." And while I always believed in the film, I had days when I wondered if it would resonate with anyone outside the walls of Disney Animation.
Having spent the past eight weeks traveling the world – from Paris to Buenos Aires to Sydney, Australia – I can tell you that the amazing thing is how universal video games are. And while the movie has struck a chord with all ages, it has really hit home with people in their 30s, 40s and 50s, who reflect back on the untold hours they spent in arcades. I realize that I was not alone back then." (2)
Although Ralph and most of the flick's players are original characters, several classic arcade protagonists, including Sonic the Hedgehog, Pac-Man, and Q*bert, are given cameos. (3)
Moore was clearly interested in the subject of the movie, a great benefit for the final product.
Topsy Turvy
2012 proved to be a sort of backwards year for Disney's sister animation studios, Walt Disney Animation Studios and Pixar. Whereas Wreck-It Ralph, created by the former studio, struck many viewers as a Pixar film because it exuded, among other features, "a solid story, dazzling detail, inventive settings and jokey characters," Pixar's 2012 release, Brave, was a princess flick more in the mold of a traditional Disney movie. (4)
Both Wreck-It Ralph and Brave were nominated for "Best Animated Feature Film" at the 2013 Oscars, with the latter movie winning the category. (5) Brave became the seventh Pixar film, after Finding Nemo (2003), The Incredibles (2004), Ratatouille (2007), WALL-E (2008), Up (2009), and Toy Story 3 (2010), to win the category since its inception at the 2002 Oscars. In 2014, Frozen (2013) became the first non-Pixar Disney feature to earn the accolade.
Plot Summary
With kids and kids at heart enjoying classic games, Mr. Litwak's arcade would superficially seem to be a typical old-fashioned gaming establishment—such is hardly the case. You see, inside the consoles, the characters, including Wreck-It Ralph, the antagonist of the game "Fix-It Felix, Jr.," have minds of their own. These characters also have feelings of their own, and when Ralph feels unloved, he ditches his game in an effort to win a medal and a token, no pun intended, of respect from success in the game "Hero's Duty."
Ralph's decision results in both good news and bad news. The good news is that Ralph wins the medal. The bad news is that he accidentally hatches the eggs of viruses called Cy-Bugs and is ejected into another game, "Sugar Rush," where a girl named Vanellope von Schweetz steals Ralph's prized possession to enter herself in a car race. Now, not only is Ralph unpopular, but he does not have his medal. This situation cannot possibly end well. Can it?
Distinctions
At the Bad-Anon meeting near the beginning of the movie, Zangief tells a depressed Ralph that there is a difference between being a bad guy and being a "bad guy." This distinction may seem awkward and nonsensical, but it is actually true in this movie's world. Whereas a bad guy is a complete villain, a "bad guy" is a decent being who happens to get stuck with the undesirable job in his or her game. Destroying windows for Felix to fix may not be a glamorous occupation, but it is necessary for "society," meaning the "Fix-It Felix, Jr." game, to persist.
Jealousy
Two characters in Wreck-It Ralph, including the title character, become jealous at the glory enjoyed by others. This emotion is destructive, but it has plausible causes. The decision of his colleagues to exclude him from "Fix-It Felix, Jr.'s" thirtieth-anniversary party was devastating to Ralph.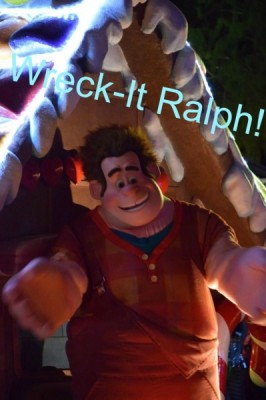 Perseverance
Despite constant reminders of their worthlessness, Ralph and Vanellope, respectively, refuse to surrender to their detractors. Indeed, they will battle until they gain the respect of their peers. Everyone is worth something.
Miscellaneous Questions and Observations
If the video game characters lead independent lives, how can a mechanic have any chance of repairing a game? Of course, this movie is based in fantasy, so scientific impracticality is assumed.
What was Fix-It Felix, Sr. like?
Somebody in the arcade is likely breaking the rules. A sign at the entrance prohibits outside food and drink, yet a Subway drink cup is present.
Music
Wreck-It Ralph is not a musical, but the score is excellent nonetheless. Background music perfectly complements the varying moods of the film, and one feature song, Rhianna's "Shut Up and Drive," adds extra adrenaline to Vanellope's first run around the track.
Animation
Wreck-It Ralph is eye candy. The scenes in "Sugar Rush" are colorful and fun to view, and the segments in "Hero's Duty" feature extremely crisp computer animation.
References
In addition to video game characters, numerous popular companies and products are highlighted in Wreck-It Ralph, including Subway, Nesquik, Oreos, and Devil Dogs. The movie's "Game Central Station" is a parody of New York City's Grand Central Station.
Humor
Ralph gives excellent impersonations of Paul Bunyan and the Hulk. Look out; there's a green blob on the loose!
Felix gives creepy smiles, enthusiastically dances to "Celebration," and speaks both English and Q*Bertese.
For better or worse, a large portion of the comedy in Wreck-It Ralph comes via "toilet humor." Vanellope and Ralph are especially fond of these jokes.
Relationship to Other Disney Films
Non-Disney characters are also included in Who Framed Roger Rabbit? (1988) (6)
The concept of games coming to life is similar to that of Pixar's Toy Story trilogy.
In the Parks
Unfortunately, no characters from Wreck-It Ralph currently hold regular meets at Walt Disney World or Disneyland, though Ralph and Vanellope may appear in parades at "Mickey's Not-So-Scary Halloween Party" and "Mickey's Very Merry Christmas Party," respectively. These events are offered at an additional cost on select nights at Florida's Magic Kingdom from September through December.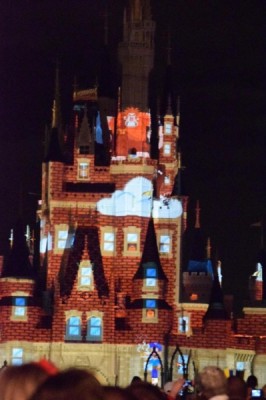 A scene from Wreck-It Ralph can be seen in the Celebrate the Magic Castle Show nightly.
If you are craving a thrilling ride around a racetrack, check out "Test Track" at Epcot or "Radiator Springs Racers" at Disney's California Adventure. A tamer racetrack experience can be had at the Magic Kingdom's "Tomorrowland Speedway" and Disneyland Park's "Autopia."
In Wreck-It Ralph, Vanellope's car accelerates to sixty miles-per-hour in 3.5 seconds. At Disney's Hollywood Studios, guests on "Rock 'n' Roller Coaster Starring Aerosmith" reach the same speed in only 2.8 seconds!
Arcades with various games are offered in the resort hotels throughout Walt Disney World.
Overall
Great visuals and an engaging story make Wreck-It Ralph a must-watch movie. Just don't tell your dentist that you watched it.
Notes
1) Moore, Rich. (2012, December 29). From Child's Play to Dream Job: [The Arts/Cultural Desk]. New York Times, p. C.1. Retrieved July 27, 2015, from http://0-search.proquest.com.alpha1.suffolk.lib.ny.us/docview/1264876395?accountid=35174
2) Ibid.
3) Moore, Roger. (2012, November 2). Disney borrows from Pixar's best for 'Wreck-It Ralph' The Journal News, p. 8. Retrieved July 27, 2015, from http://0-search.proquest.com.alpha1.suffolk.lib.ny.us/docview/1240418115?accountid=35174
4) Ibid.
5) Cavna, M. (2013, February 25). HANDICAPPING THE OSCARS 2013: The long and short of our favorites for the animated Academy Awards [Updated] (Posted 2013-02-25 02:03:25): HANDICAPPING THE OSCARS: The long and short of our favorites for the animated Academy Awards. The Washington Post. Retrieved July 27, 2015, from http://0-search.proquest.com.alpha1.suffolk.lib.ny.us/docview/1309204958?accountid=35174
6) Vinson, J. (2012, June 5). Wreck-It Ralph Looks Like Disney's 'Who Framed Roger Rabbit' But With Video Games. Retrieved August 3, 2015, from http://www.webpronews.com/wreck-it-ralph-looks-like-disneys-who-framed-roger-rabbit-but-with-video-games-2012-06
What do you think of Wreck-It Ralph? Let me know in the comments!
Sponsored Ad:  Would you like to help support The Mouse For Less website in continuing their mission of being THE Disney vacation planning resource?  You can do so by purchasing Wreck-It Ralph from our Affiliate Link through Amazon. Thanks so much for your support!