This post may contains affiliate links for your convenience. If you make a purchase after clicking a link we may earn a small commission but it won't cost you a penny more! Read our full disclosure policy here.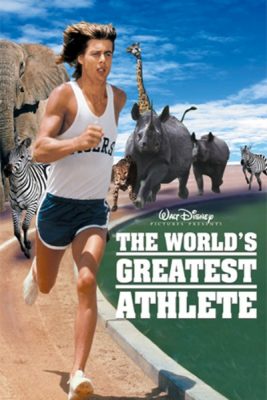 A live action comedy, Disney's The World's Greatest Athlete was theatrically released on February 14, 1973. The flick is ninety-three minutes in length.
Plot Summary
The sports teams at fictional Merrivale College, most notably the football, baseball, and basketball squads, all of which are coached by Sam Archer (John Amos) and his assistant Milo Jackson (Tim Conway), leave something to be desired. Ok; having not won a single game among them in four years, these teams leave a lot to be desired. Frustrated by the horrid results, Archer and Milo embark on a vacation to Zambia, where, on a safari, the duo spots an unbelievable creature: a young man named Nanu (Jan-Michael Vincent), who can literally outrun cheetahs, swing between trees like Tarzan, and dive from high ledges into the water with amazing grace. Not surprisingly, Archer sees Nanu as the solution to all of his coaching troubles.
Hearing that local tribal law forces male saviors of another person's life to perpetually accompany the person they saved, Archer senses a golden opportunity. Feigning illness, the coach enjoys a speedy recovery, and, making sure to credit his revival to Nanu's actions, successfully secures the world's top recruit for Merrivale College. In a world where sports busts are common, Nanu does not disappoint, immediately excelling at football, baseball, basketball, and, especially, track and field.
Still, Archer is faced with a problem. The doctor, Gazenga (Roscoe Lee Browne), of Nanu's adopted village immediately realizes that Archer was faking illness and only allowed Nanu to accompany the coach such as to culture the young man. Now, Gazenga is regretting his decision, a change of mind that he admits to a television audience watching throughout the United States. This announcement is pounced on by Leopold Maxwell (Danny Goldman), the son of Merrivale's dean (Billy De Wolfe). Infuriated that Nanu is in love with his tutor, Jane (Dayle Haddon), who is also Leopold's girlfriend, Leopold invites Gazenga to speak at Merrivale's medical school and warns the doctor that Nanu is being exploited by "evil men," namely Archer and Milo, for their own benefit. Will Gazenga seek to thwart Nanu's promising collegiate sports career while in town?
Special Effects
Incorporating a scene where Gazenga shrinks Milo, The World's Greatest Athlete is one of several Disney films to manipulate a character's height. Such alteration also occurred in Darby O'Gill and the Little People (1959), The Gnome-Mobile (1967), Honey, I Shrunk the Kids (1989), Honey, I Blew Up the Kid (1992), and Honey, We Shrunk Ourselves (1997).
Disney Chief Archivist Emeritus Dave Smith explained the effects behind the shrinking of Milo in response to a fan's question as follows: "In the film, Tim Conway, playing Milo, shrinks to a three-inch size and tumbles into a lady's purse. So a purse with its usual contents had to be built to scale—in other words, huge. Lipstick, comb and brush, hairpins, compact, needle and thread, safety pins, reading glasses, keys, pills, matches, and a camera were all constructed twenty-four times their normal size to film this hilarious scene—at a cost in 1972 of $15,0000. In other scenes, Milo encountered many other giant props, including a huge telephone and a cocktail glass that was seven feet tall and held a 1,245-gallon old-fashioned cooled by ice cubes two feet square. A Disney press release promoting the film quipped, "At 40 shots to a quart, consider the possibilities!"" (1)
Humility
Nanu may be the "world's greatest athlete," but he does not let his fame get to his head. Indeed, he would rather lead a happy, secluded life than to frequently have his name in the newspapers. To his credit, Archer gracefully accepts Nanu's decision and wishes his protégé well.
Sports Action
Several real sports broadcasters from ABC-TV, including Jim McKay, Bud Palmer, Frank Gifford, and Howard Cosell, are featured in The World's Greatest Athlete. The first three announcers contribute to a news piece about Nanu's stardom in the middle of the film, and Cosell calls the concluding track and field tournament.
Merrivale College is the only fictional school represented at the NCAA Track and Field Championships.  Brigham Young University (BYU), the University of Southern California (USC), Villanova University, and the University of Texas at El Paso (UTEP) are all real colleges.
Most of the film's last twenty or so minutes features exciting track and field action. Can Nanu overcome the forces of Gazenga to set world records at every event?
Music
Although The World's Greatest Athlete is not a musical, the film's score incorporates a wide array of background tunes and one semi-lyrical love song. These numbers vary from band music to upbeat tribal music to romantic music to whimsical music to triumphant music depending on the situation. The whimsical tune nicely accompanies the shrunken Milo's attempt to warn Archer about Gazenga's questionable intentions, and the triumphant tune augments Nanu's quest to win every event at the track and field tournament.
Humor
Coach Archer's pep talks are nearly identical regardless of the sport he is coaching—football, baseball, and basketball are all "[his] life"; and there is a legitimate chance for his teams to overcome six-touchdown, fifteen-run, or fifty-point deficits. Optimism is one thing, but Archer's players have to groan at these speeches.
Milo serves as a bumbling sidekick for Archer, usually a step or two behind the coach.
Collegiate sports are often hampered by recruiting transgressions, but few modern basketball and football coaches lure players through the means utilized by Archer: pretend that your life is endangered such that your desired player can save you and, invoking African tribal law, follow you for the remainder of your life.
If Archer was not really sick, Gazenga's medicine, consisting of zebra blood, cobra milk, rhinoceros marrow, lizard tongue, and toad skin, should do the trick! This concoction may not cure Archer's upset stomach, but it may cure his zest for lying!…or not.
Upon his miraculous recovery, Archer makes sure to credit Nanu for saving his life—he says so three times in about ten seconds.
Mrs. Petersen (Nancy Walker), the owner of the local boardinghouse, stares into the eyes of Nanu's pet tiger, Harry, believing him to be a person, and she bluntly states, "I hope you're all aware that I won't have any pets in my house!" Ok; whatever!
Archer gives Nanu an extended lecture on the unscientific nature of witchcraft and voodoo while Nanu uses his voodoo doll of Milo to levitate Archer's sidekick around the room. The coach makes his disbelief of unscientific rituals clear by throwing the voodoo doll of Milo out the window…and, right on cue, the real Milo follows the doll!
In his first attempt at indoor pole vault, Nanu shatters both the world record and the glass windows on the ceiling. Fortunately for all involved, the glass does not penetrate anybody's eyes.
Nanu can run like the wind on the track, kick seventy-yard field goals on the gridiron, and hit massive homeruns in baseball practice. Archer needs to teach his prodigy the rules of these games, though; when you hit a home run, you are supposed to run around the bases, not charge the pitcher's mound and tackle the hurler.
Nanu may not have saved Archer's literal life, but the sports star did save Archer's coaching life, so Archer may not have been lying after all!
Howard Cosell repeatedly interrupts his broadcast partner, Buzzer Kozak (Joe Kapp), while said partner attempts to answer Cosell's questions.
Relationship to Other Disney Films
As an abandoned youth raised by native African inhabitants, Nanu is comparable to the title character from Tarzan (1999). In that film, Tarzan falls in love with a young lady named Jane; similarly, in The World's Greatest Athlete, Nanu's tutor and not-so-secret lover is named Jane.
The World's Greatest Athlete was the first of five Disney films to feature Tim Conway, who was named a Disney Legend in 2004. Conway subsequently appeared in The Apple Dumpling Gang (1975), Gus (1976), The Shaggy D.A. (1976), and The Apple Dumpling Gang Rides Again (1979) for the studio.
The World's Greatest Athlete was one of several Disney films of the 1960s and 1970s to feature a fictitious college starting with the letter "M." The World's Greatest Athlete transpired at Merrivale College; The Misadventures of Merlin Jones (1964) and The Monkey's Uncle (1965) were set at Midvale College; and The Absent-Minded Professor (1961), Son of Flubber (1963), The Computer Wore Tennis Shoes (1969), Now You See Him, Now You Don't (1972), and The Strongest Man in the World (1975) took place at Medfield College. Flubber (1997), a remake of The Absent-Minded Professor, was also set at Medfield College.
Disney later featured an African American baseball manager in Angels in the Outfield (1994) and an African American football coach in Remember the Titans (2000).
Running was also the featured sport in McFarland, USA (2015).
Milo was also the name of a significant character in Disney's 2001 animated feature Atlantis: The Lost Empire and that film's 2003 direct-to-DVD sequel, Atlantis: Milo's Return.
In the Parks
As Archer and Jackson embark on an African safari in The World's Greatest Athlete, guests at Walt Disney World's Animal Kingdom theme park can enjoy a replicated safari on "Kilimanjaro Safaris."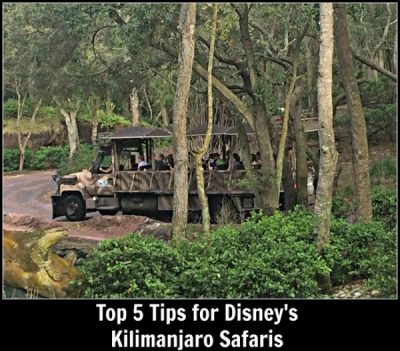 Disney offers a variety of "runDisney" races each year, most of which take place at Walt Disney World. You do not need to be the world's greatest athlete to run them either! (3)
Overall
The World's Greatest Athlete is a well-paced effort with plenty of laughs and an abundance of action.
Notes
1) Smith, D. (2012). Live-Action Films. In Disney Trivia from the Vault: Secrets Revealed and Questions Answered (p. 126). New York: Disney Editions.
2) Ibid., 133-34.
3) Check out The Mouse for Less' runDisney page for a discussion of runDisney events at Walt Disney World: https://www.themouseforless.com/walt-disney-world/wdw-recreation/rundisneywdw/.
What do you think of The World's Greatest Athlete? Let me know in the comments!
Sponsored Ad:  Would you like to help support The Mouse For Less website in continuing their mission of being THE Disney vacation planning resource?  You can do so by purchasing The World's Greatest Athlete from our Affiliate Link through Amazon. Thanks so much for your support!
Incoming search terms:
https://www themouseforless com/blog_world/movie-review-worlds-greatest-athlete/