This post may contains affiliate links for your convenience. If you make a purchase after clicking a link we may earn a small commission but it won't cost you a penny more! Read our full disclosure policy here.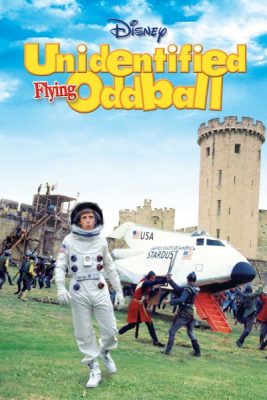 Based loosely on Mark Twain's 1889 novel A Connecticut Yankee in King Arthur's Court, Disney's Unidentified Flying Oddball was theatrically released on July 26, 1979. The live action comedy is ninety-four minutes in length. In the United Kingdom, Unidentified Flying Oddball was released as The Spaceman and King Arthur. (1)
Plot Summary
In a meeting with NASA and United States government officials, scientist Dr. Zimmerman (Cyril Shaps) summarizes the tenets of his initiative "Stardust," which is designed to explore and manipulate the far reaches of outer space at a pace faster than the speed of light. Although his audience members appear somewhat confused throughout the presentation, Zimmerman's call for a human crew results in an overt response from Senator Milburn (Robert Beatty): the mission will not occur if human lives are involved. No matter; Zimmerman simply asks his brilliant young student, Tom Trimble (Dennis Dugan), to construct a robot with human characteristics to accompany the spacecraft. At this task, Trimble succeeds. In fact, he succeeds too well, for the robot, called "Hermes," is so human-like that it is rationally scared to undertake the mission. Trimble boards the vehicle in a halfhearted attempt to calm Hermes, but a lightning strike unexpectedly launches the craft with the human still aboard. Traveling beyond the speed of light, Stardust soon finds itself on a grassy field in sixth-century Britain, the year 506 to be exact. There, Trimble mingles with a kind young lady named Alisande (Sheila White) and joins in battles among notable figures of English history and folklore, including the good King Arthur (Kenneth More), the evil magician Merlin (Ron Moody), and the duplicitous knight Sir Mordred (Jim Dale). Will Trimble survive this trip through time, and, if so, will his adventures change history?
Action
Over the course of the film, viewers witness both colorful images of outer space and battles that pit twentieth-century scientific knowledge and innovations against those of the sixth century. Such improvements help Trimble survive a burning at the stake, a joust against Mordred, and a massive final battle between Arthur's forces and Mordred's troops.
Humor
Unidentified Flying Oddball is littered with amusing lines and scenarios, many of which relate to the time gap between the film's different settings.
When Senator Milburn definitively objects to risking the lives of "fine, young American men" on the Stardust mission, Zimmerman tries to use verbiage to his advantage by noting that the space program also employs women. Undeterred, Milburn also refuses to risk their lives.
Hermes's eyeballs play tricks with Trimble while the former is under construction.
Upon the unexpected launch of the spacecraft, Zimmerman attempts to console his terrified prodigy by offering him substantial pay upon his return. Trimble understandably deems the extra money worthless, "a posthumous award."
Having obviously never seen a person exit an elaborate vehicle in a spacesuit, Alisande's first reaction to Trimble is a combination of awe and terror. She reasonably mistakes Trimble's spacesuit for the astronaut's skin and, thus, deems the young man a monster. The awkward sound of Trimble's voice filtered through the suit augments the comedy of the early interactions between the American and his new British acquaintances.
Alisande amusingly mistakes a normal gander for her father, who was in fact kidnapped by Sir Mordred and is being held in a dungeon.
Trimble affords King Arthur and his guests a detailed history of yet-undiscovered North America, highlighting such people and developments as Christopher Columbus, Leif Erickson, the Pilgrims, Sir Isaac Newton and the law of gravity, Benjamin Franklin, Robert Fulton and the steamboat, Guglielmo Marconi and the radio, the Wright Brothers and the airplane, Babe Ruth, and Albert Einstein and the theory of relativity. The thorough lecture literally puts the king to sleep, and the players later inaccurately conflate parts of the story, Arthur recalling that the Wright Brothers invented the radio, for example.
King Arthur misunderstands Trimble's request for a "wrench" to remove his helmet. The monarch instead gives Trimble a "wench," who nonetheless manages to complete the task.
Trimble casually removes Arthur's sword from the famed stone.
During one battle, Sir Mordred struggles to grasp either his sword or the scientific principles that prevent him from grasping his sword.
King Arthur cannot comprehend how "one can possibly go back to the twentieth century when we're still only in the sixth [century]." Said conundrum was clarified somewhat upon the release of Back to the Future in 1985.
Trimble unsuccessfully requests that Mordred substitute a game of chess for the proposed joust.
Mordred's turncoat page, Clarence (Rodney Bewes), skeptically responds to Trimble's desire to rebuild the decapitated Hermes with "all the king's horses and all the king's men couldn't do that." Fortunately for Trimble, Hermes is a robot, not Humpty Dumpty.
Trimble tries to entice Alisande with records by Fleetwood Mac and the Rolling Stones….she is not interested.
Upon relaying his entire life story to Alisande, Trimble indignantly asks the young lady if she understands that he is an "average American boy." Her answer: "no."
During the final battle, Trimble previews a British conflict over 1,300 years in the future by playing "The Star-Spangled Banner."
Relationship to Other Disney Films
A Connecticut Yankee in King Arthur's Court was also the source material for Disney's A Kid in King Arthur's Court (1995). As in Unidentified Flying Oddball, Ron Moody portrayed Merlin in the latter effort.
During his rant early in the film, Senator Milburn mentions "Never Never Land," the fictitious setting of Disney's animated classic Peter Pan (1953).
The Adventures of Huck Finn (1993) and Tom and Huck (1995) were also based on works by Mark Twain.
Jim Dale had previously appeared in Pete's Dragon (1977) and Hot Lead and Cold Feet (1978) for Disney.
King Arthur and Merlin were also prominently featured in the animated The Sword in the Stone (1963). Merlin is a kindly figure in this effort.
Space travel was also featured in Moon Pilot (1962), Escape to Witch Mountain (1975), The Cat from Outer Space (1978), Return from Witch Mountain (1978), The Black Hole (1979), The Rocketeer (1991), RocketMan (1997), Armageddon (1998), My Favorite Martian (1999), Mission to Mars (2000), Lilo and Stitch (2002), Treasure Planet (2002), Chicken Little (2005), and Wall-E (2008).
In the Parks
The "Tom Sawyer Island" attractions at Walt Disney World's Magic Kingdom and California's Disneyland Park are based on Mark Twain's 1876 novel The Adventures of Tom Sawyer.
Guests at Disneyland Park can take a voyage on the "Mark Twain Riverboat" and ride "King Arthur Carrousel."
The thrilling "Mission: Space" attraction at Epcot was developed with cooperation from NASA.
Included on the extended list of futuristic things that Trimble wishes Alisande could see is "Space Mountain," the legendary Disney roller coaster, versions of which are located at the Magic Kingdom, Disneyland Park, Disneyland Park Paris, Tokyo Disneyland Park, and Hong Kong Disneyland Park. Trimble also mentions the Grand Canyon, artistic renderings of which are included between Tomorrowland and Main Street U.S.A. on the Disneyland Railroad and inside the Contemporary Resort at Walt Disney World.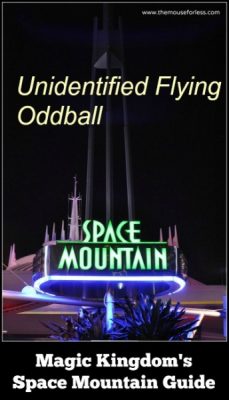 Overall
With lots of silliness, lots of action, a fair amount of pop culture references, and some basic science and history edutainment, Unidentified Flying Oddball is an enjoyable film, in line with most Disney comedies of the 1970s.
Notes
1) Dave Smith, Disney Trivia from the Vault: Secrets Revealed and Questions Answered (New York: Disney Editions, 2012), 151.
What do you think of Unidentified Flying Oddball? Let me know in the comments or on our Facebook page.
Sponsored Ad:  Would you like to help support The Mouse For Less website in continuing their mission of being THE Disney vacation planning resource?  You can do so by purchasing Unidentified Flying Oddball from our Affiliate Link through Amazon. Thanks so much for your support!
Did you like this article? Make sure to share it with your friends! Check below for easy ways to share!