This post may contains affiliate links for your convenience. If you make a purchase after clicking a link we may earn a small commission but it won't cost you a penny more! Read our full disclosure policy here.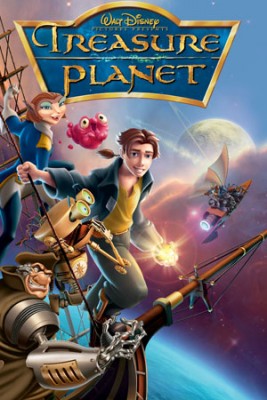 DVD Cover ©Disney
The forty-third full-length animated feature in Disney history, Treasure Planet was theatrically released on November 27, 2002. It is based on Robert Louis Stevenson's novel Treasure Island and is ninety-five minutes in length.
Plot Summary
On the planet Montressor, a world inhabited by both humans and aliens, a teenage boy named Jim Hawkins and his mother, Sarah, are enduring personal difficulties. Jim possesses a brilliant mind but, scarred by his father's sudden departure from the family, is directionless. He is frequently in trouble with the law and openly questions his worth. Sarah, meanwhile, is frustrated and heartbroken by her son's behavior, which is occurring while she is running a tavern called Benbow Inn to make ends meet.
People often receive opportunities to redeem themselves, and Jim is afforded such a chance when he comes into possession of a pirate's treasure map. The map reveals the existence of Treasure Planet, a famed locale that holds the "loot of a thousand worlds" as placed by Captain Nathaniel Flint one-hundred years earlier. With the Benbow Inn having been destroyed in a pirate raid, Jim is determined to make amends to his mother by using the map to attain the prized specie. A noted astrophysicist named Dr. Delbert Doppler is also eager to embark on an adventure and convinces Sarah to allow Jim to accompany him on the voyage. Jim, thus, has a chance to turn his life around. Will he take advantage of it?
A Quality Disaster
Treasure Planet brought much good to the table, having been conceived and developed by superior talent, and utilizing new techniques in both production and distribution.
The idea for Treasure Planet originated nearly two decades prior to its release, in 1985. At one of CEO Michael Eisner's "gong shows," which were meetings where animators proposed ideas for new movies, animator Ron Clements voiced a pair of notable concepts, both of which were denied by Eisner. These rejected proposals involved a mermaid transforming into a human upon meeting her prince and "Treasure Island in Space," respectively.
Though Clements was discouraged, it soon became clear that animation chairman Roy E. Disney and Walt Disney Studios chairman Jeffrey Katzenberg both liked Clements' former proposal, which Eisner had shot down because Disney-owned Touchstone Pictures had released a live-action mermaid flick, Splash, in 1984. (1)
With Roy Disney and Katzenberg onboard, Clements' rejected mermaid proposal developed into arguably the most important film in Disney history, The Little Mermaid. Released in 1989, The Little Mermaid became a hit and commenced an eleven-year golden age for Disney animation called the "Disney Renaissance." Clements' "Treasure Island in Space" idea did not garner as much support, but by the time of Hercules' release in 1997, the project had been greenlit. (2)
Treasure Planet broke new ground in a couple of ways. It was the first movie in history to be released concurrently in both IMAX and standard formats at theatres, and it was the first film ever to juxtapose hand-drawn animation with 3D digital animation in a single frame. (3)
Unfortunately for Disney, Treasure Planet did not shine at theatres. On the contrary, it emerged as the biggest box-office bomb in the history of Disney animation to that time, a dubious fate that has since been surpassed by Mars Needs Moms (2011). (4) Within a week of the film's release, Disney took a $74 million write-down on Treasure Planet, the largest write-down in animation history at the time. (5)
Trust
Sometimes it is difficult to know who you can trust because people are complicated, not fitting into simple categories of "good" and "evil." Jim faces such a problem with John Silver, the cyborg cook on the ship, who is alternately kind and cruel to the boy.
Characterization
Though the film's players are interesting, I found the characterization of Treasure Planet to be poor. Emotional moments abound in the flick, but I do not think the protagonists and situations are developed enough to truly engage the audience in the trials and triumphs of the individual characters. That said, the plot is extremely suspenseful, so your attention will likely be held regardless.
Animation
The mixture of animation styles produced mediocre results in my opinion. Several scenes, most notably the battle sequences, the arrival of Jim and Doppler at Montressor Space Port, and the struggle to keep the ship from sinking into a black hole, are visually brilliant, but I thought the juxtaposition was awkward at other points.
Music
In addition to the background music, Treasure Planet features one major song, "I'm Still Here." Upbeat yet soothing, this song voices the struggles of growing up and is well incorporated into the movie. The number is enjoyable but forgettable in my opinion. In other words, you probably will not be humming the tune for hours after the movie ends.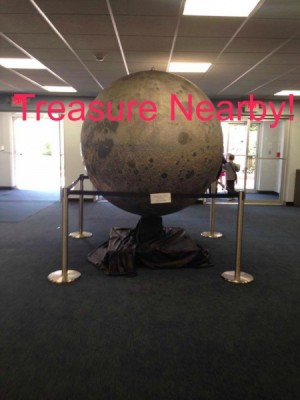 Humor
I was not expecting this film to be funny, but I found it hilarious, with humor arising from nearly all of the characters.
Dr. Doppler has a way with children, fashion, and proverbs. He also possesses entertaining dance moves and demonstrates an adequate command of the language flatula. Umm, yeah; toot, toot to you too.
B.E.N (Bio-Electronic Navigator), Captain Flint's old robotic navigator, is crazy energetic and delivers eccentric tangents through both his words and his mannerisms. Jim has to harness B.E.N.'s enthusiasm.
Jim knows the laws better than the police and immediately solves puzzles that take astrophysicists with "vast experience and superior intellect" years to crack.
The changes of the adorable Morph provide both fun and chaos.
Finally, John Silver concocts a concurrently mean and nasty eyeball stew, while voicing exaggerated compliments to others. Yeah, John; buttering me up is not going to earn you a promotion, so go butter the toast instead.
Relationship to Other Disney Films
Lilo and Stitch (2002) and Mars Needs Moms also incorporate astronomical themes.
A more traditional interpretation of Treasure Island was rendered by Disney in the 1950 live-action film of the same name.
Pirates also wreak havoc in Peter Pan (1953), a film that also questions the line between fantasy and reality regarding specific bedtime stories.
Disney issued a live-action flick involving black holes, The Black Hole, in 1979.
Tony Jay, the narrator of Treasure Planet, voiced Judge Claude Frollo in The Hunchback of Notre Dame (1996).
In the Parks
Although no attractions or regular character meets based on Treasure Planet itself are featured at Disney's theme parks, guests can experience numerous adventures pertaining to the themes of outer space and pirates.
At all five of the Magic Kingdom-style parks around the world, guests can enjoy "Space Mountain," an indoor roller coaster set to the vistas of outer space. The elements of the coaster differ among the parks, with Disneyland Paris featuring the most intense version. Paris' Space Mountain includes a high-speed launch and inversions. The Space Mountains at the other resorts, including Walt Disney World and Disneyland, California, are tame yet exhilarating, with darkness masking speeds of less than thirty miles-per-hour.
Epcot houses "Mission: Space," a motion simulator attraction that mimics the launch of a rocket ship. Guests can choose between the intense "orange" version and the tamer "green" version.
"The Pirates League" at Walt Disney World's Magic Kingdom Park allows boys and girls to undergo a temporary makeover into a pirate. This experience must be purchased in addition to theme park admission.
Guests at the Magic Kingdom can partake in an interactive pirate game, "A Pirate's Adventure—Treasures of the Seven Seas."
Finally, at Walt Disney World, adults and children alike can embark on the "Pirates and Pals Fireworks Voyage." Following a pre-cruise reception at the Contemporary Resort, where guests can enjoy snacks and interact with Captain Hook and Mr. Smee from Peter Pan, partakers board a boat to view the Magic Kingdom's "Wishes" firework show.
Overall
Although I found the animation, music, and characterization of Treasure Planet to be less than stellar, I actually really enjoyed the movie. The suspense of the plot, the action, and the humor combined to keep me interested, and I thought the flick felt shorter than its actual run time.
Notes
1) Stewart, J. (2005). The Wonderful World of Disney. In Disney War (pp. 71-72). New York: Simon & Schuster.
2) TREASURE PLANET Q&A with producers / directors / co-writers RON CLEMENTS & JOHN MUSKER. (n.d.). Retrieved from http://www.phase9.tv/moviefeatures/treasureplanetq&a-ronclements&johnmusker1.shtml
3) The 15 Biggest Box Office Bombs. (n.d.). Retrieved from http://www.cnbc.com/id/38815985/page/7
4) Wray, N. (2014, November 26). The 25 Biggest Box Office Bombs Of All Time. Retrieved from http://www.buzzfeed.com/nicholaswray/bombs-away#.uk3PryGnev
5) Stewart, J. (2005). Disenchanted Kingdom. In Disney War (p. 415). New York: Simon & Schuster.
What do you think of Treasure Planet? Let me know in the comments!
Sponsored Ad:  Would you like to help support The Mouse For Less website in continuing their mission of being THE Disney vacation planning resource?  You can do so by purchasing Treasure Planet from our Affiliate Link through Amazon. Thanks so much for your support!