This post may contains affiliate links for your convenience. If you make a purchase after clicking a link we may earn a small commission but it won't cost you a penny more! Read our full disclosure policy here.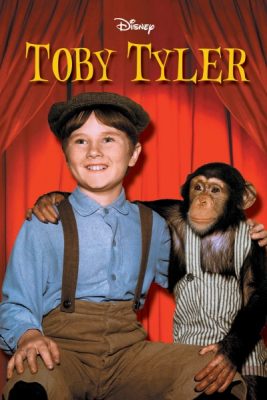 Based on James Otis Kaler's 1881 book Toby Tyler; or, Ten Weeks with a Circus, Disney's Toby Tyler was theatrically released on January 21, 1960. The live action film is ninety-five minutes in length.
Plot Summary
Convinced that he is no longer wanted by his guardians, his Uncle Daniel (Tom Fadden) and his Aunt Olive (Edith Evanson), poor farmers, following an impassioned tirade by Daniel, young Toby Tyler (Kevin Corcoran) runs away from home to join Colonel Sam Castle's Great American Circus, which is concluding its local run. Recruited by the show's seemingly-friendly concessionaire, Harry Tupper (Bob Sweeney), to be his assistant, Toby slowly but surely realizes that Tupper is in fact a sleazy backstabber. Fortunately for the lad, he makes some genuine friends on the tour, including the deceptively-kind strongman, Ben Cotter (Henry Calvin); the head clown, Sam Treat (Gene Sheldon); the young female equestrian, Jeanette (Barbara Beaird); and one of the circus's chimpanzees, who Toby names "Mr. Stubbs." Concurrent with Toby's rising stardom under the big top, correspondence from his Aunt Olive, which is suppressed by Tupper, reveals Uncle Daniel's failing health and true repentance for his harsh words. Will Toby be moved by these sentiments and return home, or will he remain with the circus?
Acquisitions
Toby Tyler's chimpanzee received much attention during the film's production. Hired by Walt Disney after an impressive appearance on a 1959 episode of "The Jack Benny Program," Mr. Stubbs, whose official name was "Marquis Jr.," was trained by Englishman Gene Detroy at a chimpanzee training school near Las Vegas. At Disney, the chimpanzee utilized the dressing room formerly occupied by the canine in The Shaggy Dog (1959), was afforded a red rose by a prop boy each morning, and wore $75 suits. (1)
Director Charles Barton was especially impressed by the chimpanzee, saying, "This chimp understands direction better than a couple of humans I've worked with," (2) and "He puts on the most convincing act since Cheetah talked to Tarzan." (3) The scene where Mr. Stubbs retrieves Aunt Olive's letters from Mr. Tupper's coat pocket had to be reshot with tighter stitching for the pocket because Mr. Stubbs performed the task, which Detroy demonstrated just once, too quickly. (4)
Additionally, Disney obtained the film's clowns and aerialists from Ringling Brothers; the elephants from the Jungleland park in Thousand Oaks, California; and the wagons from both Los Angeles's Bradley & Kaye Amusement Park and the faltering Jimmie Wood Circus in Los Angeles. (5)
Uncle Daniel
The early harangue and the late reconciliation notwithstanding, Daniel's relationship with his nephew is equivocal. Was Daniel's anger an isolated reaction to laziness by Toby, or does Daniel frequently berate his nephew for no reason? Ben Cotter's comment that he, Cotter, dislikes kids, especially runaways, because they are a "weak-livered lot" who leave good homes "the first time some little thing goes wrong" may validate the former explanation. Toby's subsequent desire to leave the circus upon collecting enough money to help his guardians also points in this direction. Perhaps his experience of reality behind the innocent façade of the circus, especially his relationship as a mentor of sorts to Mr. Stubbs, teaches Toby that life is not all fun and games.
Deception
Sometimes, the seemingly cruel are actually kind, and the seemingly kind are actually cruel. In tricking Toby out of his tips under the guise of benevolence, Tupper tells the boy to conceal their arrangement because "in the circus world, one must pretend to have a hard nature." This description more accurately reflects the personality of Ben Cotter, a kind man who acts tough because of social awkwardness, than it does that of Tupper, a manipulator who feigns kindness.
Action
Action scenes are interspersed throughout Toby Tyler. Along the way, the circus parade, complete with festive music, chimpanzees, camels, lions, elephants, and horse drawn carriages, marches down the main street of Toby's hometown, Guilford; Ben dunks a colleague into a tub of water following an insult and throws a perturbed Tupper into a lake; trapeze acts, horse acts, and clowns dazzle and awe spectators beneath the big top; Mr. Stubbs figuratively derails the circus's Fourth of July parade through downtown Woodvale before leading a shootout from inside the sheriff's office; and Harry Tupper frantically, and cruelly, tries to prevent Toby from returning to his aunt and uncle.
Corcoran performed his own stunts on the horses, though he was connected to piano wires as a safety precaution. (6)
Humor
Toby Tyler is not Disney's funniest effort, but the antics of Sam Treat, Mr. Stubbs, Harry Tupper, and Toby are amusing. For example, Treat keeps a fluctuating family; Mr. Stubbs eats an eclectic diet of bananas, candied apples, keys, button hooks, and hairbrushes; Tupper regularly attempts to break off his sacred "gentleman's agreements"; and Toby calmly disarms rampant chimpanzees, devises equestrian puns, and tries to speak with a German accent.
Music
Background tunes, including upbeat circus numbers, comprise most of the music in Toby Tyler. The film's one lyrical number, the soothing "Biddle-Dee-Dee," is sporadically hummed by Ben. The song is nicely utilized as a lullaby during Toby's first night with the circus but is largely unmemorable.
An enchanting tune accompanies Jeanette's announcement to Colonel Castle (Richard Eastham) that Toby has horseback riding experience and perhaps indicates a close friendship between the two children. This relationship, not fully developed in Toby Tyler, may have made an interesting subject for a sequel.
Relationship to Other Disney Films
A circus was also featured in Dumbo (1941).
Kevin Corcoran had previously starred in Old Yeller (1957), The Shaggy Dog, Pollyanna (1960), and Swiss Family Robinson (1960) for Disney; and he subsequently appeared in Babes in Toyland (1961), Bon Voyage! (1962), Savage Sam (1963), and A Tiger Walks (1964) for the studio. Corcoran was named a Disney Legend in 2006.
Bob Sweeney subsequently appeared in Moon Pilot (1962) and Son of Flubber (1963) for Disney.
Gene Sheldon and Henry Calvin, who subsequently starred in Babes in Toyland for Disney, were both costars on Disney's television series "Zorro," Sheldon portraying the title character's mute servant, Bernardo; and Calvin playing the Spanish officer Sergeant Demetrio López García.
Michael McGreevey, who made a brief appearance as a concessionaire in Toby Tyler, would play more substantial roles in each installment of the "Medfield College Trilogy"—The Computer Wore Tennis Shoes (1969), Now You See Him, Now You Don't (1972), and The Strongest Man in the World (1975)—as well as Snowball Express (1972) and The Shaggy D.A.(1976).
A trapeze segment high over a corporate boardroom is included in The Strongest Man in the World.
Monkeys were also utilized by Disney in Moon Pilot, The Monkey's Uncle (1965), Monkeys, Go Home! (1967), and The Barefoot Executive (1971).
In the Parks
A circus theme pervades the "Storybook Circus" subsection of Fantasyland at Walt Disney World's Magic Kingdom. Storybook Circus features the classic children's spinner "Dumbo The Flying Elephant." Dumbo's queue incorporates interactive elements, including slides and climbing nets, to entertain children while waiting to board the famed elephant. An assortment of circus-inspired goodies can be purchased in Storybook Circus at "Big Top Treats."
Overall
Combining traditional circus action with tangential entertainment and some heartwarming moments, Toby Tyler is an enjoyable effort. Walt Disney, with some hyperbole, well summarized the film's intent in publicity material: "What a spectacle! A treat for the youngsters who have never seen a circus and for their elders who remember it." (7)
Notes
1) Sampson, W. (2010, June 16). The Story of Disney's Toby Tyler. Retrieved July 14, 2017, from https://www.mouseplanet.com/9284/The_Story_of_Disneys_Toby_Tyler_; Johnson, E. (1959, July 7). This Chimp Knows His Business, Stars in Movie. Ocala Star-Banner, p. 5. Retrieved from https://news.google.com/newspapers?nid=1356&dat=19590707&id=KnVPAAAAIBAJ&sjid=6AQEAAAAIBAJ&pg=4002,1139633.
2) Ibid.
3) Sampson, W. (2010, June 16). The Story of Disney's Toby Tyler.
4) Johnson, E. (1959, July 7). This Chimp Knows His Business.
5) Sampson, W. (2010, June 16). The Story of Disney's Toby Tyler.
6) Ibid.
7) Ibid.
What do you think of Toby Tyler? Let me know in the comments!
Sponsored Ad:  Would you like to help support The Mouse For Less website in continuing their mission of being THE Disney vacation planning resource?  You can do so by purchasing Toby Tyler from our Affiliate Link through Amazon. Thanks so much for your support!
Did you like this article? Make sure to share it with your friends! Check below for easy ways to share!