This post may contains affiliate links for your convenience. If you make a purchase after clicking a link we may earn a small commission but it won't cost you a penny more! Read our full disclosure policy here.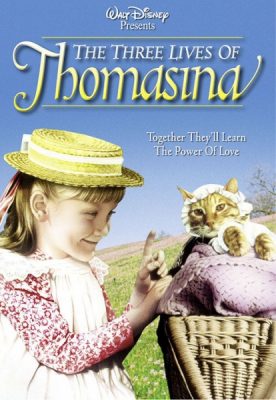 DVD Cover Copyright Disney
A fantasy drama based on Paul Gallico's 1957 novel Thomasina, the Cat Who Thought She Was God, The Three Lives of Thomasina was theatrically released on June 6, 1964. The live action flick is ninety-seven minutes in length. Although The Black Hole (1979) was the first Disney film to receive a "PG" rating, The Three Lives of Thomasina was retroactively afforded a "PG" rating upon its VHS and DVD releases. Other Disney films, such as Treasure Island (1950), were also given this rating after the fact. (1)
Plot Summary
In 1912 Scotland, veterinarian Dr. Andrew McDhui (Patrick McGoohan) struggles to find happiness following the death of his wife. His cold demeanor antagonizes his neighbors, and when he fails to save the life of his daughter's cat, Thomasina (voiced by Elspeth March), after an accident, this daughter, Mary McDhui (Karen Dotrice), disowns him. To Dr. McDhui's lament, no deed will suffice in restoring his daughter's love for him except the return of Thomasina from the dead, a seemingly impossible occurrence.
Then, on a dark and stormy night, Thomasina, who has been miraculously cured through the love of a supposed witch, Lori MacGregor (Susan Hampshire), returns to the McDhui residence and is seen by Mary outside her bedroom window. Mary desperately runs into the storm to catch Thomasina, but the feline eludes her, and Mary contracts pneumonia. Mr. McDhui and Dr. Strathsea (Charles Carson) try to revive Mary, but the girl shows no improvement. Barring a miracle, Mary will likely die. Will a miracle occur?
Plot Comment
Featuring intense topics, such as disownment, enchantment, and resurrection, The Three Lives of Thomasina probably warrants its "PG" rating. The eeriness of the scene immediately preceding Thomasina's funeral procession, where she spins in space before ascending a pyramid, reminded me of The Twilight Zone.
Characterization
Four of the protagonists in The Three Lives of Thomasina—Thomasina, Dr. McDhui, Mary McDhui, and Lori MacGregor—have, to varying extents, opaque personalities. Are they good, or are they evil?
Exuding a haughty, self-important vibe, I found Thomasina extremely unlikeable. Her demeanor is foreshadowed by the feline's opening line: "Yes, I am Thomasina. This story is all about me." The story, in my opinion, is more about Dr. McDhui's relationship with the townspeople, Thomasina merely serving as a catalyst, pun somewhat intended, in the evolution of this relationship.
Could Dr. McDhui have done more to save the animals he put to sleep, or was he correct in saying that these animals were suffering and that their owners were self-interested in wanting to keep the pets alive? McDhui's own loneliness could support the former argument, while his efforts to heal the dog of the blind Tammas (Alex Mackenzie) could support the latter position.
Mary McDhui, perhaps because of her cold upbringing, proves insecure throughout the film. She is demanding and shows little ability to forgive.
Finally, Lori MacGregor has been labeled a witch because of her secluded lifestyle, and the label has stuck.
Mindset
The protagonists of The Three Lives of Thomasina respond to adversity in different ways. While Dr. McDhui and Mary McDhui struggle to overcome grief and descend into depression, Lori MacGregor refuses to let past trials negatively affect her current life. The McDhuis' display pessimism; MacGregor exudes optimism.
Two Parts of a Whole
The cooperation between Dr. McDhui and Lori MacGregor during the second half of the film results in the amalgamation of two elements, science and mercy, in curing sick animals. Sometimes one of these elements will suffice to restore one's health, but the inclusion of both elements is often crucial. Such a mixture has not been fully accepted by the townspeople. While Dr. McDhui promotes modern science, many of his neighbors prefer old fashioned remedies to those obtained through "book learning." It is the age old debate between theory and practice.
Music
A catchy lyrical number, "Thomasina," plays over the opening credits. This soothing song, which sounds like something from the Carpenters, previews the adventures of the title feline.
Relationship to Other Disney Films
Karen Dotrice and Matthew Garber, who portrayed Mary McDhui and Mary's friend Geordie McNab, respectively, in The Three Lives of Thomasina, would be prominently featured in another Disney film released in 1964: Mary Poppins. In that classic musical, Garber and Dotrice played the Banks children, Michael and Jane. The duo would reunite for The Gnome-Mobile (1967).
Garber and Dotrice were named Disney Legends in 2004, the former posthumously; Garber succumbed to hepatitis at only twenty-one years of age in 1977. Reflecting years later on Garber, Dotrice said, "I can't imagine making movies would have been half as much fun without him. He loved being naughty, finding and jumping off of small buildings on the back lot. While I was Victorian proper and wouldn't let myself get dirty or muddy, Matthew had a great sense of fun and danger. He was a daredevil and could have been a race car driver. And he did live a full life over his 21 years." (2)
Numerous other Disney films have been centered on cats, including That Darn Cat! (1965), The Aristocats (1970), The Cat from Outer Space (1978), and Oliver and Company (1988).
Photo Copyright @heatherw25 on Twitter
Vincent Winter, who portrayed Mary McDhui's friend Hughie Stirling in The Three Lives of Thomasina, previously held the starring role in Almost Angels (1962).
Lori MacGregor's uplifting demeanor reminded me of the title princess from Snow White and the Seven Dwarfs (1937).
A circus, seen late in The Three Lives of Thomasina, was also featured in Dumbo (1941).
In the Parks
A more tranquil circus environment, based around Dumbo, is featured in Fantasyland at Walt Disney World's Magic Kingdom.
The Twilight Zone inspired the surreal environment experienced in Disney's classic drop tower attraction, "The Twilight Zone Tower of Terror" at Walt Disney World's Disney's Hollywood Studios theme park.
Overall
From a thematic standpoint, The Three Lives of Thomasina was one of the more surreal live action films released under the direct supervision of Walt Disney. It is a good choice for those who crave an intense, though not scary, movie.
Notes
1) Smith, D. (2012). Live-Action Films. In Disney Trivia from the Vault: Secrets Revealed and Questions Answered (pp. 138-39). New York: Disney Editions.
2) Fedko-Blake, V. (2015, September 16). The Tragic Story of What Happened to Little Jane & Michael Banks from 'Mary Poppins' Will Tear Your Heart to Shreds. Retrieved January 18, 2017, from https://moviepilot.com/posts/3546753
What do you think of The Three Lives of Thomasina? Let me know in the comments!
Sponsored Ad:  Would you like to help support The Mouse For Less website in continuing their mission of being THE Disney vacation planning resource?  You can do so by purchasing The Three Lives of Thomasina from our Affiliate Link through Amazon. Thanks so much for your support!
Incoming search terms:
free movie three lives of thomasina
funeral song thomasina