This post may contains affiliate links for your convenience. If you make a purchase after clicking a link we may earn a small commission but it won't cost you a penny more! Read our full disclosure policy here.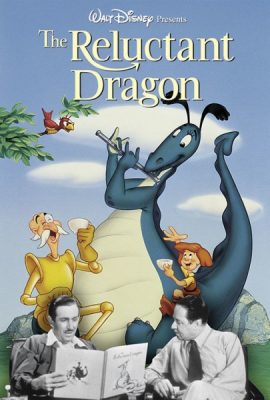 Based in part on Kenneth Grahame's 1898 short story of the same name, Disney's The Reluctant Dragon was theatrically released on June 20, 1941. The live action-animation hybrid, which uses a tour of Disney's newly-opened studio complex in Burbank, California as a thread between disparate animated segments, is seventy-four minutes in length.
Plot Summary
The Reluctant Dragon's plot is an excuse to justify the studio tour and related cartoons: humorist Robert Benchley, portraying himself, is forced by his wife (Nana Bryant) to bring their nephew's copy of The Reluctant Dragon to the Disney Studio to convince Walt Disney to use said story in a future film project. After Mrs. Benchley drops her husband off at the studio gate, Mr. Benchley wanders around Disney's Burbank campus while trying to elude a pesky tour guide, Humphrey (Buddy Pepper). Benchley's persona and the contents of the cartoon segments facilitate an often-hilarious, if not especially creative, effort.
Hybridity
Like Song of the South (1946) and So Dear to My Heart (1949), and unlike Saludos Amigos (1942) and The Three Caballeros (1944), The Reluctant Dragon is not considered among Disney's, as of 2018, fifty-six full length animated features, spanning Snow White and the Seven Dwarfs (1937) to Moana (2016). When I wrote to Disney Chief Archivist Emeritus Dave Smith several years back asking "Why was Saludos Amigos counted as one of Disney's animated features when The Reluctant Dragon was not?," Mr. Smith replied, "The Reluctant Dragon has always been considered as primarily a live-action film. Saludos Amigos has a much larger percentage of animation." (1)
A Studio Tour
The Reluctant Dragon affords viewers a glimpse of the general workings of the Disney Studio, though the on-screen demonstrations and personnel are not wholly authentic. Along the way, viewers encounter maquette-makers, ink and painters, voice actors, and even some of Disney's top animators. Regarding the last category, Ward Kimball, Fred Moore, and Norm Ferguson, who were named Disney Legends in 1989, 1995, and 1999, respectively, all appear in the film. Kimball was among Walt Disney's "nine old men," the group of nine animators that advised Disney on a variety of matters, including hiring, promotion, and project development, after the move to the Burbank studio. (2) For their part, Moore and Ferguson were arguably the most important Disney animators of the 1930s, Moore perfecting the drawing of the modern Mickey Mouse; Ferguson creating Mickey's dog, Pluto; and both men contributing to the personalities of various characters and willingly sharing their talents and perspectives with their colleagues. (3)
In addition to great animators, The Reluctant Dragon also features great voice actors, most notably Clarence Nash, the voice of Donald Duck, and Florence Gill, the voice of Clara Cluck. Nash was named a Disney Legend in 1993.
As Dumbo was concurrently in production, The Reluctant Dragon features animators working in front of an actual elephant in the studio. Bringing animals, live or otherwise, indoors was not a one-off occurrence at Disney. For example, when production commenced on Bambi (1942), the noted artist Rico Lebrun brought a dead fawn into the studio for a week-long dissection. By the end of this process, the animators had greater appreciation for both animal anatomy and for the ability of carcasses to emit horrible smells. (4)
In addition to Dumbo, elements from Snow White and the Seven Dwarfs, Fantasia (1940), Bambi, Peter Pan (1953), and Lady and the Tramp (1955) are seen during the studio tour; the production of the latter two films, along with that of future classics Cinderella (1950) and Alice in Wonderland (1951), was suspended in mid-1941 because of economic pressures resulting from World War II in Europe. (5)
Animation
The Reluctant Dragon incorporates five animated shorts: "Casey Jr.," "Farmer Donald Duck," "Baby Weems," "How to Ride a Horse," and "The Reluctant Dragon." The first two of these efforts work well to demonstrate aspects of the animation process but are otherwise unremarkable; the last three shorts are excellent in terms of story, character, and humor.
The Casey Jr. short is a brief segment starring the circus train from Dumbo in the studio's sound lab. Here, Benchley and viewers at home learn how sound effects, including the "Casey Jr." tune, a conductor's voice, train chugging, steam emissions, bubbling water, noises uttered by animals, inclement weather, and a collapsing bridge, are added to cartoons.
The Donald Duck short uses farmer Donald to demonstrate how animated characters achieve motion.
The "Baby Weems" short tells a humorous tale about a remarkable, talking, baby. As this segment is based off a storyboard, the cartoon lacks final color and movement, but the effort is uproarious. Along the way, the baby corrects one of Albert Einstein's theories, is awarded numerous honorary degrees, starts new fashion and sleeping trends, presents his own composition at New York's Carnegie Hall, and is recommended by Franklin Roosevelt as the greatest hope for solving the country's problems. Although Baby Weems falls seriously ill immediately prior to his scheduled radio appearance to offer crucial advice to his fellow Americans, he miraculously recovers and indeed offers some insights: "goo-goo, gah-gah!" Uh, oh; the fever killed the fad, though not the child.
"How to Ride a Horse" is one of Disney's typically humorous Goofy cartoons, though I prefer its counterpart, "El Gaucho Goofy," from Saludos Amigos because that short reminds me how to do something important in my everyday life, namely how to eat a tough steak: "A one, a two, a bite, cut, chew!" In any event, in "How to Ride a Horse," Goofy forgets to remove the price tag from his riding coat, the narrator insults the steed following a grandiose introduction, Goofy struggles to offer the horse a carrot, the narrator offers a crucial dissertation on the "right" and wrong sides from which to mount a horse, and the short's motion and direction are altered to show a distorted perspective on horseback riding.
The film's title short runs for the final twenty or so minutes of the overall package, developing an ironic relationship as it progresses: a curious young boy teaches a timid dragon, one who prefers poetry and classical music to destruction, how to be tough and defend himself against an aroused human village. Like the Baby Weems and Goofy shorts, this effort will make you laugh.
Let There Be Light!
The abrupt shift of The Reluctant Dragon's presentation from black-and-white to color essentially symbolizes the evolution of Disney productions in general. Walt Disney was an innovator, expanding his portfolio from animated shorts to full-length animated films to live action films to television programs to theme parks. Important to this evolution was Disney's ability to showcase his productions in color, a strength gained through the negotiation of an exclusive deal with Technicolor in 1932. (6) Color presentation quickly contributed to the success of Disney's Academy Award-winning Silly Symphony shorts "Flowers and Trees" (1932) and "Three Little Pigs" (1933), and three decades later, Disney would move his weekly television show from ABC-TV to NBC-TV because of the latter network's greater interest in color programming. (7)
Strike
Although Disney's new Burbank studio was undoubtedly more luxurious than its predecessor at 2719 Hyperion Avenue in Hollywood, many Disney animators, including Ward Kimball and Ollie Johnston, deemed the new studio impersonal. (8) Indeed, by the early 1940s, the Disney operation, following a period of expansion and bureaucratization, had largely lost its tight-knit feel, and employees—most notably Art Babbitt, the creator of Goofy, who was named a Disney Legend in 2007—who desired either more money or more notoriety voiced their complaints by partaking in a strike that lasted from May 28 to September 15, 1941. (9) The Reluctant Dragon was released during the strike, and some participants openly mocked Disney's newest feature. For example, "a group of strikers formed a long dragon shape with a caricatured mask of Walt's face at its head, and the creature snaked around as the "Reluctant Disney" on the street." (10) Protests were also seen at the opening of The Reluctant Dragon in New York City on July 24; here, demonstrators marched in front of Manhattan's Palace Theater with placards containing slogans such as "Don't Rat on Mickey Mouse." (11) Walt Disney was both infuriated and emotionally hurt by the strike and thereafter exuded a more cynical worldview. (12)
Relationship to Other Disney Films
"The Wind in the Willows" portion of The Adventures of Ichabod and Mr. Toad (1949) was also based on a story by Kenneth Grahame.
A Goofy short was also included in Saludos Amigos.
Donald Duck was also featured in Saludos Amigos, The Three Caballeros, Melody Time (1948), and Fantasia 2000 (1999).
Dragons were also included in Sleeping Beauty (1959) and Pete's Dragon (1977, 2016).
In the Parks
Guests of all ages can fly aboard Dumbo on the "Dumbo the Flying Elephant" attractions at Walt Disney World's Magic Kingdom and the Disneyland parks in California, Tokyo, Paris, Hong Kong, and Shanghai.
Guests can view real elephants on the "Kilimanjaro Safaris" attraction at the Animal Kingdom.
Casey Jr. is the star of the "Casey Jr. Circus Train" attractions at the Disneyland parks in California and Paris, and of the "Casey Jr. Splash 'n' Soak Station" at the Magic Kingdom.
Dragons are featured in the "Fantasmic!" nighttime spectaculars at Disneyland Park, Disney's Hollywood Studios, and Tokyo DisneySea; and in the Magic Kingdom's afternoon parade, "Festival of Fantasy."
Animation classes are offered in the "Animation Academy" attractions at Disney California Adventure, Walt Disney Studios Park Paris, and Hong Kong Disneyland Park; the "Disney Drawing Class" at Tokyo Disneyland Park; and the "Marvel Comic Academy" at Shanghai Disneyland Park.
Donald is the protagonist of the "Mickey's PhilharMagic" 3-D shows at the Magic Kingdom and the Disneyland Parks in Tokyo, Paris, and Hong Kong.
Animation is the theme of the "Art of Animation Resort" at Walt Disney World.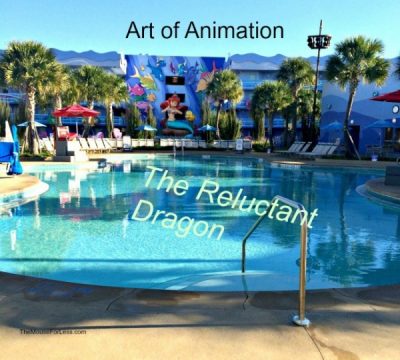 Animation is the theme of the "Animator's Palate" restaurant on Disney Cruise Line. As was the case in The Reluctant Dragon, the versions of Animator's Palate on the Disney Magic and the Disney Wonder include a change from black-and-white to color.
Overall
Though far from Disney's most creative movie, The Reluctant Dragon is both entertaining and a great historical piece, showcasing some of the studio's general procedures, productions, and talent. Disney history buffs, in particular, should make a point to watch The Reluctant Dragon.
Notes
1) Dave Smith, "Ask Dave," D23, accessed October 5, 2018, https://d23.com/ask-dave/andrew-nissequogue-new-york-2/.
2) Steven Watts, The Magic Kingdom: Walt Disney and the American Way of Life (Columbia, Mo.: University of Missouri Press, 1997), 266-73.
3) Ibid., 131-40.
4) Ibid., 177.
5) Ibid., 259; Dave Smith, Disney Trivia from the Vault: Secrets Revealed and Questions Answered (New York: Disney Editions, 2012), 137.
6) Watts, Walt Disney and the American Way of Life, 64-65.
7) Ibid., 64-65, 368-71
8) Ibid., 207.
9) Ibid., 204.
10) Ibid., 209.
11) "Disney Film Picketed: California Strike Brings Action by Sympathizers Here," New York Times, July 25, 1941, Amusements-Books sec., accessed October 6, 2018, New York Times Historical (1851-2010).
12) Watts, Walt Disney and the American Way of Life, 220-27.
What do you think of The Reluctant Dragon? Let me know in the comments!
Sponsored Ad:  Would you like to help support The Mouse For Less website in continuing their mission of being THE Disney vacation planning resource?  You can do so by purchasing The Reluctant Dragon  from our Affiliate Link through Amazon. Thanks so much for your support!
Did you like this article? Make sure to share it with your friends! Check below for easy ways to share!
Incoming search terms:
authentic dumbo storyboard
https://www themouseforless com/blog_world/movie-review-the-reluctant-dragon/
The Reluctant Dragon (short story)