This post may contains affiliate links for your convenience. If you make a purchase after clicking a link we may earn a small commission but it won't cost you a penny more! Read our full disclosure policy here.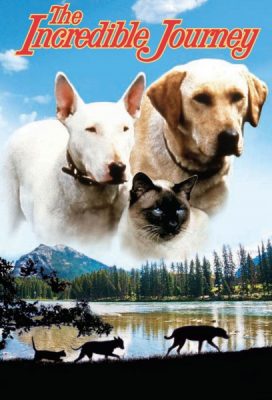 Based on Sheila Burnford's 1961 novel of the same name, Disney's The Incredible Journey was theatrically released on November 20, 1963. The live action adventure drama is eighty minutes in length. A remake, Homeward Bound: The Incredible Journey, was theatrically released on February 3, 1993.
Plot Summary
In contemporary Canada, a middle-aged bachelor named John Longridge (Emile Genest) offers to watch the three pets—a young Labrador Retriever named Luath, an elderly English Bull Terrier named Bodger, and a Siamese cat named Tao—of his friend Professor James Hunter (John Drainie), who has received a special appointment at Oxford University and is temporarily relocating his human family, including his wife, Nancy (Sandra Scott); his young daughter, Elizabeth (Marion Finlayson); and his young son, Peter (Ronald Cohoon), to England. Although Longridge treats the pets well, the animals become homesick, and on the morning that Longridge embarks on a three-week-long duck hunting trip, before his house sitter, Mrs. Oakes (Beth Amos), can arrive, Luath, Tao, and Bodger commence the incredible journey, attempting to find their way back to their real home, the Hunters' vacant house. Unfortunately for the critters, said house is two-hundred miles away, and a combination of dangerous natural terrain, hostile animals, hostile humans, Bodger's advanced age, and the declining temperatures of early autumn threaten to obstruct both the pets' path and their lives. Will Luath, Tao, and Bodger make it home, and, if not, how will the Hunter family react to the loss of its pets?
Acting
Most of the talking in The Incredible Journey comes through the narration of Rex Allen, whose commentary is simultaneously comforting and amusing, akin to a grandfather relaying an exciting tale to his grandchildren. Allen's narration compensates for the lack of dubbed voices for the animals.
The human actors, excluding Allen, are the flick's only real downfall. They almost universally provide stiff, awkward performances and often seem like caricatures. Perhaps the performances can be rationalized as adequately reflecting an animal's distorted perception of humans, but Disney did not acquire the best actors for this film.
Nature
With limited dialogue, great vistas of natural beauty, and plenty of animal shenanigans, The Incredible Journey is a more sophisticated version of the installments of Walt Disney's "True-Life Adventures" series, a string of thirteen nature-based films released by the Disney Studio between Seal Island in 1949 and Jungle Cat in 1960. (1) The main difference between the "True-Life Adventures" installments and The Incredible Journey is the discernable plot in the latter; as such, The Incredible Journey is for all intents and purposes one of Disney's "True-Life Fantasy" films. Although only Perri (1957) officially garnered this label, other films, including Sammy, the Way-Out Seal (1962) and Charlie, the Lonesome Cougar (1967), followed a similar formula, incorporating an overt story and oftentimes human characters in addition to the antics of nature. (2) Since 2007, Disney has released a series of nature-based documentaries under the "Disneynature" label.
The vistas of Canadian terrain that are incorporated over the opening credits are absolutely stunning and beautiful to behold, beauty that is enhanced by soothing yet grandiose background music. If Disney wanted to convert its "Soarin'" attractions to "Soarin' Over Canada," the company would be well advised to reuse The Incredible Journey's opening credits.
Music
The background music in The Incredible Journey nicely accompanies the relevant action. For example, during one stretch early in the movie, a marching tune is played as Bodger and Tao follow Luath down the street; a whimsical tune is played as Tao meanders "on side trips of his own"; a dramatic tune is played as Tao unsuccessfully tries to eat a bird out of midair; and a soothing tune is played as the trio decides to take a rest.
Action
The Incredible Journey features numerous exciting moments. Along the way, viewers experience a sweeping journey of Canada from above; a plethora of geese fly over the heads of the pets; the pets fight a mother bear who misinterprets her cubs' play as an attack from Bodger; a hungry Bodger leads his friends into a shootout after smelling something yummy in a homeowner's garbage can; Bodger tries to hunt down an elusive rabbit; Tao struggles to swim upstream against a sweeping current; Tao battles a lynx with the help of a young hunter; Bodger is injured while trying to capture a porcupine; a kindly hunter named James MacKenzie (Robert Christie) relieves Bodger's pain; and a concluding reunion shows that when you wish upon a star, or upon a birthday candle in Peter's case, your dreams may in fact come true.
Humor
Aside from the witty contents of Allen's narration, The Incredible Journey features several funny moments.
Longridge and Mrs. Oakes have a disjointed telephone conversation, a discussion that creates more problems than it clarifies regarding the state of the pets during Longridge's vacation.
In pondering what to do with the pets while the humans are in England, Nancy Hunter suggests boarding Bodger, Tao, and Luath in a kennel. When Elizabeth objects to this idea because Tao would be "cooped up" and, in any event, "hates other cats," Peter counters that a kennel stay would do Tao some good because "sometimes I [Peter] think he [Tao] thinks he's a dog." Indeed, Tao reacts better to the company of the two canines than most felines would do in comparable circumstances.
Luath shakes Longridge's hand on the morning of the departure, a gesture that causes the joking bachelor to call Luath a "charmer."
The pets come so close to yet so far from enjoying a hearty stew at the home of an eccentric hermit (Tommy Tweed). This elderly philosopher forgets that dogs usually eat from table droppings or from bowls on the floor, not from bowls situated on the kitchen table. Oh well; More food for the hermit!
In making phone calls to various agencies regarding a possible search for Bodger, Tao, and Luath, Longridge receives one answer: "we'll take care of it tomorrow." Unfortunately, as we all know, "tomorrow" never arrives in such instances…Right?
Relationship to Other Disney Films
Cats and/or dogs also played major roles in Lady and the Tramp (1955), Old Yeller (1957), The Shaggy Dog (1959), One Hundred and One Dalmatians (1961), Nikki, Wild Dog of the North (1961), Greyfriars Bobby (1961), Big Red (1962), The Three Lives of Thomasina (1964), That Darn Cat! (1965), The Ugly Dachshund (1966), The Aristocats (1970), The Biscuit Eater (1972), The Shaggy D.A. (1976), The Cat from Outer Space (1978), Oliver and Company (1988), Homeward Bound: The Incredible Journey, Homeward Bound II: Lost in San Francisco (1996), 101 Dalmatians (1996), That Darn Cat (1997), Air Bud (1997), Air Bud: Golden Receiver (1998), 102 Dalmatians (2000), Snow Dogs (2002), The Shaggy Dog (2006), Beverly Hills Chihuahua (2008), and Bolt (2008).
Émile Genest had previously appeared in Nikki, Wild Dog of the North and Big Red for Disney.
Rex Allen had previously narrated The Legend of Lobo (1962) for Disney, and he subsequently narrated Charlie, the Lonesome Cougar for the studio.
In the Parks
Canada is among eleven countries to be represented by a pavilion in the World Showcase section of Epcot. A Circle-Vision 360° film, "O Canada!"; the "Le Cellier" steakhouse; and beautiful gardens are the highlights of this pavilion.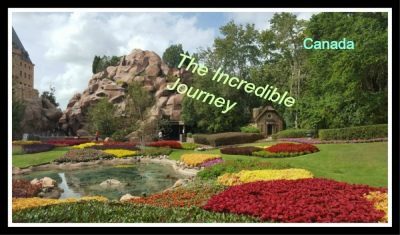 Nature and animals are highlighted at Walt Disney World's Animal Kingdom theme park. In The Incredible Journey, James MacKenzie becomes an amateur veterinarian in removing porcupine quills from Bodger's fur. At the Animal Kingdom's Rafiki's Planet Watch section, which is scheduled for at least temporary closure on October 20, 2018, guests can view real veterinarians perform operations on various animals. (3)
Adventures by Disney is offering itineraries to the Canadian Rockies throughout the summer of 2019.
Disney Cruise Line offers periodic itineraries along Canada's coastlines.
Overall
Poor acting notwithstanding, The Incredible Journey is a simple yet effective film. A plethora of animal shenanigans, truly beautiful shots of the Canadian wilderness, a suspenseful overarching story, and a Goldilocks-level runtime make this effort a great movie for the whole family.
Notes
1) Jim Korkis, "Walt and the True-Life Adventures," The Walt Disney Family Museum, February 9, 2012, accessed September 27, 2018, https://www.waltdisney.org/blog/walt-and-true-life-adventures.
2) Ibid.
What do you think of The Incredible Journey? Let me know in the comments!
Sponsored Ad:  Would you like to help support The Mouse For Less website in continuing their mission of being THE Disney vacation planning resource?  You can do so by purchasing The Incredible Journey from our Affiliate Link through Amazon. Thanks so much for your support!
Did you like this article? Make sure to share it with your friends! Check below for easy ways to share!
Incoming search terms:
https://www themouseforless com/blog_world/movie-review-the-incredible-journey/