This post may contains affiliate links for your convenience. If you make a purchase after clicking a link we may earn a small commission but it won't cost you a penny more! Read our full disclosure policy here.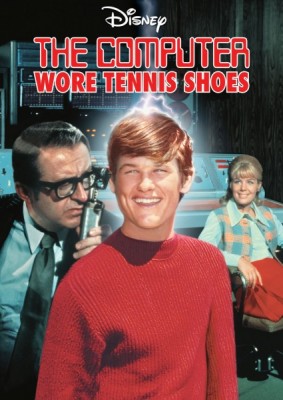 DVD Cover Copyright Disney
The first installment of the "Medfield College trilogy," The Computer Wore Tennis Shoes was theatrically released on December 24, 1969. The film, the third of six Disney films to be set at the fictitious Medfield College, is 91 minutes in length. Now You See Him, Now You Don't (1972) and The Strongest Man in the World (1975) were the other films in the trilogy. An unrelated film series, consisting of The Absent-Minded Professor (1961); that movie's sequel, Son of Flubber (1963); and a remake of The Absent-Minded Professor, Flubber (1997), also occurred at Medfield College.
Plot Summary
Dexter Reilly (Kurt Russell), a mediocre student at Medfield College, has achieved a shocker. He has earned a perfect score on the "State General Collegiate Classification Test," a standardized exam taken by students at thirty-seven colleges across the state.  If this achievement is not impressive enough on its own terms, Dexter completed the test in a mere four-and-a-half minutes. Professor Quigley (William Schallert), the school's popular science teacher, is confounded, claiming that, before Dexter, he had never seen a student finish the test within the allotted ninety minutes, never mind answer every question correctly.
As it turns out, Dexter has become a genius, or, more accurately, a computer. You see, while fixing a computer part for Quigley during a rainstorm the previous night, Dexter was electrocuted and absorbed all of the machine's data.
Dexter is now the toast of the country. Everybody wants to meet him. Unfortunately, his position is only superficially glamorous. Indeed, Dexter has landed in a difficult situation. His services are sought by numerous self-interested players, ranging from Medfield's bumbling dean, Eugene Higgins (Joe Flynn), to the corrupt business tycoon A.J. Arno (Cesar Romero). Dexter struggles to determine the best course for his own good. Will he find his way?
Reviews
Roger Greenspun offered a fairly negative review of The Computer Wore Tennis Shoes in the New York Times. Greenspun found the film tolerable but deemed its plot predictable and its concept hackneyed, saying, "Having made a profitable science of the so-called family picture, the Walt Disney organization quite properly follows an almost computerized course in 'The Computer Wore Tennis Shoes,' which occasionally tickled the subteens, if no one else, at one of the local theaters where it opened yesterday. This 'Computer' isn't I.B.M.'s kind but it's homey, lovable, as exciting as porridge and as antiseptic and predictable as any homey, half-hour TV family show." (1)
Newsday columnist Joseph Gelmis likewise found The Computer Wore Tennis Shoes banal. Gelmis said, "Bend it or mutilate it, a Disney studio campus comedy is still so rigidly programmed that it will come out the same way." (2)
Disney Themes
The traditional Disney theme of innovation is detailed in the film. In the opening scene, Professor Quigley struggles to convince Dean Higgins to invest in a computer, which will "modernize" the school. Higgins claims that while he has "an open ear for progress," sufficient funds are unavailable. Dexter, conversely, believes that Higgins is "from the dark ages." Keep moving forward!
Academic Honesty
Professor Quigley is tremendously lenient. Any other teacher would have ejected Dexter from the exam room for one of several infractions, including filling out another student's paper, banging his watch, rocking his chair, and munching on a sandwich. His classmates seemed distracted.
Humility
Dexter has a tendency to demonstrate pomposity upon receiving favorable attention, yelling at television moderators and, to the horror of his good friend Annie (Debbie Paine), kissing random girls during his exuberant national tour in New York.
Less egregiously, and beneficially for the audience, Dexter removes three intelligent students from the academic team in favor of his more ignorant friends Schuyler (Michael McGreevey), Henry (Frank Welker), and Myles (Alexander Clarke). As such, three-quarters of this academic team are on academic probation, only Myles accepted.
Friendship
Immediately after he laments that all people are out for themselves, Dexter's friends raise his spirits by bailing him out of jail. Some people actually do care.
Dexter also learns that brilliance is not everything. Annie likes him for his personality, not his brains. Intelligence is good, but it is not a substitute for heart.
Questions
Did Dexter protest the excessive applause at the televised question session because he was eager to answer more questions or because the computer in him demanded efficiency? Dexter lamented that the ovations had wasted thirty-eight seconds.
Does Medfield College's academic year run in quarters or semesters? Professor Quigley notes that Dexter has not registered for the spring semester, but Dean Higgins alerts the prodigy that he has not registered for the second quarter.
Antagonists
A.J. Arno is a solid villain who becomes increasingly unlikeable as the film progresses, though he is not overly memorable. For most of the movie, he is evil in name only, immoral but not cruel.
Dean Collingsgood (Alan Hewitt) of Springfield State College is not a villain, but he is a pretentious caricature who will likely annoy you.
Music
A frenetic, whimsical, "groovy," and "electric" theme song, "The Computer Wore Tennis Shoes," is played over the opening credits. The song is not one of Disney's best numbers, but it offers a fun commencement to the film.
Additionally, a suspenseful tune is well utilized during the car chase scene towards the end of the film.
Humor
In a word, The Computer Wore Tennis Shoes is hilarious, with universally bad acting rendering awkward lines and bizarre moments even more hysterical.
The fun starts almost instantaneously. In the opening scene, Dean Higgins rambles about funding and academic probation to Professor Quigley and college administration members while the students listen and contribute unsolicited input through a bugging device. Schuyler probably wishes Dexter had kept his mouth shut.
Dexter is a very coordinated driver. Who else could competently drive in a monsoon while attempting to solve complicated math problems?
Dexter beeps and talks code in his sleep.
Dexter endures some risqué daydreams, and Schuyler mentions Playboy magazine. Nowadays, these scenes would immediately render laughable the flick's "G" rating.
Dexter and Dean Higgins do not much care for each other, but the former is nonetheless friendly, familiarly terming the latter "Deano." Dean Higgins proves consistently oblivious. His interaction with the police during the party raid scene is hilarious.
Literally colorful humor is exuded during the final twenty or so minutes of The Computer Wore Tennis Shoes.
Michael McGreevey portrays Schuyler in a "so bad it is good" performance. McGreevey's delivery, especially in the latter part of the movie, is so forced and awkward that it had me cracking up. His triumphant performance at the quiz tournament is especially uproarious.
The final moments of the College Knowledge championship match are more nerve-wracking than the end of most sporting events. Dexter, Schuyler, and Henry, for various reasons, struggle to conclude their answers.
And with that, I conclude this section.
Relationship to Other Disney Films
The Computer Wore Tennis Shoes was Kurt Russell's fourth Disney film, after Follow Me, Boys! (1966), The One and Only, Genuine, Original Family Band (1968), and The Horse in the Gray Flannel Suit (1968). Russell costarred with Fred MacMurray, the star of the first two Medfield College films, in Follow Me, Boys!.  Russell was named a Disney Legend in 1998. (3)
The Computer Wore Tennis Shoes was the second Medfield College film to feature Joe Flynn, this time in a more prominent role. Flynn briefly appeared as a commercial host, Rex Williams, in Son of Flubber.
The Computer Wore Tennis Shoes was the third straight Medfield College film to center around a competitive intercollegiate event. Competing in the College Knowledge tournament, Medfield's academic team follows the lead of the school's basketball and football teams from The Absent-Minded Professor and Son of Flubber, respectively.
Henry mentions Merlin during a College Knowledge match. Merlin the magician was a major character in The Sword in the Stone (1963).
Dexter mentions Mount Aconcagua during a College Knowledge match. Mount Aconcagua was featured in the "Pedro" segment of Saludos Amigos (1942).
In the Parks
In the queue for Epcot's "Journey Into Imagination With Figment," guests hear the announcement "Dexter Reilly, attention Dexter Reilly, you left your tennis shoes in the computer room" and see the name "Dean Higgins" inscribed on an office door.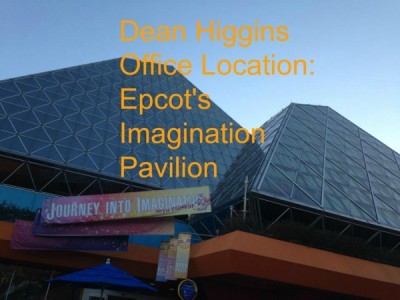 Photo Copyright Rikki Niblett
In The Computer Wore Tennis Shoes, a mission to Saturn is discussed, and Dexter witnesses a rocket launch. At Epcot, guests can experience a simulated space flight on "Mission: Space."
Overall
The Computer Wore Tennis Shoes is such a bad film, with haphazard writing and bad acting, that it is paradoxically one of my favorite movies. Groundbreaking cinema it is not, but it is fun and often uproarious.
Notes
1) R. G. (1970, November 4). Screen: Jacobs's 'a.k.a. Cassius Clay' Begins Run: Kiley Is Narrator of Evslin Script 'Computer Wore Tennis Shoes' Also Opens. New York Times, p. 38. Retrieved January 30, 2016, from http://0-search.proquest.com.alpha1.suffolk.lib.ny.us/docview/117807604?accountid=35174
2) J. G. (1970, November 5). MOVIES: Wrap-around Jell-O. Newsday, p. 7A. Retrieved January 30, 2016, from http://0-search.proquest.com.alpha1.suffolk.lib.ny.us/docview/915752325?accountid=35174
3) LISTING OF LEGENDS BY YEAR. (n.d.). Retrieved January 30, 2016, from https://d23.com/listing-of-legends-by-year/
What do you think of The Computer Wore Tennis Shoes? Let me know in a comment!
Sponsored Ad:  Would you like to help support The Mouse For Less website in continuing their mission of being THE Disney vacation planning resource?  You can do so by purchasing The Computer Wore Tennis Shoes from our Affiliate Link through Amazon. Thanks so much for your support!
Incoming search terms:
https://www themouseforless com/blog_world/movie-review-the-computer-wore-tennis-shoes/