This post may contains affiliate links for your convenience. If you make a purchase after clicking a link we may earn a small commission but it won't cost you a penny more! Read our full disclosure policy here.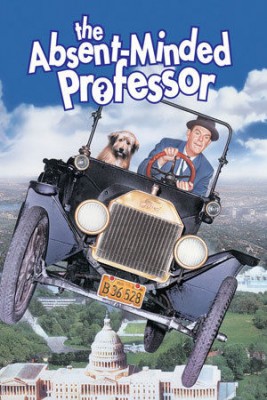 DVD Cover Copyright Disney
A live action comedy with faux intellectual overtones, The Absent-Minded Professor was theatrically released on March 16, 1961. The 97-minute film inspired both a sequel, Son of Flubber (1963), and a remake, Flubber (1997).
Plot Summary
After one half of play, Medfield College's basketball team trails its opponent from Rutland College by an incredible 46-3 score. Medfield's undersized players are visibly demoralized, and the main question for Medfield's coach (Wally Brown) is not how to mount a comeback but how his team even scored three points. Then, out of the blue, a miracle happens—Medfield outscores Rutland 44-0 in the second half for an incomprehensible 47-46 win. How is that possible?
The miraculous turnaround was not caused by divine intervention. Rather, it was caused by science. You see, at halftime, Dr. Ned Brainard (Fred MacMurray), a physical chemistry professor at Medfield, covertly applied his amazing new discovery, Flubber, short for flying rubber, to the players' shoes, allowing them to jump to the ceiling and score at will.
His role in the victory notwithstanding, Professor Brainard is depressed. His scheme did not achieve its intended result, winning back the love of Betsy Carlisle (Nancy Olson), who has begun dating Dr. Shelby Ashton (Elliott Reid), a professor at Rutland, after Brainard inadvertently missed three wedding ceremonies with Carlisle. To make matters worse, Alonzo Hawk (Keenan Wynn), a disgruntled Medfield alum, whose son Biff (Tommy Kirk) was suspended from the basketball game by Brainard for failing grades, learns of Brainard's concoction and is intent on stealing the Flubber for his own financial benefit.
Professor Brainard's life is spiraling downward. Can he possibly harness Flubber and ameliorate his situation?
Reviews
New York Times film critic Bosley Crowther was enthusiastic about The Absent-Minded Professor, saying, "The grown-ups should find it entertaining for the silly shenanigans it contains and for the simple satisfaction of noting the pleasure it gives the kids. It is remarkably bouncy entertainment. What is more, it is absolutely clean." (1)
Crowther's review is positive, but Ben Kubasik's comments in Newsday render it comparatively scathing.  Indeed, Kubasik lauded the flick, saying, "The large audiences packing into Manhattan's Radio City Music Hall to see Walt Disney's new movie, 'The Absent-Minded Professor,' are doing something that moviegoers hardly have reason to do any more: they are howling with laughter. They are completely justified in doing so. The comedy is full of wildly funny situations stemming from its hero's invention of an antigravitational energy substance called 'flubber,' which stands for 'flying rubber.' Young and old alike are going to have a very good time for themselves in this funny, fast-paced trek with Disney's 'The Absent-Minded Professor.' It's a rare treat to laugh so hard at an American-made movie these days." (2)
Ah, Disney at its best! Good, quality family entertainment.
Flubber
An official formula for Flubber was never revealed, but Time magazine published a "tongue in cheek" recipe concurrent with The Absent-Minded Professor's release: "To one pound of saltwater taffy add one heaping tablespoon polyurethane foam, one cake crumbled yeast. Mix till smooth, allow to rise. Then pour into saucepan over one cup cracked rice mixed with one cup water. Add topping of molasses. Boil until it lifts the lid and says, 'Qurlp.'" (3)
Professor Disney
Bill Walsh, the legendary Disney producer, not the legendary football coach, admitted to inserting facets of Walt Disney's personality into some of his characters, including Professor Brainard.
In presenting scripts to Disney, Walsh said, "I always stuck a little bit of Walt in the main character, so he could recognize himself. He [Disney] would say, 'Now this kid's got it here. It's true, real, the character is real.' If I'd make the father in The Shaggy Dog or the professor in The Absent-Minded Professor, I'd give him some of Walt's own personal characteristics." (4)
Indeed, like Walt Disney, Professor Brainard proves to be a visionary, achieving his dreams even when people think he is crazy and all hope appears to be lost.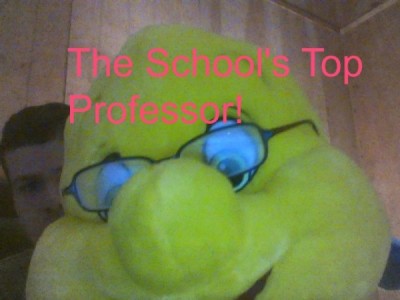 Music
The Absent-Minded Professor is not a musical. Still, the flick is musically significant in that the movie's "Medfield Fight Song," sung near the beginning of the feature, marked the Disney debut of the legendary songwriting duo of Richard and Robert Sherman, who would go on to write the music for, among other films, The Sword in the Stone (1963), Mary Poppins (1964), The Jungle Book (1967), The Aristocats (1970), Bedknobs and Broomsticks (1971), and The Many Adventures of Winnie the Pooh (1977). (5)
The Sherman Brothers were named "Disney Legends" in 1990. (6)
Humor
With corny humor and a plethora of visual gags, The Absent-Minded Professor is consistently amusing and occasionally hilarious.
Professor Brainard stinks up his classroom with subpar trumpet playing. Satchmo he is not.
Brainard somehow misses three scheduled wedding ceremonies, and, therefore, strikes out on Betsy. He has more Reggie Jackson than Joe DiMaggio in him.
Dr. Brainard spends an inordinate amount of time experimenting with his newly-discovered Flubber when he is twelve hours late for his wedding. It is one of those moments of dramatic irony where viewers will likely scream at the television.
Brainard's enthusiastic, jargon-filled explanation of "repulsive energy" to Betsy is well timed because she is repulsed by his excuses. Indeed, she would have preferred a greater exertion of obsolete "magnetic energy" the previous night.
The professor aids Medfield's undersized basketball team by doctoring the players' shoes, not with honorary Ph.Ds but with Flubber. The ensuing action is uproarious, with the players bouncing in all directions, scoring in unimaginable ways, and overcoming a seemingly insurmountable halftime deficit amidst a deafening crowd. The referees may have missed a few traveling violations, but whatever.
Alonzo and Biff Hawk have an awkward relationship, with each using the other's trials for their own amusement.
Brainard and Alonzo Hawk perform spontaneous circus acts. Unfortunately or otherwise, Dumbo does not make a cameo.
Foreshadowing Aladdin (1992), Brainard takes Betsy on a magic Model T Ford ride to a whole new world, or at least to Washington, D.C., where the government is as incompetent as ever.
Relationship to Other Disney Films
The Absent-Minded Professor's cast was loaded with Disney regulars.
Fred MacMurray had previously starred in The Shaggy Dog (1959) and subsequently starred in Bon Voyage! (1962), Son of Flubber, Follow Me, Boys! (1966), and The Happiest Millionaire (1967). In 1987, MacMurray was named the first "Disney Legend." (7)
Nancy Olson had previously played Nancy in Pollyanna (1960) and subsequently appeared in Son of Flubber, Flubber, and Snowball Express (1972).
Keenan Wynn subsequently appeared in Son of Flubber, Snowball Express, Herbie Rides Again (1974), and The Shaggy D.A. (1976).
Tommy Kirk had previously starred in Old Yeller (1957), The Shaggy Dog, and Swiss Family Robinson (1960), and subsequently appeared in Moon Pilot (1962), Bon Voyage!, Son of Flubber, Savage Sam (1963), The Misadventures of Merlin Jones (1964), and The Monkey's Uncle (1965). Kirk was named a Disney Legend in 2006. (8)
The Absent-Minded Professor was the first of six Disney films to take place at the fictitious Medfield College. (9) In addition to Son of Flubber and Flubber, the college was the setting for the "Medfield College Trilogy"—The Computer Wore Tennis Shoes (1969), Now You See Him, Now You Don't (1972), and The Strongest Man in the World (1975)—starring Kurt Russell, Cesar Romero, Joe Flynn, and William Schallert.
The Absent-Minded Professor was one of only four Disney films to not be shot in color, the others being The Shaggy Dog, Son of Flubber, and The Sign of Zorro (1958). (10)
Basketball was also crucial to the plot of Air Bud (1997).
In the Parks
A photograph of Professor Philip Brainard, Flubber's version of Professor Ned Brainard, hangs in the queue of Epcot's "Journey Into Imagination With Figment," commemorating Brainard's fictitious victory of the "Imagination Institute Inventor of the Year Award."
The Sherman Brothers wrote the music for "It's A Small World," "Walt Disney's Enchanted Tiki Room," "Journey Into Imagination with Figment," and "Walt Disney's Carousel of Progress." The first two attractions are located at both Walt Disney World's Magic Kingdom and California's Disneyland Park, while Journey Into Imagination with Figment is located at Epcot, and Carousel of Progress is found at Walt Disney World's Magic Kingdom.
Overall
The Absent-Minded Professor is at its best when showing off visual gags. The story is somewhat predictable and has some slow moments, but the overall effort is fulfilling. Plus, for a single ticket, viewers are treated to entertaining science experiments, basketball, dancing, and circus performances. It's a deal you shouldn't pass up!
Notes
1) Crowther, B. (1961, March 17). Screen: 'Absent-Minded Professor': Disney Comedy Opens at the Music Hall Film Featured With the Easter Show. New York Times, p. 25. Retrieved December 16, 2015, from http://0-search.proquest.com.alpha1.suffolk.lib.ny.us/docview/115255570?accountid=35174
2) Kubasik, B. (1961, March 17). Disney Film Bounces, Mostly Due to 'Flubber' Newsday, p. 3C. Retrieved December 16, 2015, from http://0-search.proquest.com.alpha1.suffolk.lib.ny.us/docview/898231221?accountid=35174
3) Smith, D. (2012). Live-Action Films. In Disney Trivia from the Vault: Secrets Revealed and Questions Answered (p. 129). New York: Disney Editions.
4) Watts, S. (1997). Disney and the Culture Industry. In The Magic Kingdom: Walt Disney and the American Way of Life (pp. 381-382). Columbia, Missouri: University of Missouri Press.
5) Finler, J. (2003). Disney. In The Hollywood Story (p. 322). London: Wallflower Press.
6) Listing of Legends by Year. (n.d.). Retrieved December 16, 2015, from https://d23.com/listing-of-legends-by-year/
7) Ibid.
8) Ibid.
9) Smith, D. (2012). Live-Action Films. In Disney Trivia from the Vault: Secrets Revealed and Questions Answered (pp. 133-134). New York: Disney Editions.
10) Ibid., p. 156.
What do you think of The Absent-Minded Professor? Let me know in the comments!
Sponsored Ad:  Would you like to help support The Mouse For Less website in continuing their mission of being THE Disney vacation planning resource?  You can do so by purchasing The Absent-Minded Professor from our Affiliate Link through Amazon. Thanks so much for your support!
Incoming search terms:
https://www themouseforless com/blog_world/movie-review-the-absent-minded-professor/