This post may contains affiliate links for your convenience. If you make a purchase after clicking a link we may earn a small commission but it won't cost you a penny more! Read our full disclosure policy here.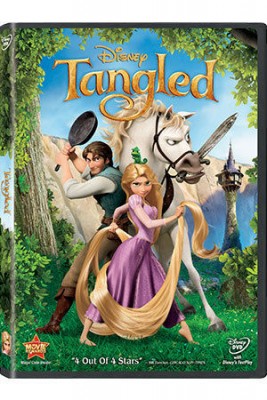 DVD Cover Copyright Disney
It is golden anniversary time! Based on the Brothers Grimm fairy tale "Rapunzel," Tangled was theatrically released on November 24, 2010 as the fiftieth full length animated feature in Disney history, an occasion acknowledged through the Walt Disney Animation Studios card prior to the movie.
At 100 minutes in length, Tangled was Disney's longest animated feature since Fantasia (1940), which clocked in at 126 minutes.
Lead up
Tangled was the brainchild of Disney animator Glen Keane, who created Ariel in The Little Mermaid (1989) and the Beast in Beauty and the Beast (1991). (1)
Keane's concept, originally entitled "Rapunzel Unbraided," was approved in February 2003 with the caveat that the film be computer animated. Keane was initially infuriated at the proposed departure from hand-drawn animation but acquiesced upon encouragement from then-Disney Animation President David Stanton. (2) Keane, however, suffered a heart attack and was unable to direct the film; his role was filled by the duo of Byron Howard and Nathan Greno. (3)
Disney Chief Creative Officer John Lasseter exuded much enthusiasm for Tanged prior to its release. Lasseter said, "This film is as good as a Pixar film, but it's classic Disney, and I love that: heart, humor, beauty, music, wonderment, the love story. Some people believe audiences today have grown past what is classic Disney storytelling, that they have become too cynical for it. I will never believe that." (4)
Disney took a pair of gambles in marketing its new feature. As the mediocre box office performance of The Princess and the Frog (2009) was believed to be caused by that film's obvious princess story not appealing to boys, Disney changed the name of its upcoming film from the overt "Rapunzel" to the covert "Tangled" and deemphasized the film's significant musical element. Concerning the latter decision, Lasseter said, "I didn't want people to rush to categorize it—'Oh, that's one of those Disney musicals.'" (5)
Coupled with strong critical reviews, these decisions contributed to a successful theatrical run for Tangled. (6)
Plot Summary
Long ago in the Kingdom of Corona, the King and Queen bore a beautiful baby daughter, whose birth culminated a tumultuous yet glorious period. The Queen nearly died during pregnancy and was saved only by the powers of a magical golden flower, which descended from the heavens centuries earlier. In any event, the baby and the Queen are now healthy, so all is good; right? Well, not so much. You see, an evil woman named Mother Gothel had obtained a monopoly on the magic flower such as to survive for hundreds of years, an invincibility that is imperiled when the royal family takes the flower. Fortunately for Gothel, the flower's magic has infiltrated the soul of the Princess, and our antagonist successfully kidnaps the newborn in the middle of the night to regain her magical monopoly.
For eighteen years, Gothel raises the baby, called Rapunzel, as her own child. Gothel treats the girl well superficially, but, fearing the loss of the magic hidden inside Rapunzel, the old lady denounces the outside world and forbids her "daughter" from leaving her bedroom tower.
Then, spontaneously, on the eve of Rapunzel's eighteenth birthday, a wanted man named Flynn Rider climbs into the teen's bedroom. The fugitive agrees to grant Rapunzel the one thing she wants for her birthday, a trip to the palace to see the annual unleashing of lanterns.
By leaving the tower, Rapunzel has taken a giant leap forward. Has Gothel permanently lost control of Rapunzel?
Gothel
A complex personality makes Gothel one of Disney's greatest villains. Whereas some Disney antagonists, such as Lady Tremaine from Cinderella (1950), are overtly cruel, Gothel masks her evilness beneath a fake kindness. By pretending to care for Rapunzel, Gothel convinces the girl of true love, a sentiment not actually possessed by the old lady.
Though Rapunzel is deceived by Gothel, the latter's cruelty is obvious to the audience, making one hate her that much more.
Reality
One key theme of Tangled is the superficiality of mankind. People often try to act like someone they are not in order to attain popularity. Below the surface, Flynn Rider is the alter ego of a kindhearted young man named Eugene Fitzherbert, while Mother Gothel is a cold and calculating witch.
On a related note, Flynn Rider loves Rapunzel for her heart, not her hair. She is just as wonderful to him as a brunette because she is a good person.
Action
Exciting moments are incorporated throughout Tangled. Such scenes include chases, sword fights, and a catastrophic dam rupture.
Music
Tangled's score was composed by Disney legend Alan Menken, who previously composed the music for The Little Mermaid, Beauty and the Beast, Aladdin (1992), Pocahontas (1995), The Hunchback of Notre Dame (1996), Hercules (1997), and Home on the Range (2004).
Unfortunately, I think Tangled is Menken's weakest effort with Disney. The numbers are, with the exception of "Incantation Song," largely forgettable. "Incantation Song," which Gothel and Rapunzel sing while utilizing the magic flower's power, is incredibly beautiful in its short doses. Its incorporation when Rapunzel heals Flynn Rider's hand contributes to one of the most heartwarming moments in Disney history.
Humor
Flynn Rider exudes bluntness, and he is horrified by his appearance on wanted posters. Indeed, his nose is inaccurate. Darn artists!
Rapunzel excels at many endeavors, including art, astronomy, music, horse training, and hitting intruders in the head with frying pans.
A pair of animals, Maximus the horse and Pascal the chameleon, provides comic relief. Maximus would make a good solider.
Relationship to Other Disney Films
Gothel is similar to Judge Claude Frollo from The Hunchback of Notre Dame in that she feigns kindness and exudes a hatred of the outside world such as to coerce a child to remain in a tower. Additionally, Flynn Rider's appearance and personality remind me of Notre Dame's Pheobus.
A kidnapping of a baby also occurs in Hercules.
Like the title character from Robin Hood (1973), Flynn Rider is wanted by the government.
Flynn Rider swings through the wilderness like the title character from Tarzan (1999).
In the Parks
Part of Fantasyland at Walt Disney World's Magic Kingdom is themed after Tangled. This locale functions as a rest area and features the tower from the movie. For what it is worth, the bathrooms in this area are arguably the most beautifully themed at Walt Disney World.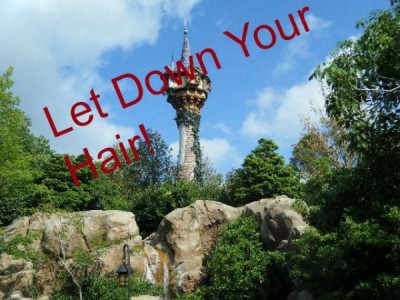 Photo Copyright Liliane Opsomer
Guests at the Magic Kingdom and Disneyland Park in California can interact with Rapunzel throughout the day at "Princess Fairytale Hall" and "Fantasy Faire," respectively.
Overall
Its mediocre soundtrack notwithstanding, Tangled is a great movie with an engaging story. You may well cry at points. I did.
Notes
1) Holson, L. (2005, September 18). Has the Sky Stopped Falling at Disney?: Goodbye, Pencils. Hello, Computers. A Studio Reanimates. New York Times, p. B1. Retrieved July 12, 2015, from http://0-search.proquest.com.alpha1.suffolk.lib.ny.us/docview/93038254?accountid=35174
2) Ibid., p. B10.
3) Barnes, B. (2010, November 21). Disney Ties Lots of Hopes To Lots of Hair: [Arts and Leisure Desk]. New York Times, p. AR.8. Retrieved July 12, 2015, from http://0-search.proquest.com.alpha1.suffolk.lib.ny.us/docview/807554876?accountid=35174
4) Ibid.
5) Ibid.
6) Barnes, B. (2010, November 29). Disney Spins 'Tangled' Hair Into Box-Office Gold: [Brief]. New York Times, p. C.3. Retrieved July 12, 2015, from http://0-search.proquest.com.alpha1.suffolk.lib.ny.us/docview/814455252?accountid=35174
What do you think of Tangled? Let me know in the comments!
Sponsored Ad:  Would you like to help support The Mouse For Less website in continuing their mission of being THE Disney vacation planning resource?  You can do so by purchasing Tangled from our Affiliate Link through Amazon. Thanks so much for your support!
Incoming search terms:
https://www themouseforless com/blog_world/movie-review-tangled/#:~:text=One key theme of Tangled a cold and calculating witch
https://www themouseforless com/blog_world/movie-review-tangled/
theme of tangled
The story of tangled
tangled theme
tangled summary review englisch
tangled review blog movie
Tangled movie summary
Story of tangled movie summary
WHAT IS THEME FOR TANGLED?